Eine Quiltanleitung entsteht – the creation of a quilt pattern.
Jetzt lasse ich die Katze aus dem Sack und kann Euch meine erste Quilt-Anleitung präsentieren. Der Vehicle-Quilt ist seit vielen Monaten in Arbeit. Noch viel länger habe ich das Design im Kopf. Die einzelnen Blöcke waren aber noch zu kompliziert und bestanden aus zu vielen Kleinteilen, als daß man daraus ein Quiltmuster machen könnte.
Finally I can present you my first quilt tutorial. The Vehicle-quilt has been in the works for many months. Even longer I have the design in my head. But the individual blocks were still too complicated and consisted of too many small parts to make a quilt pattern out of them.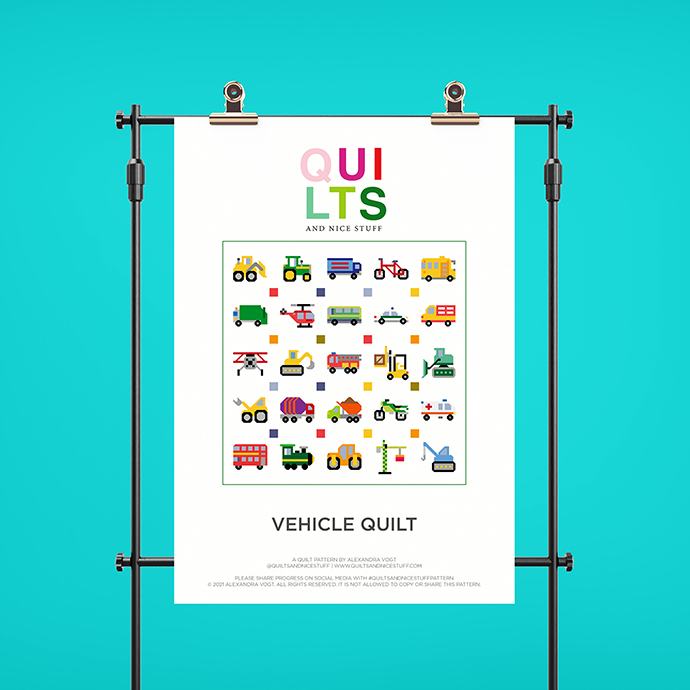 Die Idee für den Quilt – the idea behind the quilt.
Also habe ich mich immer wieder hingesetzt und weiter an den Blöcken gearbeitet, bis ich die, erst zwei, drei, dann vielen Fahrzeuge so reduziert und vereinfacht habe, daß die einzelnen Blöcke zusammenpassen und auch "nähbar" sind. Wichtig war mir, daß auch Nähanfänger gut mit den Anleitungen zurechtkommen. Es gibt also keine z.B. Kurven, die zu nähen sind.
Die Idee zum Vehicle-Quilt kam mir, als ich für meine Kinder einen Quilt nähen wollte, der nicht eins der vielen schönen abstrakten Quiltmuster hat, sondern wirklich etwas darstellt, also Gegenstände abbildet. Und für was schwärmen fast alle Kinder – Autos, Bagger, Müllabfuhr, Lastwagen und viele mehr… wir haben morgens auf dem Weg in den Kindergarten lange und gerne die Müllabfuhr beobachtet, wann immer diese in der Straße war.
Kleine Randbemerkung, meine Kinder sind jetzt leider aus dem Alter raus für diesen Quilt, dafür hat die Umsetzung der Idee zu lange gedauert!
So I sat down again and again and continued to work on the blocks until I reduced and simplified the, first two, three, then many vehicles so that the individual blocks fit together and are also "sewable". It was important to me that even beginners can easily cope with the instructions. So there are no e.g. curves to sew.
The idea for the Vehicle-quilt came to me when I wanted to sew a quilt for my children that does not have one of the many beautiful abstract quilt patterns, but really represents something, that is, depicts objects. And what do almost all children rave about – cars, excavators, garbage collectors, trucks and many more… we spent long and happy mornings on the way to kindergarten watching the garbage collectors whenever they were in the street.
Small side note, unfortunately my kids are now out of the age for this quilt, for the implementation of the idea took too long!
Testnäher*innen gesucht – pattern testers needed.
Entstanden sind 25 Fahrzeug-Blöcke. Für jeden dieser Fahrzeug-Blöcke gibt es eine eigene Quilt-Block Anleitung, die 2 Größen beinhaltet. Die Anleitungen sind bisher nur auf Englisch geschrieben. Da aber die einzelnen Schritte hauptsächlich durch Zeichnungen erklärt werden, sind diese für jeden verständlich – auch fast ohne Englisch. Im 2. Schritt werde ich die Anleitungen auch auf Deutsch erstellen und anbieten.
Einige Anleitungen sind bereits fertig, an den anderen arbeite ich gerade noch die letzten Schritte ab. …und das dauert so seine Zeit.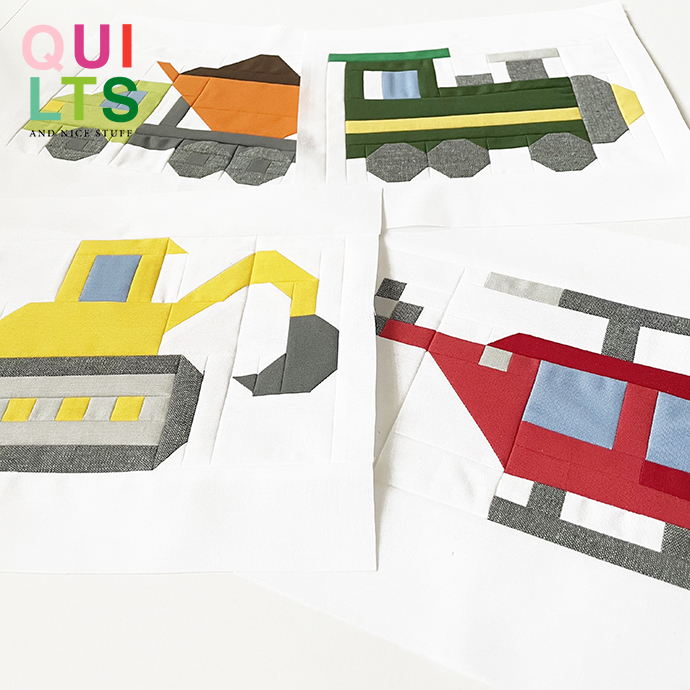 The result is 25 vehicle-blocks. For each of these vehicle-blocks there is a separate quilt block pattern, which includes 2 sizes. The instructions are written so far only in English. But since the individual steps are explained mainly by drawings, they are understandable for everyone – even almost without English. In the 2nd step I will also create and offer the instructions in German.
Some instructions are already finished, on the others I'm just working on the last steps. …and that takes its time.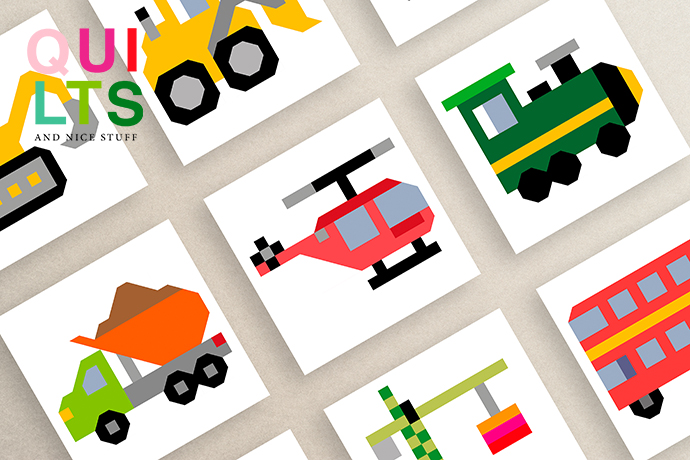 Daher würde ich mich riesig freuen Näher*innen zu finden, die meine Anleitungen testen. Hiermit möchte ich einen Aufruf starten, ob jemand Lust hat, einzelne Fahrzeug-Blöcke des Vehicle-Quilts zu testen. Der einfachste Weg wäre mir eine Direct message per Instagram @quiltsandnicestuff oder mir unten in die Kommentare zu schreiben. Die Mailadresse ist dann ja hinterlegt, ohne das diese öffentlich zu sehen ist. Ich hoffe inständig, daß das auch so klappt, da ich so einen Aufruf zum Testnähen zum ersten Mal mache.
Therefore, I would love to find sewers who test my instructions. I would like to put out a call to see if anyone would like to test individual vehicle blocks of the Vehicle quilt. The easiest way would be to send me a direct message via Instagram @quiltsandnicestuff or write me in the comments below. The mail address is then deposited, without this is publicly visible. I sincerely hope that this works out, because I make such a call for test sewing for the first time.
Stoffreste erwünscht – a scraps friendly quilt.
Einen ersten Quilt-Block will ich Euch heute zeigen. Es ist der "Helicopter-Block" aus dem Vehicle-Quilt.
A first quilt block I want to show you today. It is the "Helicopter Block" from the Vehicle Quilt.
Stoffreste ausgepackt!
Das schöne an dem Quilt ist, daß dieser hervorragend aus alten Stoffresten genäht werden kann.
Je bunter, desto besser!
Gerade beim kleineren Quilt-Block lassen sich die noch so kleinen Stoffreste verarbeiten.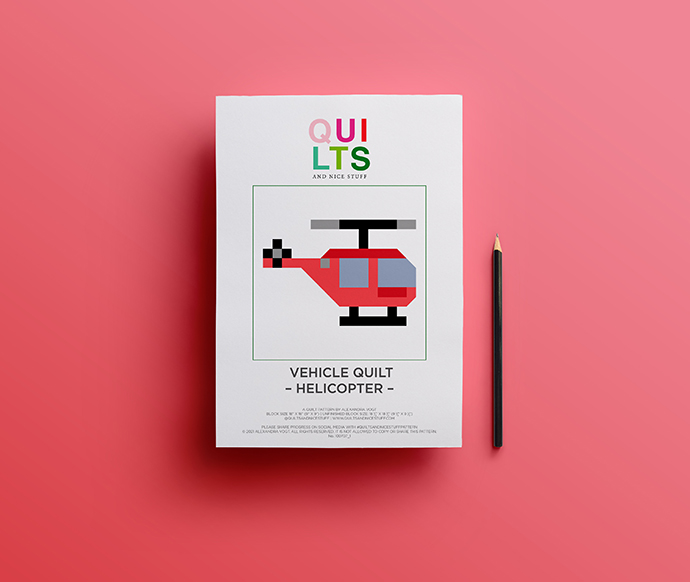 Die Anleitung beinhaltet Stoffverbrauch und Zuschnitt für einen Quilt-Block. Außerdem führt diese ausführlich durch die einzelnen Nähschritte des "Fahrzeug-Blocks".
Helicopter Quilt Block.
Hier habe ich mal einen Quilt komplett aus den "Helicopter-Blöcken" angelegt. Dieser besteht aus den größeren Blöcken und wie Ihr seht, kann man die unterschiedlichsten Stoffe bzw. Stoffmuster verwenden.
Get your Fabric scraps!
The nice thing about the quilt is that this can be sewn excellent from old fabric scraps.
The more colorful, the better!
Especially with the smaller quilt block, the fabric scraps, no matter how small, can be worked with.
The instructions include fabric usage and cutting for a quilt block. It also takes you through the individual sewing steps of the "vehicle block" in detail.
Here I have created a helicopter quilt. This consists of the larger blocks and as you can see, you can use the most diverse fabrics or fabric patterns.
Da ich selber auch fleißig am Testnähen der Anleitung bin, habe ich meine ersten Testblöcke aus Uni Stoffen genäht. Verwendet habe ich verschiedene Unis von Kona. Ich hatte noch ein kleines Stoffpaket hier, daß ich mal beim Stoffsalat Shop für ein Stifterollen-Projekt von das das-mache-ich-nachts gekauft habe. Es besteht aus ca. 24 verschiedenen Kona Stoffen und die 1 bis 2 Stoffstücke pro Farbe haben immer "nur" eine Größe von ca. 11 x 4,5 inch – also perfekt für die kleineren Fahrzeug-Blöcke.
Ich habe das Paket leider online nicht mehr gefunden, aber wie bereits geschreiben, eignen sich alle Stoffreste, die doch jeder leidenschaftliche Stoffsammler zu Hause hat.
Since I myself am also busy test sewing the instructions, I have sewn my first test blocks of uni fabrics. I have used various unis from Kona. I still had a small fabric package here that I once bought at the Stoffsalat Shop for a "Stifterollen project" of das-mache-ich-nachts. It consists of about 24 different Kona fabrics and the 1 to 2 pieces of fabric per color always "only" have a size of about 11 x 4.5 inches – so perfect for the smaller vehicle blocks.
I haven't found the package online anymore, but as already written, all fabric scraps are suitable, that every passionate fabric collector has at home.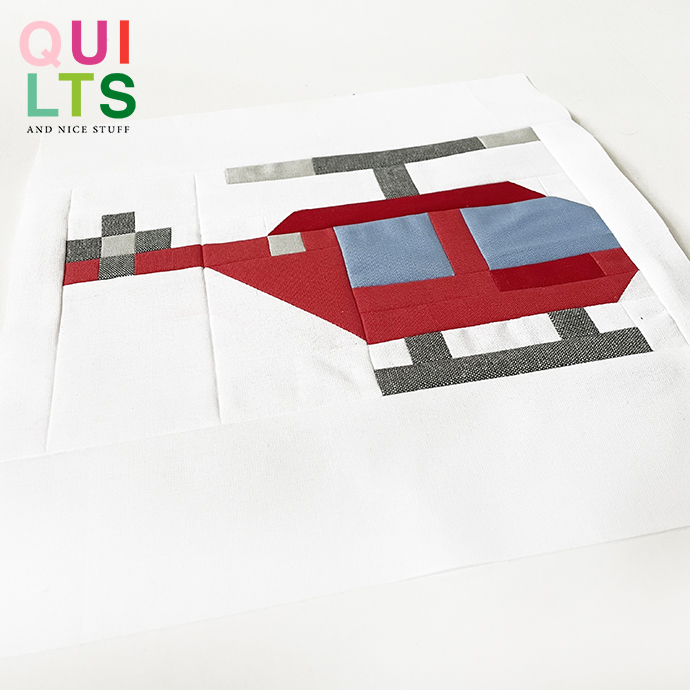 Die Vehicle Quilt Anleitung, wie es weitergeht – Vehicle Quilt next steps.
UPDATE!!! Der Etsy Shop steht!
Die Anleitungen zu den Fahrzeug-Blöcken des #vehiclequilts gibt in meinem Etsy Shop.
In diesem Beitrag stelle ich alle #vehiclequilt Block Pattern Bundles vor.
Außerdem gibt es einen Blogbeitrag, in dem ich Tipps zu einzelnen Nähschritten gebe.
Eine verwegene Idee ist noch, sogar ein "Sew-Along" in der 2. Jahreshälfte zum Vehicle-Quilt zu machen. Aber das sind noch Zukunftsträume.
Bis dahin freue ich mich über jeden Testnäher, der Lust auf viele bunte Fahrzeuge hat!
UPDATE!!! The Etsy Shop is live!
You can find the instructions of the Vehicle-Quilt blocks here in my Etsy store.
In this post, I'm featuring all the #vehiclequilt Block Pattern Bundles.
There is also a blog post where I give tips on individual sewing steps.
One more audacious idea is to even do a Vehicle-quilt Sewalong in the 2nd half of the year. But those are still future dreams.
Until then, I am happy about every test sewer who has a desire for many colorful vehicles!
Quelle Mock ups: mockups-design.com, Designed by lcd2020 / Freepik, pixeden.com
You might also like