Du bist hier / you're here: Home / Posts / The HST Sampler Quilt
Heute möchte ich einen Quilt mit Euch teilen, der mir so viel Spaß gemacht hat, daß ich ihn gleich zweimal genäht habe. Das ist schon etwas her, war aber damals in den Anfängen meines Quiltens eine tolle Anleitung, da der Quilt auch für Anfänger wirklich einfach zu nähen ist.
Today I want to share with you a quilt that I enjoyed so much that I sewed it twice. It was made a while ago, but it was a great pattern back in the early days of my quilting, because the quilt is really easy to sew even for beginners.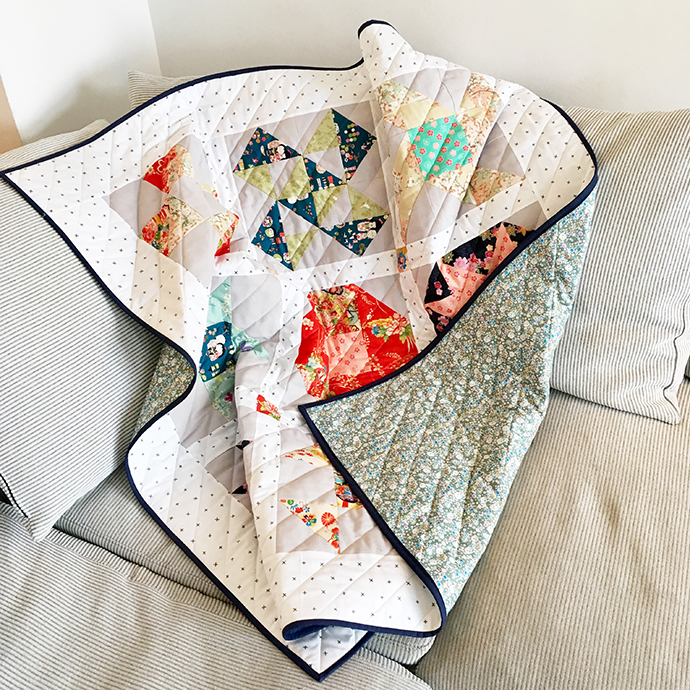 The HST Sampler Quilt – a free pattern by Amanda of 3and3quarters
Der HST Sampler Quilt ist eine kostenlose Anleitung von Amanda, die bei Instagram unter @3and3quarters zu finden ist. Der Quilt besteht aus 9 verschiedenen Blöcken, zu denen es jeweils eine übersichtliche Anleitungsseite gibt. Außerdem hat Amanda zu jedem der Blöcke ein Video gedreht (HST Sampler Videos) und erklärt genau wie der Block zu nähen ist. Also ein absolutes Top-Anfänger-Quilt-Projekt.
The HST Sampler Quilt is a free pattern by Amanda, who can be found on Instagram at @3and3quarters. The quilt is assembled of 9 different blocks, each of which has a clear pattern page. In addition, Amanda has made a video for each of the blocks (HST Sampler Videos) and explains exactly how to sew the block. So an absolute top-beginner-quilt-project.
The HST Sampler Quilt – No. 1
Die Stoffauswahl für meinen ersten HST Sampler Quilt ist ein Mix aus japanischen Stoffen, die ich mal online gekauft habe. Da die Stoffe für kein bestimmtes Projekt vorgesehn waren, habe ich sie gleich für diesen Quilt verwendet. Ich bin bei Stoffen leider ein kompletter Bauchkäufer – also kaufe nicht nach Projekt, sondern einfach, weil ich die Stoffe mag. Es gibt da draußen bestimmt etliche, sehr disziplinierte Stoffkäufer, die genau nach Projekt einkaufen. Da kann ich mich getrost nicht dazuzählen! Der Hintergrundstoff der Blöcke ist ein hellgrauer Stoff.
The fabric selection for my first HST Sampler quilt is a mix of Japanese fabrics that I once bought online. Since the fabrics were not intended for any particular project, I used them right away for this quilt. I'm a complete gut-buyer when it comes to fabrics, unfortunately – so I don't buy by project, but simply because I like the fabrics. I'm sure there are quite a few very disciplined fabric buyers out there who buy exactly by project. I can confidently not count myself among them! The background fabric of the blocks is a light gray fabric.
Der Stoff für Sashing und Borders meines HST Sampler Quilts gehört zu meinen absoluten Lieblingsstoffen. "YOUR HEART PURE" aus der Wonderland Kollektion von Katarina Roccella (AGF Fabric). Wenn mir jemand sagen kann, ob es diesen Stoff noch irgendwo in Deutschland oder Europa zu kaufen gibt, bitte gerne in meine Kommentare schreiben.
The fabric for sashing and borders of my HST Sampler quilt is one of my absolute favorite fabrics. "YOUR HEART PURE" from the Wonderland collection by Katarina Roccella (AGF Fabric). If anyone can tell me if this fabric is still available somewhere in Germany or Europe, please feel free to post in my comments.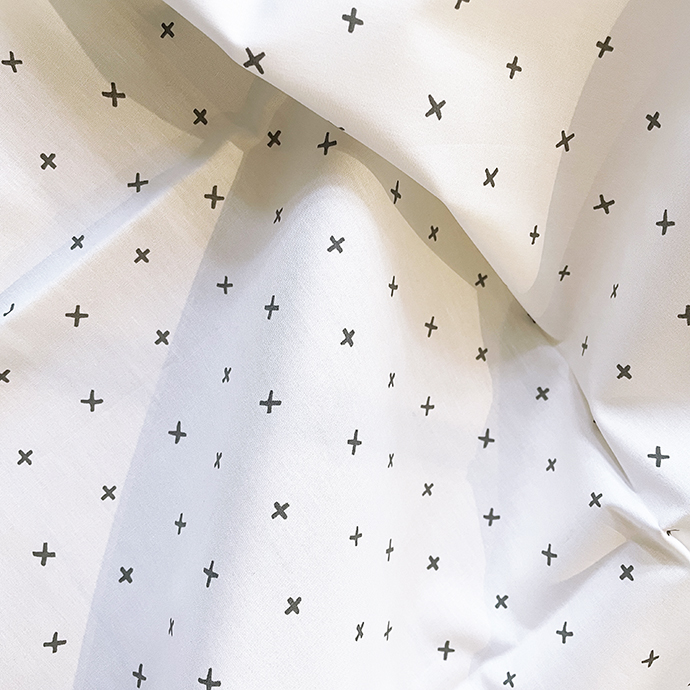 So, und jetzt fange ich an zu schneiden und zu nähen.
So now I start cutting and sewing.
Block #1: Formal Garden
Amanda verwendet die "HST – 2 at a time" Methode in Ihren Anleitungen. Auch hier der Verweis auf die ausführlichen Videos von Amanda, in denen sie die Schritte ausführlich zeigt.
Amanda uses the "HST – 2 at a time" method in her patterns. Again, the reference to the detailed videos of Amanda, in which she shows the steps in detail.
Block #2: Morning Star
Block #3: Contrary Wife
Block #4: Friendship Star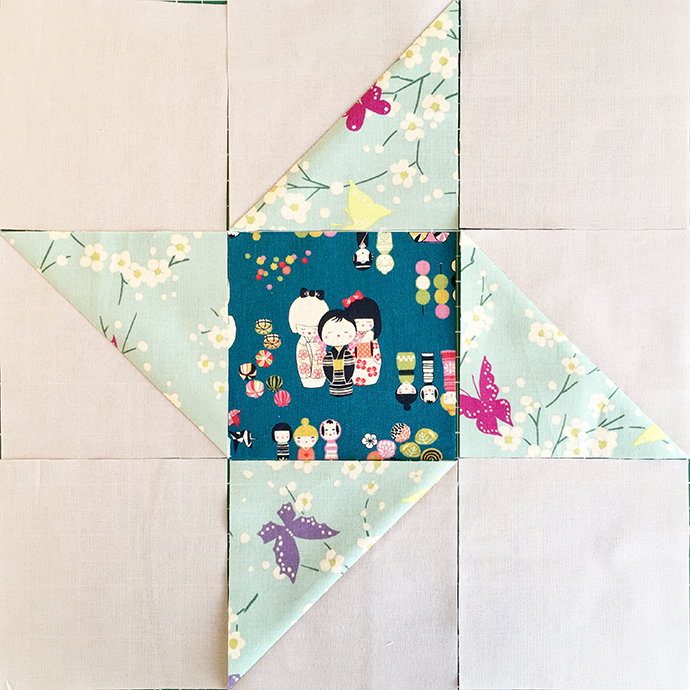 Block #5: Shoo-Fly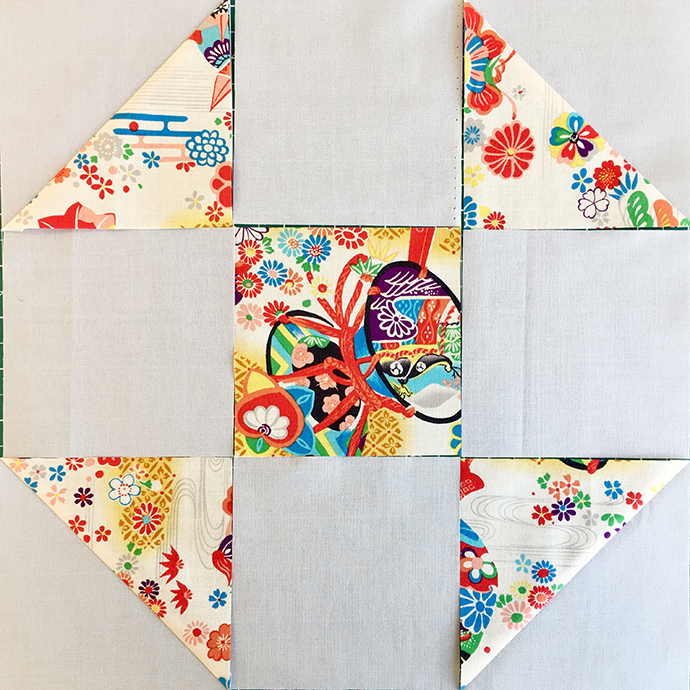 Block #6: Mill Wheel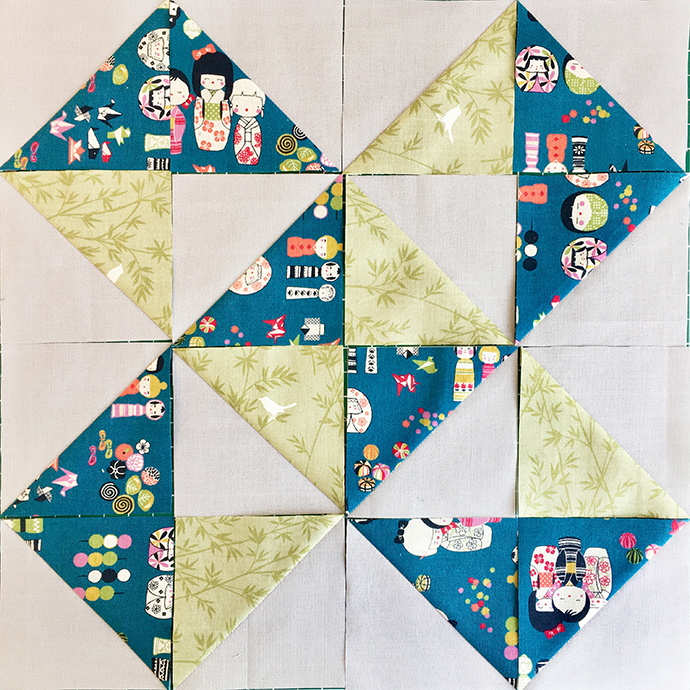 Block #7: Churn Dash
Block #8: Open Window
Block #9: Wind Blown Square
Mein HST Sampler Quilttop ist fertig / My HST Sampler Quilttop is done
Alle 9 Blöcke sind genäht und ich bin mag den Look sehr. Ich habe mich bei der Anordnung der Blöcke nicht ganz nach Amandas Anordnung gerichtet, was aber auch gar nicht das Ziel Ihrer Anleitung ist. Habe einfach durch Ausprobieren die für mich schönste Zusammenstellung der Blöcke gefunden.
Es fehlen jetzt noch Sashing und Borders. Hierzu hat Amanda auch ein Video gedreht, wie das Quilttop zusammengesetzt wird.
All 9 blocks are sewn and I am very fond of the look. I have not completely followed Amanda's arrangement of the blocks, but that is not the goal of her pattern. Have simply by trial and error found the most beautiful arrangement of the blocks for me.
Sashing and borders are still missing now. For this Amanda has also made a video how to assemble the quilt top.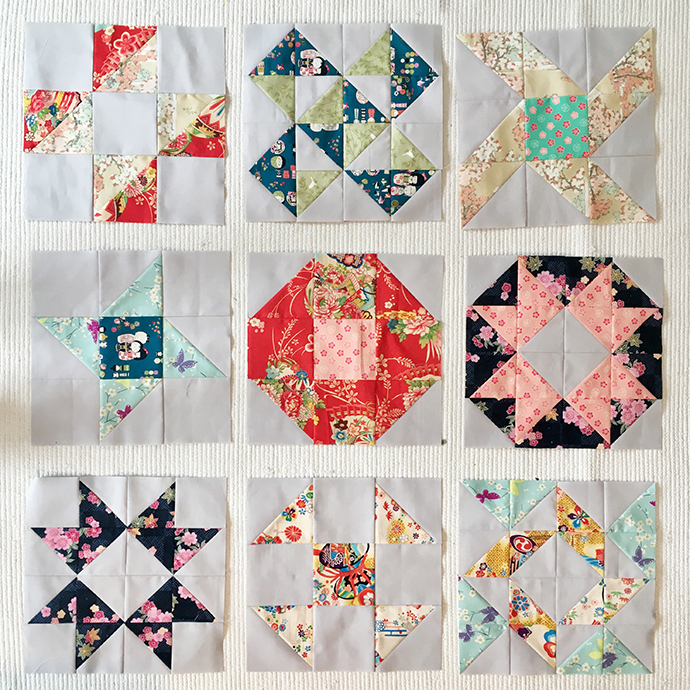 Durch den hellen Hintergrundstoff zeichnen sich die einzelnen Blöcke gut ab.
Gequiltet habe ich einfache schräge Linien mit einem Abstand von ca. 2 inch. Der Lichteinfall bei diesem Foto läßt die Quiltlinien gut zur Geltung kommen. Meine erste Quiltlinie habe diagonal quer durch die Mitte gesetzt, ausgerichtet an den Quadraten. Danach habe ich darauf nicht mehr geachtet, sondern einfach dazu parallel Linien im gleichen Abstand gequiltet.
The light background fabric makes the individual blocks stand out well.
I quilted simple diagonal lines with a distance of about 2 inches. The light in this photo shows the quilting lines well. I set my first quilting line diagonally across the center, aligned with the squares. After that I didn't pay attention to that anymore, but just quilted parallel lines at the same distance.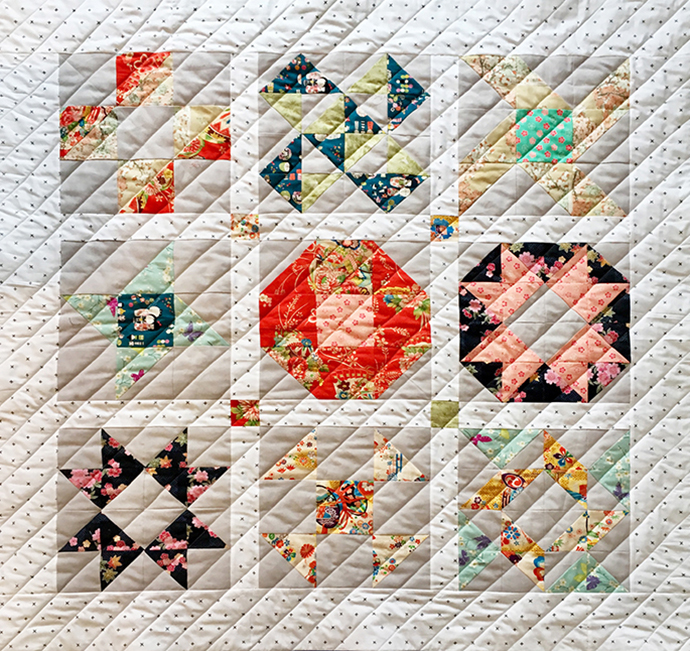 Für das Binding habe ich einen schlichten dunkelblauen Uni-Stoff gewählt, der wie ein Rahmen um den Quilt wirkt.
For the binding, I chose a dark blue solid fabric that acts like a frame around the quilt.
Das Backing ist ein Blumenmuster auf grünem Grund, der das geometrische Design der Vorderseite etwas auflockert. Sieht gleich viel kuscheliger aus.
The backing is a floral pattern on a green background, which slightly breaks up the geometric design of the front. Looks much cuddlier right away.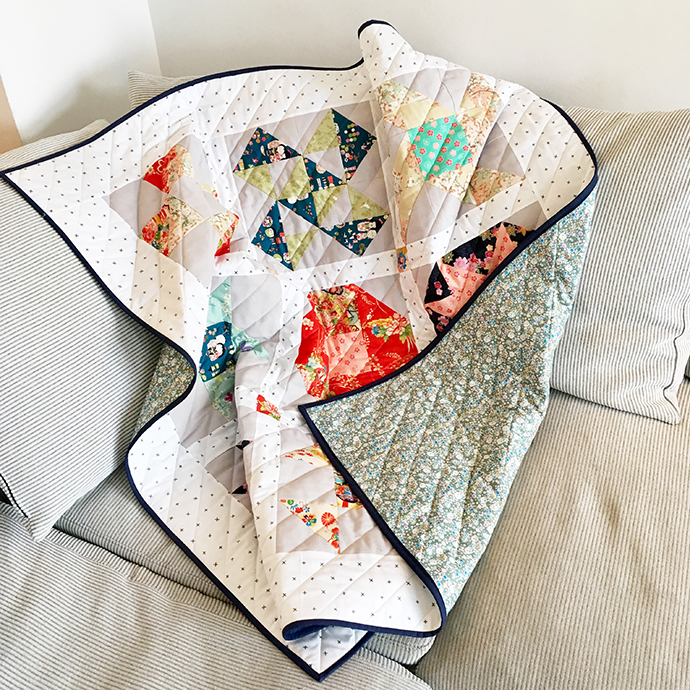 Wie man sieht, ist mein Binding noch recht krumm und schief auf der Rückseite angenäht, was aber beim Kuscheln mit dem Quilt überhaupt nicht stört. Wenn Du ein Tutorial zum Bindingstreifen-Schließen brauchst, geht es hier entlang: VEHICLEQUILT PHOTO TUTORIAL – TIPS AND TRICKS.
As you can see, my binding is still sewn on quite crooked and lopsided on the back, but that doesn't bother me at all when cuddling with the quilt. If you need a tutorial on how to close binding strips, go this way: VEHICLEQUILT PHOTO TUTORIAL – TIPS AND TRICKS.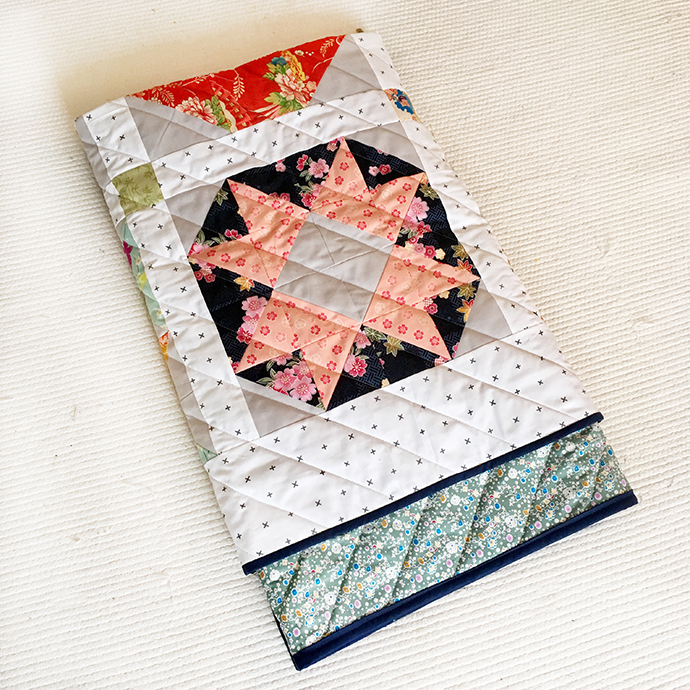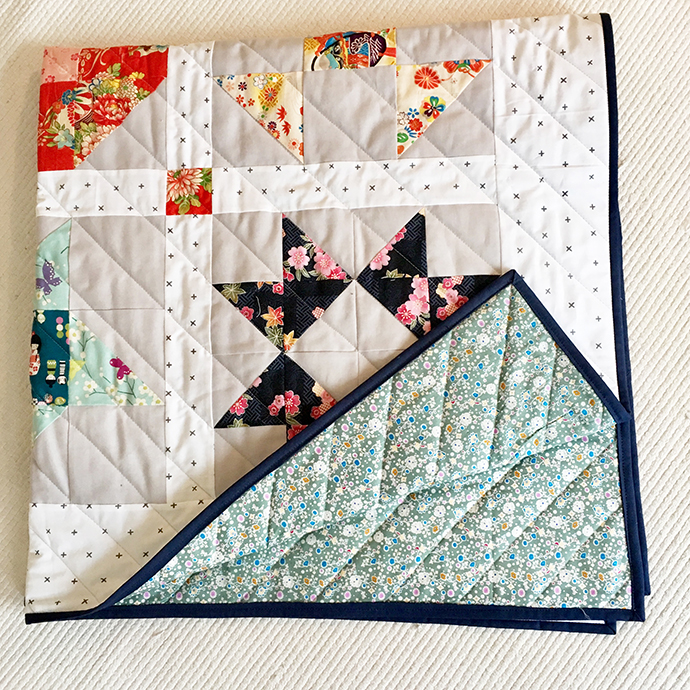 The HST Sampler Quilt – No. 2
Die Stoffauswahl für meinen zweiten HST Sampler Quilt ist komplett gegensätzlich zu meinem ersten HST Sampler Quilt. Weißgepunkteter dunkelgrüner Hintergrund kombiniert mit "lieblichen" Stoffen aus der (ich meine) "Early Bird" Kollektion von Bonnie und Camille. Ein gutes Bespiel wie unterschedlich Quilts durch die Auswahl der Stoffe wirken können. Die Stoffe hatte ich mal in einem Fat Quarter Bundle gekauft und nähe immer mal wieder Quiltprojekte damit. Einige Reste davon habe ich immer noch.
The fabric choice for my second HST Sampler quilt is completely opposite to my first HST Sampler quilt. White dotted dark green background combined with "lovely" fabrics from Bonnie and Camille's "Early Bird" collection. A good example of how quilts can look different with the choice of fabrics. I once bought the fabrics in a fat quarter bundle and sew quilt projects with them every now and then. I still have some scraps of them.
Beim Zusammenstellen der Blöcke habe ich das Design meines ersten Quilts übernommen.
When putting the blocks together, I took the design from my first quilt.
Kleine Probe, welche Stoffe für die Quadrate in den Sashingstreifen am besten passen.
Small sample, which fabrics fit best for the squares in the sashing strips.
Und dann geht es schon ans Quiltsandwich "basten", was bei der Größe des Quilts kein zu großer Aufwand ist.
And then it's off to baste the quilt sandwich, which isn't too much trouble given the size of the quilt.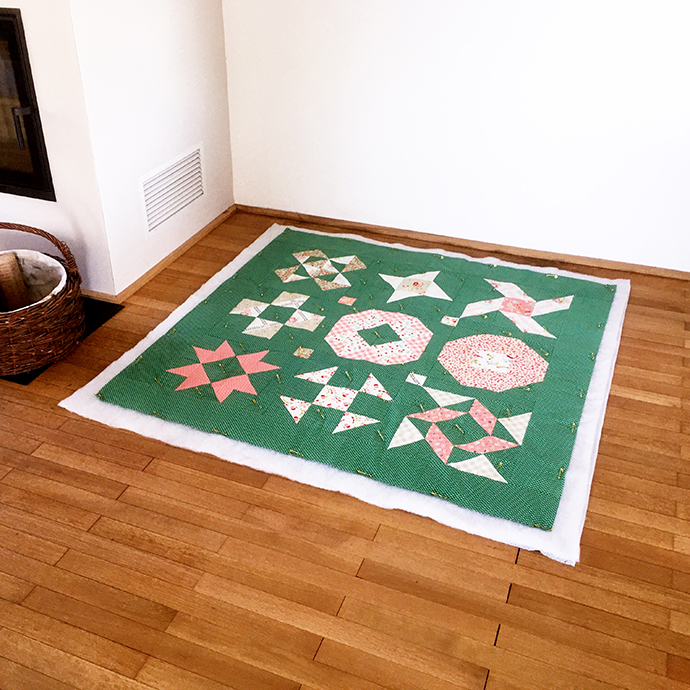 Beim Quilting habe mich diesmal an den Quadraten / Blöcken orientiert. Da aber jeder Block aus unterscheidlich vielen kleinen (HST) Quadraten besteht, gibt es weniger Orientierungspunkte als gedacht. Daher ist dieser Quilt nur mit sehr wenigen vertikalen, horizontalen und diagonalen Linien gequiltet.
For quilting, this time I used the squares / blocks as a guide. But since each block consists of a different number of small (HST) squares, there are fewer points of orientation than I thought. Therefore, this quilt is quilted with very few vertical, horizontal and diagonal lines.
Auf der Rückseite sieht man die Quiltlinien besser. Mein Backing ist übrigens ein weißer Stoff mit kleinen schwarzen Punkten.
On the back you can see the quilting lines better. By the way, my backing is a white fabric with small black dots.
Und so auch mein Binding. Hier habe ich den gleichen Stoff wie beim Backing verwendet. Das ist also mein The HST Sampler Quilt – No. 2 und auch diesen mag ich sehr. Und vielleicht gibt es ja auch mal eine No. 3, da es wirklich ein einfaches und schöne Muster für einen Babyquilt ist.
And so is my binding. Here I used the same fabric as for the backing. So this is my The HST Sampler Quilt – No. 2 and I really like this one too. And maybe there will be a No. 3 someday, because it really is a easy sewn and beautiful pattern for a baby quilt.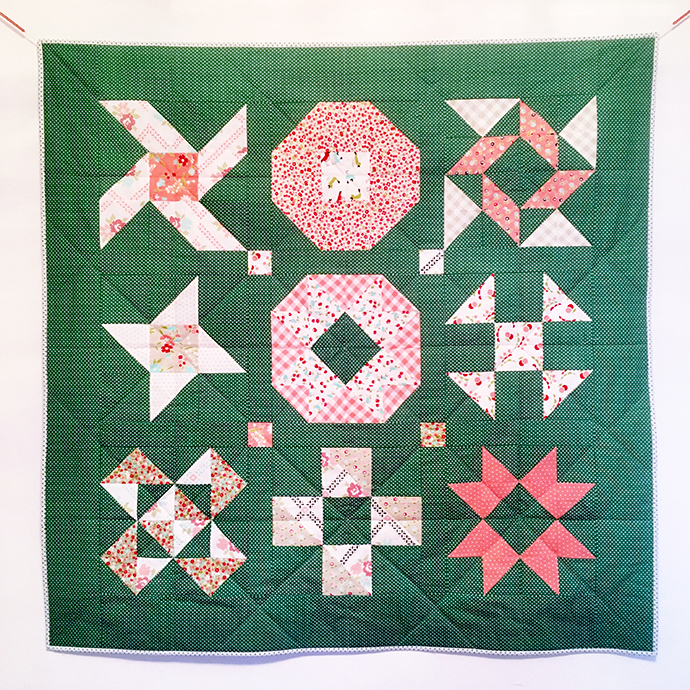 Pattern: HST Sampler Quilt by Amanda – 3and3quarters
You might also like