Du bist hier / you're here: Home / Posts / vehiclequilt – monster truck block
Roooooooaaaaaarrrr…es wird laut und bunt und sehr amerikanisch. Der heutige #vehiclequilt ist ein wahres Monster unter den Fahrzeugen. Ein Kindertraum. Ich stelle vor: der Monster Truck Block!
Roooooooaaaarrrr…it's going to be loud and colorful and very American. Today's #vehiclequilt is a true monster among vehicles. A kids dream truck. Introducing: the Monster Truck Block!
Hier findest Du die Anleitung in meinem Etsy Shop: Monster Truck Block Anleitung
Übersicht über alle #vehiclequilt Block Anleitungen auf meiner Website: Pattern Shop
Here you can find the pattern in my Etsy Shop: Monster Truck block pattern
Overview of all the #vehiclequilt block patterns on my website: Pattern Shop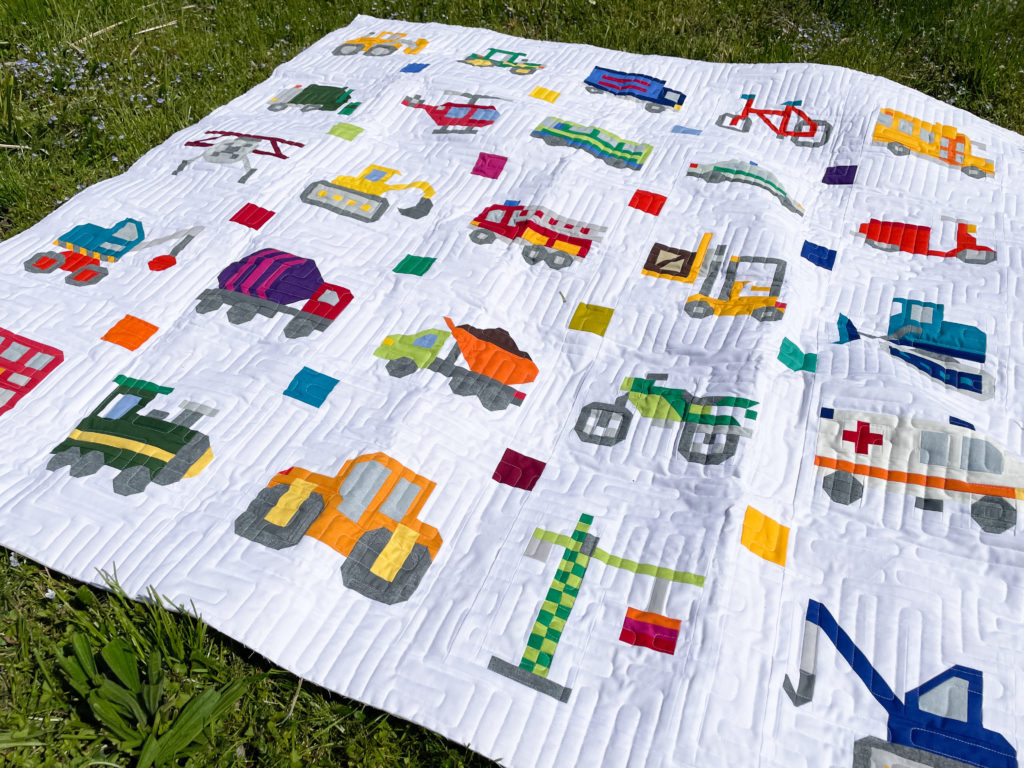 Entwerfen des Quiltblocks / Designing the quilt block
Das deutlichste Merkmal des Monster Trucks sind wohl die großen Reifen. Die habe ich also größtmöglich gestaltet, um dann noch eine Karosserie oben drauf zu setzen, die in den irrwitzigsten Farben strahlen darf. Am besten natürlich mit Flammen und wilden Mustern. Hier sind der Stoffauswahl wirklich keine Grenzen gesetzt.
Folgend siehst Du den Monster Truck Block in der kleinen 9 inch Größe. Ich bin mir mit den Uni Stoffen treu geblieben, muß aber unbedingt noch einen Monster Truck Block nähen, bei dem ich mich mit Stoffen richtig austobe.
The most obvious feature of the monster truck are probably the large tires. So I designed them as large as possible, and then put a body on top, which may shine in the craziest colors. Best of all, of course, with flames and wild patterns. No limits for your fabric selection.
Below you see the Monster Truck block in the small 9 inch size. Did use solid fabric again, but I really need to sew another Monster Truck block where I really go wild with all my abrics.
Traditionell genähter Quilt Block / Traditional pieced quilt block pattern
Der Quilt-Block wird nach traditioneller Art genäht. Kein "Foundation Paper Piecing" (also keine Papiervorlage). Es müssen keine Rundungen genäht werden. Damit sind die Anleitungen für Nähanfanger gut geeignet.
Mit den vehiclequilt Blöcken kann man unendlich viele unterschiedliche Quilts nähen. Unten folgend mal ein Beispiel, wenn man nur die Monster Truck Blöcke verwendet. Natürlich kann man auch Kopfkissen, Knisterbücher für Babys oder tolle Utensilos für Spielzeugautos daraus nähen. Unbegrenzte Möglichkeiten!
Schaut mal bei dem Blog Beitrag VEHICLEQUILT BLOCK PATTERN BUNDLES vorbei, da habe ich alle #vehiclequilt Block Bundle aufgelistet und erkläre, wie einfach das mit der Bestellung funktioniert, damit jeder seine Blöcke individuell zusammenstellen kann.
The block is made with traditional piecing techniques (squares and rectangles), no foundation paper piecing (no FPP), no curves. Thus, the instructions are well suited for sewing beginners.
With the vehiclequilt blocks you can sew an infinite number of different quilts. Below is an example using only the helicopter blocks. Of course, you can also sew pillows, crackle books for babies or utensilos for toy cars. Unlimited possibilities!
Check out the blog post VEHICLEQUILT BLOCK PATTERN BUNDLES. I've listed all the #vehiclequilt block bundles and explain how easy it is to order so everyone can customize their block selection.
Verwendeter Stoff / Fabric used in the Monster Truck block
Die vehiclequilt Blöcke gibt es als kleinen 9 inch Block und als großen 18 inch Block. Dieses Näh-Foto-Tutorial zeigt die 9 inch Blockgröße. Alle Nähschritte sind bei der 18 inch Blockgröße gleich, aber einige Teilstücke des großen Blocks sehen etwas anders aus.
Zuerst schneidest Du alle Teile zurecht, die Du brauchst. Die 2. Seite der Anleitung zeigt Dir die genaue Schnittanleitung für den kleinen und großen Block in einer übersichtlichen Tabelle.
Ich habe alle Schnittteile nach Farben sortiert ausgelegt. Auf der zweiten Seite der Anleitung findest Du auch das Stoffdiagramm, so dass Du jedes der zugeschnittenen Teile mit dem richtigen Buchstaben beschriften kannst.
Für den Monster Truck Block habe ich folgende Stoffe verwendet:
Weißer Stoff: Luxus Baumwolle, weiss von Stoff und Stil
Grauer Stoff: Luxus Baumwolle, hellgrau von Stoff und Stil
Hellgrüner Stoff: Lime von Bella Solids
Grüner Stoff: Kelly von Bella Solids
Blauer Stoff (Fenster): Yarn dyed essex aqua von Robert Kaufman
Schwarzer Stoff: Yarn dyed essex black von Robert Kaufman
The vehiclequilt blocks come in a small 9 inch block and a large 18 inch block. This sewing photo tutorial shows the 9 inch block size. All sewing steps are the same for the 18 inch block size, but some pieces of the large block look slightly different.
First, cut all the pieces you need. The 2nd page of the pattern shows you the exact cutting instructions for the small and large block in a clear chart.
I used to lay them out, all sorted by color. Second page of the pattern also shows you the fabric diagram, so you can label each of your cut pieces with the right letter.
I used the following fabrics for the Monster Truck block:
White fabric: Luxus Baumwolle, weiss by Stoff und Stil
Gray fabric: Luxus Baumwolle, hellgrau by Stoff und Stil
Lightgreen fabric: Lime von Bella Solids
Green fabric: Kelly von Bella Solids
Blue fabric (window): Yarn dyed essex aqua by Robert Kaufman
Black fabric: Yarn dyed essex black by Robert Kaufman
Tipps und Tricks – 1/4 inch Nahtzugabe / Check your 1/4 seam
Falls Du alle gesammelten Tipps und Tricks zum vehiclequilt sehen möchtest, schau Dir diesen Beitrag an:
VEHICLEQUILT PHOTO TUTORIAL – TIPS AND TRICKS. Dort schreibe ich auch über die 1/4 inch Nahtzugabe, die bei diesen vehiclequilt Blöcken sehr wichtig ist. Also einmal kurzer Zwischenstopp bei den TIPS AND TRICKS und die 1/4-Nahtzugabe überprüft.
If you want to see all collected tips and tricks about the vehiclequilt block pattern, check out this post:
VEHICLEQUILT PHOTO TUTORIAL – TIPS AND TRICKS. There I also write about the 1/4 inch seam allowance, which is very important for these vehiclequilt blocks. So one short stop at the TIPS AND TRICKS, check the 1/4 seam allowance andcome back.
Monster Truck Block Sewing-Photo-Tutorial
Hier zeige ich Dir 2 Schritte des Monster Tuck Blocks als Photo Tutorial. Es sind nicht alle Schritte, da diese in der Anleitung genau erklärt sind, aber ich habe 2 Schritte rausgesucht, bei denen sich die Nähteile beim 9 und 18 inch Block unterscheiden.
Wir verwenden die "easy corner triangle method", bei der Du Deine Dreiecke an die Quadrate und Rechtecke nähst. Ausführlich ist das auch nochmal hier beschrieben: VEHICLEQUILT PHOTO TUTORIAL – TIPS AND TRICKS.
Here I show you 2 steps of the Monster Tuck block as a photo tutorial. It's not all the steps, because they are explained in detail in the pattern, but I picked out 2 steps where the sewing parts differ for the 9 and 18 inch block.
We use the "easy corner triangle method" where you sew your triangles to the squares and rectangles. It is also described in detail here: VEHICLEQUILT PHOTO TUTORIAL – TIPS AND TRICKS.
Stoßdämpfer / Shock absorber of the Monster Truck block
Reifen / Wheel of the Monster Truck block
Auch das ist nur ein kleiner Ausschnitt aus der Schritt für Schritt Anleitung. Ich zeige Euch, wie Ihr den Innenteil des Monster Truck Reifens näht. Beim 9 inch Block liegen die 4 Quadrate direkt nebeneinander auf dem untenliegenden großen Quadrat und verdecken dieses komplett. Anders sieht es beim 18 inch Block aus. Hier verdecken die kleineren Quadrate nur einen Teil des unten liegenden Quadrats.
This is also only a small part of the step by step instructions. I will show you how to sew the inside part of the monster truck wheel. On the 9 inch block, the 4 squares are right next to each other on the large square below and completely cover it. The 18 inch block is different. Here the smaller squares cover only a part of the square below.
Fertigstellung des Monster Truck Blocks / Finish the Monster Truck block
Der Monster Truck Block hat 4 "Units". Ich zähle die 4 weißen Randstücke nicht mit. Jeder Block des #vehiclequilts ist in "Units" unterteilt. In der Monster Truck Block Anleitung findest Du eine Abbildung, die Dir diese Units genau zeigt. So ist die Schritt-für-Schritt-Anleitung auch für Anfänger super einfach zu befolgen.
The Monster Truck block has 4 "units". I am not counting the 4 white border pieces. Each block of the #vehiclequilt is divided into "Units". In the Monster Truck block pattern you'll find a diagram that shows exactly what these units are. This makes the step-by-step instructions super easy to follow, even for beginners.
Noch mehr Monster Trucks / some more Monster Trucks
Diesmal hat mich eine Testnäherin mit ihrem grandiosen Photo fast umgehauen. Schaut Euch diesen tollen Testblock an, den Kim von @stayhomeandsew genäht und photographiert hat. Der ist einfach nur ….wow! Ich danke Dir vielmals dafür, Kim.
This time a pattern tester almost blew me away with her terrific photo. Check out this great test block sewn and photographed by Kim from @stayhomeandsew. It's just ….wow! Thank you so very much for it, Kim.
more photos are coming…
Monster Truck Block Kino / Monster Truck block cinema
Hier ein Schnelldurchlauf der Monster Truck-Näh-Schritte:
Here's a quick run-through of the Monster Truck sewing steps:
Pattern: Monster Truck Block Anleitung / Monster Truck block pattern
Hier geht es zu den Beiträgen, die bisher zu den einzelnen Blöcken erschienen sind:
Click here for the other posts about the vehiclequilt block published so far: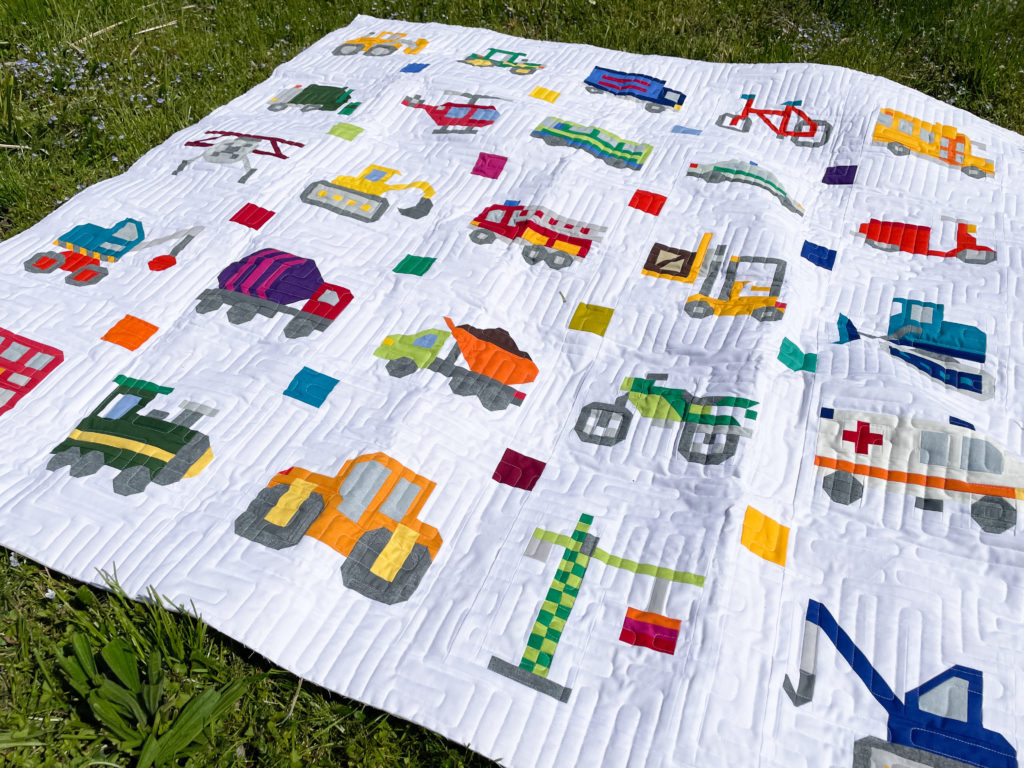 Credits pictures and mock up: Photo by Filip Mroz on Unsplash, Pixeden
You might also like