Du bist hier / you're here: Home / Posts / vehiclequilt – ice cream truck block
Summer in the City! Ich komme grade von einer Woche Sommer in Italien zurück und was soll ich sagen, es gab natürlich jeden Tag Eis. Den #vehiclequilt Block, den ich Dir heute vorstelle, ist ein sehr gern gesehenes Fahrzeug…und das nicht nur bei Kindern.
Summer in the City! I just got back from a week of summer in Italy and what can I say, there was of course ice cream every day. The #vehiclequilt block I'm sharing with you today is a very popular vehicle…and not just for kids.
Hier findest Du die Anleitung in meinem Etsy Shop: Eiswagen Block Anleitung
Übersicht über alle #vehiclequilt Block Anleitungen auf meiner Website: Pattern Shop
Here you can find the pattern in my Etsy Shop: Ice Cream Truck block pattern
Overview of all the #vehiclequilt block patterns on my website: Pattern Shop
Entwerfen des Quiltblocks / Designing the quilt block
Der Eiswagen Block ist einer der 17 neuen Vehicle Quilt Blöcke, die entstanden sind, weil ich parallel den Letter-Vehicle Quilt entworfen habe. Um für jeden der 26 Buchstaben mindestens ein passendes Fahrzeug mit dem gleichen Anfangsbuchstaben zu haben, brauchte ich für das e noch den Eiswagen.
Eine großes Eis auf dem Dach, damit der Wagen gleich zu erkennen ist, eine Theke und eine rot-weiße Markise. Das sind die wichtigsten Bestandteile des Eiswagens.
Folgend siehst Du den Eiswagen Block in der kleinen 9 inch Größe. Für das Nähen der Testblöcke verwende ich immer Unistoffe. Zusätzlich mag ich den schlichten Look. Aber hier kannst Du Dich natürlich so richtig ausgetoben mit den tollsten Stoffmustern.
The Ice Cream Truck block is one of the 17 new Vehicle Quilt blocks that came about because I was designing the Letter-Vehicle Quilt in parallel. In order to have at least one matching vehicle with the same initial for each of the 26 letters, I needed the ice cream truck for the i.
A large ice cream on the roof so the truck is immediately recognizable, a counter and a red and white awning. These are the most important components of the ice cream truck.
Below you can see the Ice Cream Truck block in the small 9 inch size. I always use solid fabrics for sewing the test blocks. In addition, I like the simple look. But here you can of course really let off steam with the greatest fabric prints.
Traditionell genähter Quilt Block / Traditional pieced quilt block pattern
Wissenswertes zu den #vehiclequilt Block Anleitungen
traditionell genähte Blöcke
nur Rechtecke und Quadrate
kein Foundation Paper Piecing (no FPP)
keine Kurven
die Blöcke kommen jeweils in 2 Größen – 9 und 18 inch
es gibt 57 verschiedene Fahrzeuge + eine Oster- und Weihnachts-Edition
in meinen Etsy Shop gibt es Einzelblöcke oder auch Pattern Bundles
Schaut mal bei dem Blog Beitrag UPDATE – Vehicle Quilt Block Pattern Bundle vorbei, da habe ich alle Vehicle Quilt Block Bundles aufgelistet.
Things to know about the #vehiclequilt block patterns
traditionally pieced blocks
only rectangles and squares
no Foundation Paper Piecing (no FPP)
no curves
the blocks come in 2 sizes each – 9 and 18 inches
there are 57 different vehicles + an Easter and Christmas edition
in my Etsy store you can buy single blocks or pattern bundles
Check out the blog post UPDATE – Vehicle Quilt Block Pattern Bundle. I've listed all the vehicle quilt block bundles.
Verwendeter Stoff / Fabric used in the Ice Cream Truck block
Die vehiclequilt Blöcke gibt es als kleinen 9 inch Block und als großen 18 inch Block. Dieses Näh-Foto-Tutorial zeigt die 9 inch Blockgröße. Alle Nähschritte sind bei der 18 inch Blockgröße gleich, aber einige Teilstücke des großen Blocks sehen etwas anders aus.
Zuerst schneidest Du alle Teile zurecht, die Du brauchst. Die 2. Seite der Anleitung zeigt Dir die genaue Schnittanleitung für den kleinen und großen Block in einer übersichtlichen Tabelle.
Ich habe alle Schnittteile nach Farben sortiert ausgelegt. Auf der zweiten Seite der Anleitung findest Du auch das Stoffdiagramm, so dass Du jedes der zugeschnittenen Teile mit dem richtigen Buchstaben beschriften kannst.
Für den Eiswagen Block habe ich folgende Stoffe verwendet:
Weißer Stoff: Luxus Baumwolle, weiss von Stoff und Stil
Gelber Stoff: Sunflower von Bella Solids
Orangener Stoff: Orange von Kona Cotton
Roter Stoff: Christmas Red von Bella Solids
Brauner Stoff: Rust von Bella Solids
Hellblauer Stoff: Fog von Kona Cotton
Dunkelblauer Stoff: Delft von Kona Cotton (nicht ganz sicher)
Blauer Stoff (Fenster): Yarn dyed essex aqua von Robert Kaufman
Schwarzer Stoff: Yarn dyed essex black von Robert Kaufman
The vehiclequilt blocks come in a small 9 inch block and a large 18 inch block. This sewing photo tutorial shows the 9 inch block size. All sewing steps are the same for the 18 inch block size, but some pieces of the large block look slightly different.
First, cut all the pieces you need. The 2nd page of the pattern shows you the exact cutting instructions for the small and large block in a clear chart.
I used to lay them out, all sorted by color. Second page of the pattern also shows you the fabric diagram, so you can label each of your cut pieces with the right letter.
I used the following fabrics for the Ice Cream Truck block:
White fabric: Luxus Baumwolle, weiss by Stoff und Stil
Yellow fabric: Sunflower by Bella Solids
Orange fabric: Orange by Kona Cotton
Red fabric: Christmas Red by Bella Solids
Brown fabric: Rust by Bella Solids
Light-blue fabric: Fog by Kona Cotton
Dark-blue fabric: Delft by Kona Cotton (not 100% sure)
Blue fabric (window): Yarn dyed essex aqua by Robert Kaufman
Black fabric: Yarn dyed essex black by Robert Kaufman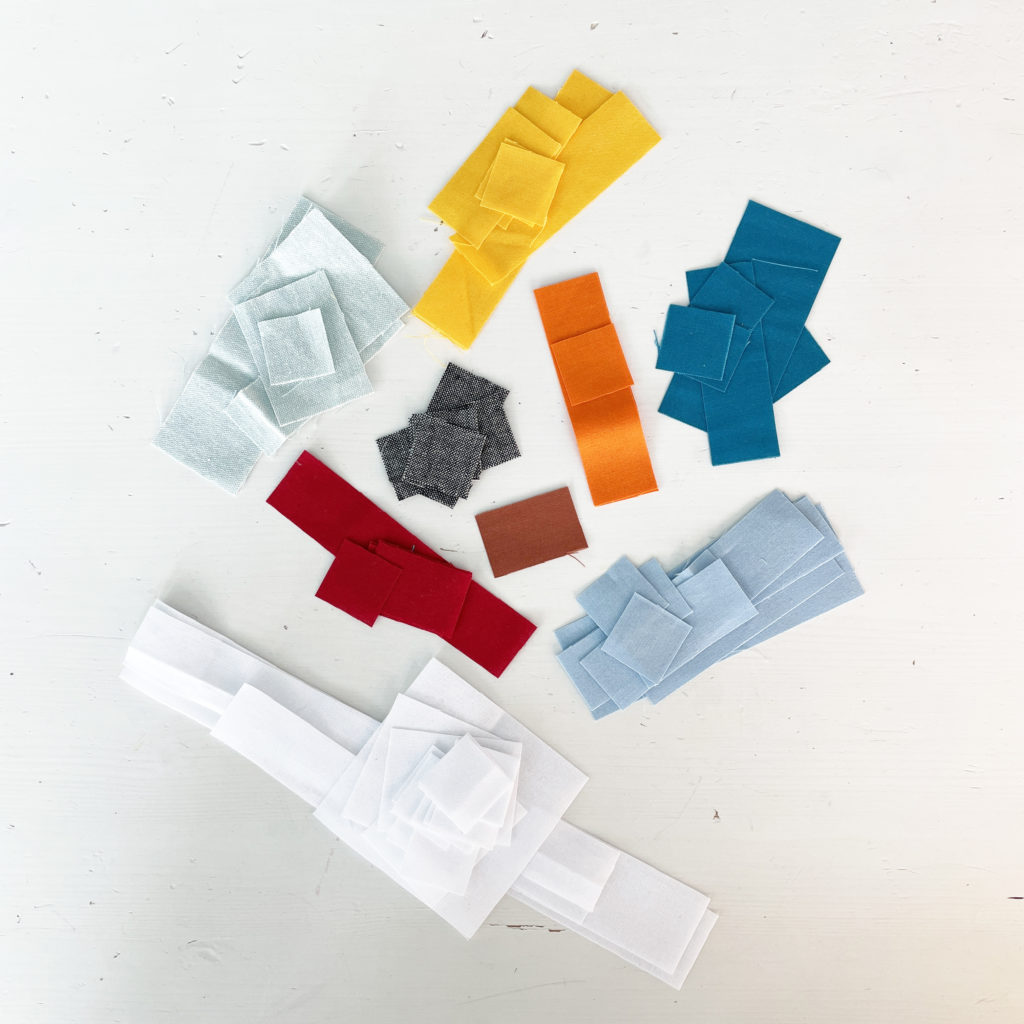 Tipps und Tricks – 1/4 inch Nahtzugabe / Check your 1/4 seam
Falls Du alle gesammelten Tipps und Tricks zum vehiclequilt sehen möchtest, schau Dir diesen Beitrag an:
VEHICLEQUILT PHOTO TUTORIAL – TIPS AND TRICKS. Dort schreibe ich auch über die 1/4 inch Nahtzugabe, die bei diesen vehiclequilt Blöcken sehr wichtig ist. Also einmal kurzer Zwischenstopp bei den TIPS AND TRICKS und die 1/4-Nahtzugabe überprüft.
If you want to see all collected tips and tricks about the vehiclequilt block pattern, check out this post:
VEHICLEQUILT PHOTO TUTORIAL – TIPS AND TRICKS. There I also write about the 1/4 inch seam allowance, which is very important for these vehiclequilt blocks. So one short stop at the TIPS AND TRICKS, check the 1/4 seam allowance andcome back.
Eiswagen Näh-Tutorial / Ice Cream Truck Sewing-Photo-Tutorial
Hier zeige ich Dir 3 Schritte des Eiswagen Blocks als Photo Tutorial. Es sind nicht alle Schritte, da diese in der Anleitung genau erklärt sind.
Wir verwenden die "easy corner triangle method", bei der Du Deine Dreiecke an die Quadrate und Rechtecke nähst. Ausführlich ist das auch nochmal hier beschrieben: VEHICLEQUILT PHOTO TUTORIAL – TIPS AND TRICKS.
Here I show you 3 steps of the Ice Cream Truck block as a photo tutorial. It's not all the steps, because they are explained in detail in the pattern.
We use the "easy corner triangle method" where you sew your triangles to the squares and rectangles. It is also described in detail here: VEHICLEQUILT PHOTO TUTORIAL – TIPS AND TRICKS.
Eis am Stiel / Ice cream on a stick
Die Markise des Eiswagens / The awning of the ice cream truck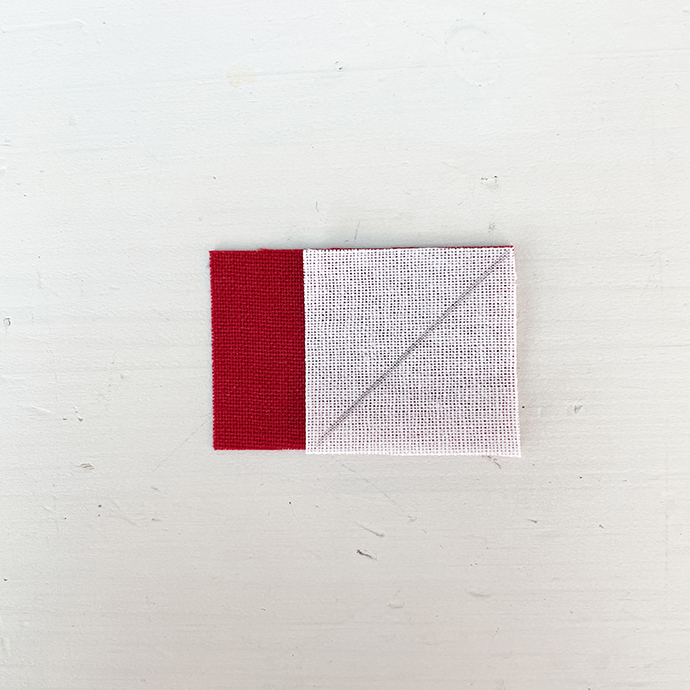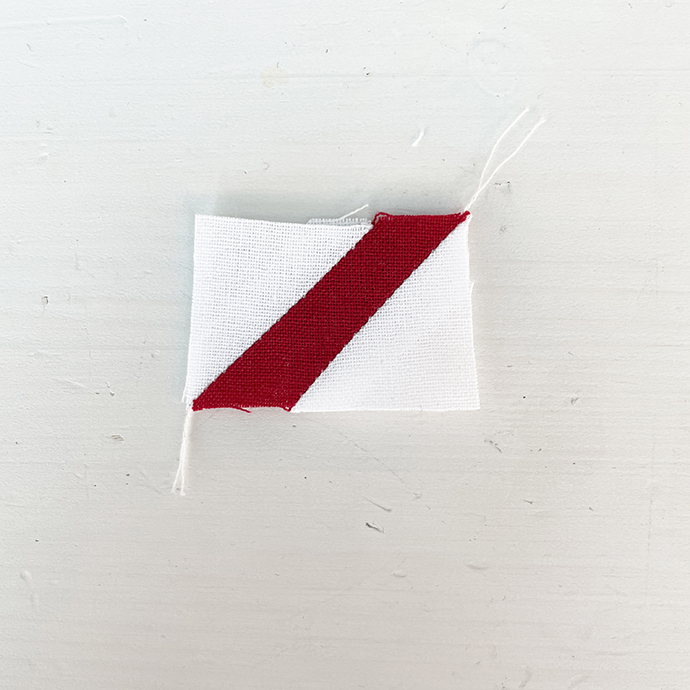 Fertigstellung des Eiswagens / Finish the Ice Cream Truck
Der Eiswagen Block hat 4 "Units". Ich zähle die 4 weißen Randstücke nicht mit. Jeder Block des #vehiclequilts ist in "Units" unterteilt. In der Eiswagen Block Anleitung findest Du eine Abbildung, die Dir diese Units genau zeigt. So ist die Schritt-für-Schritt-Anleitung auch für Anfänger super einfach zu befolgen.
The Ice Cream Truck block has 4 "units". I am not counting the 4 white border pieces. Each block of the #vehiclequilt is divided into "Units". In the Ice Cream Truck block pattern you'll find a diagram that shows exactly what these units are. This makes the step-by-step instructions super easy to follow, even for beginners.
Eiswagen Block Kino / Ice Cream Truck block cinema
Hier ein Schnelldurchlauf der Eiswagen-Näh-Schritte:
Here's a quick run-through of the Ice Cream Truck sewing steps: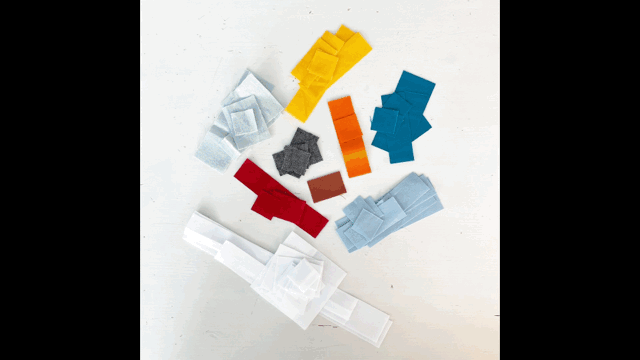 Pattern: Eiswagen Block Anleitung / Ice Cream Truck block pattern
Hier geht es zu den Beiträgen, die bisher zu den einzelnen Blöcken erschienen sind:
Click here for the other posts about the vehiclequilt block published so far:
Und hier geht es zum Blog Beitrag: / Blog post about:
UPDATE – Vehicle Quilt Block Pattern Bundle
Viel Spaß beim Nähen!
Credits collage images and mock up: Photo by Reno Laithienne on Unsplash, Photo by Tobias on Unsplash, Photo by Alexey Taktarov on Unsplash, Photo by Christin Hume on Unsplash
You might also like