Du bist hier: Home / Posts / ABC Quilt
Jetzt habe ich einen Blog. Aber sind Blogs eigentlich noch etwas, was gelesen wird? Instagram ist so viel schneller, ständig Neues, mehr Bilder, mehr Inspiration…
Ich finde: Blogs sind großartig!
Mehr Information, Hintergrundwissen, ausführliche Tutorials und klasse Tipps etc. etc. Ich lese und stöbere unglaublich gerne in Blogs. Also habe ich mit Hilfe vieler Anleitungen diesen Blog, hoffentlich technisch richtig, erstellt. Es soll der "Nachttisch-Schmöker" neben Instagram sein, wenn mal mehr Zeit zur Verfügung steht… das ist meine kleine Reise durch meine Nähwelt und wenn Ihr Lust habt, begleitet mich gerne ab und zu. Und da man manchmal einfach ins kalte Wasser springen muß, hier jetzt also mein erster Beitrag.
Der "Buchstaben" Quilt
A B C, one, two, three, baby, you and me girl…
Ich habe bisher erst einmal ein Quiltmuster zweimal genäht.
Die Anleitung (Pattern) heißt "Spell it with Fabric" und ist von Moda.
Auf der Internetseite schreibt Moda, daß die einzelnen Block Anleitung online gefunden werden können. Wobei es auch ein Booklet gibt, das alle Teile der Anleitung enthält.
Jeder Buchstabe hat eine eigene PDF-Seite und ist somit sehr übersichtlich dargestellt. Stoffteile sind bei den meisten Buchstaben überschaubar, also super schnell geschnitten. Auch das Zusammensetzen ist einfach.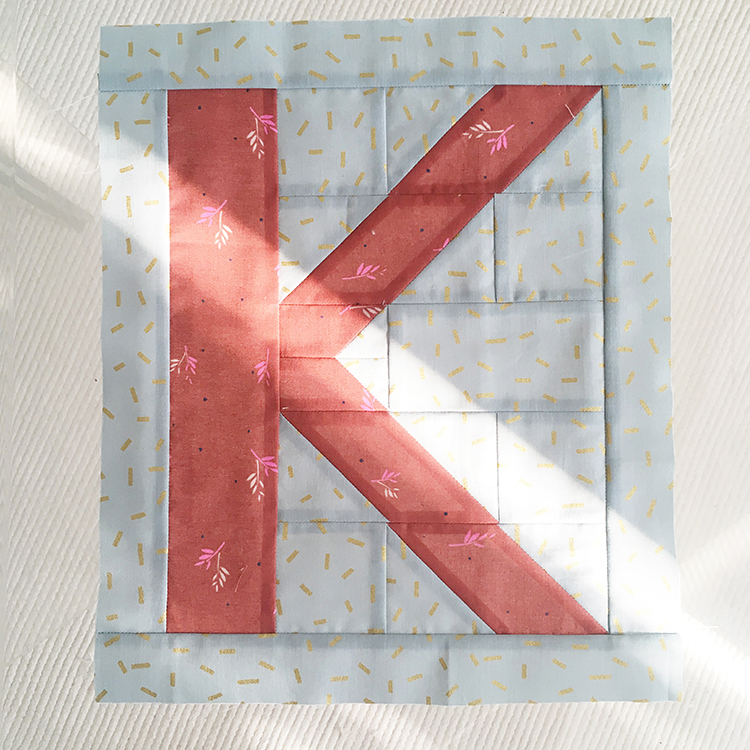 Den ersten "Spell it with Fabric" Quilt wollte ich nur aus meinen vorhandenen Stoffen und Stoffresten (Scraps) nähen. Hat geklappt! Jeder Block ist am Ende 9 1/2" x 12 1/2" groß, also braucht es für jeden Buchstaben keine allzu großen Stoffstücke.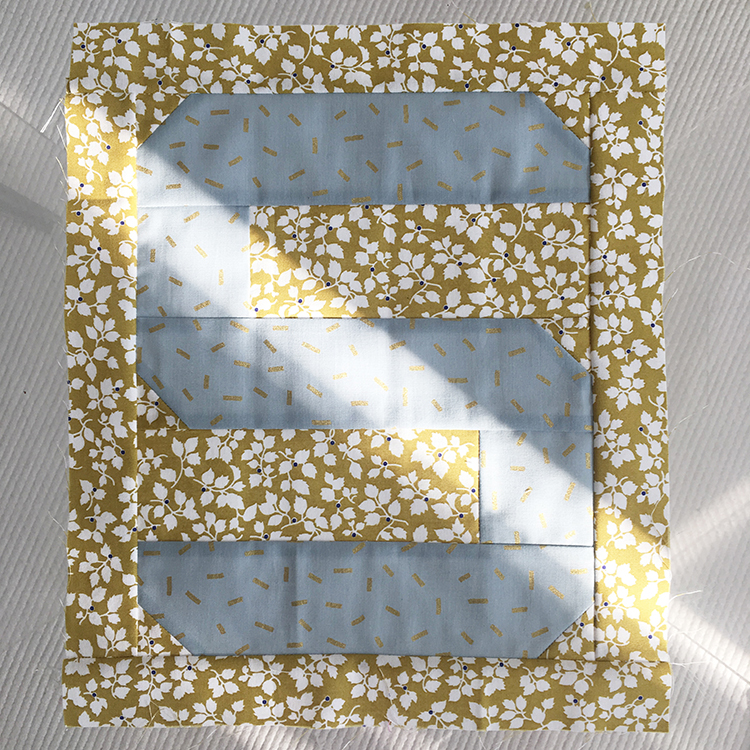 Bei den 4 Blöcke, die es zusätzlich braucht um auf die Blockanzahl 30 zu kommen, habe ich mich für die Schiffe entschieden. da hat Moda noch einige weitere Vorschläge samt Anleitung.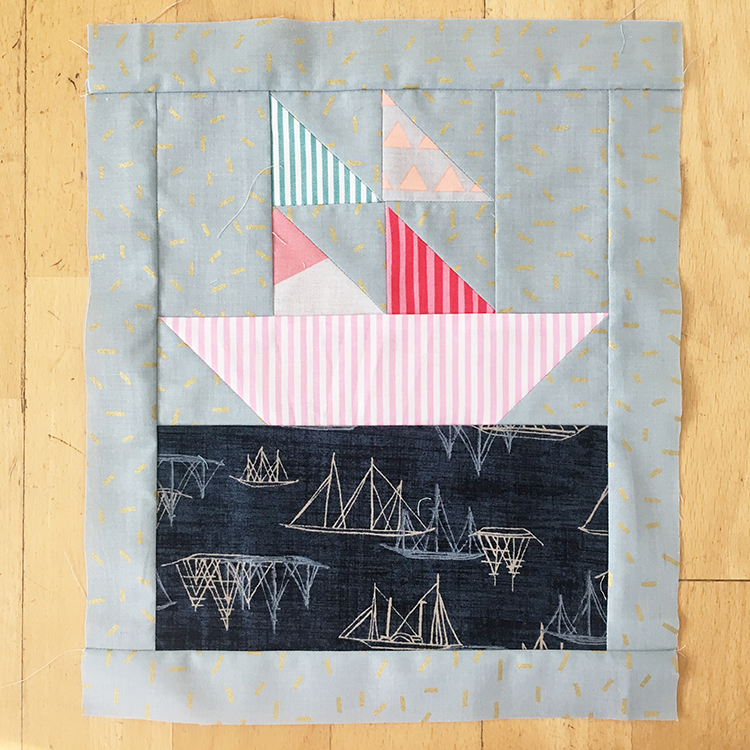 Joooaaahhhhhhh…Das Quilt-Tops macht dem Namen Patchworkdecke alle Ehre – so bunt wie es ist. Und ganz ehrlich… eigentlich bin ich mir gar nicht sicher, ob ich es mag. Die einzelnen Buchstaben-Blöcke finde ich klasse, aber zusammengenäht ist es mir irgendwie "too much". Daher fristet das Quilt-Top sein Dasein leider erstmal auf dem Stapel, auf dem noch viele meiner fertigen Quilt-Tops warten, auch endlich echte Quilts zu werden…
Der 2. Versuch
Trotzdem hat es mich später gereizt, das Quiltmuster nochmal zu nähen. Diesmal aber ganz schlicht, nur schwarz / weiß. Zuschnitt war natürlich noch einfacher, da man sich aus der gesamten Stoffbreite erstmal einige Streifen schneiden kann und diese dann jeweils unterteilt. Habe tatsächlich zuerst alle Buchstaben geschnitten und auf die jeweilige PDF-Seite gelegt. Dann bleibt es übersichtlich und man kann nach und nach jeden Buchstaben nähen.
Für die 4 "Extra-Blöcke" habe ich allerdings diesmal nicht nach Anleitung genäht, sondern das Alphabet durch "Punkt", "Komma", "Doppelpunkt" und "Ausrufezeichen" erweitert. Die Maße / Blöcke dafür habe ich mir selber errechnet.
Und diesmal…
…Liebe auf den ersten Blick!
Ich mag das klare Design einfach lieber, obwohl ich bei "Scrap-Quilts" auch echt chaotisch werden kann, was die Farb- und Stoffzusammenstellung angeht. Werde ich an anderer Stelle mal zeigen.
Somit hat es dieses Quilt-Top geschafft – am "UFO-Stapel" vorbei – gleich fertiggestellt zu werden.

Das Backing ist ein currygelber Stoff, der einzige Farbklecks des Quilts. Einer meiner Lieblingsstoffe von Stoff&Stil, den es leider nicht mehr gibt…#Stoff&Stil, produziert den bitte wieder!!!
Gequiltet habe ich einfache gerade Linien – paßte meiner Meinung nach am besten zur Reduziertheit des Tops.
Beim Binding habe ich mich für schwarz/weiße dünne Streifen entscheiden.
Jetzt kann gekuschelt und gleichzeitig das Alphabet gelernt werden.
A B C, one, two, three, baby, you and me girl…
Anleitung: "Spell it with Fabric" von Moda
You might also like