Du bist hier / you're here: Home / Posts / vehiclequilt – dump truck block
Zurück aus den Sommerferien mit einem Blog Beitrag über einen der beliebtesten #vehiclequilt Blöcke, das wohl im Sandkasten meist gefahrene Fahrzeug – Der Muldenkipper.
Back from summer vacation with a blog post about one of the most popular #vehiclequilt blocks, probably the most driven vehicle in the sandbox – The Dump Truck.
Hier findest Du die Anleitung in meinem Etsy Shop: Muldenkipper Block Anleitung
Übersicht über alle #vehiclequilt Block Anleitungen auf meiner Website: Pattern Shop
Here you can find the pattern in my Etsy Shop: Dump Truck Block Pattern
Overview of all the #vehiclequilt block patterns on my website: Pattern Shop
Entwerfen des Quiltblocks / Designing the quilt block
Der Muldenkipper war neben dem Bagger eines der ersten Fahrzeuge, das ich entworfen habe. Einfach, weil es das beliebteste Fahrzeug meiner Kinder im Sandkasten war. Sandladung nach Sandladung wurde damit bewegt. Ob auf dem Spielplatz im Sandkasten oder am Strand. Der Muldenkipper war immer mit dabei. Beim Design kam es mir darauf an zu zeigen, wie massiv und schwer dieses Gefährt ist. Als erstes also ein mächtiges Führerhaus. Außerdem braucht der Muldenkipper ordentlich Platz für Schutt und Steine, die er zu transportieren hat, daher als zweites einen großen Anhänger. Mit diesen 2 Merkmalen ist der Muldenkipper bestens zu erkennen und fertig für einen bunten und fröhlichen Vehiclequilt.
The dump truck was one of the first vehicles I designed, along with the crawler excavator. Simply because it was the most popular vehicle of my children in the sandbox. Sand load after sand load was moved with it. Whether on the playground in the sandbox or on the beach. The dump truck was always there. For the design, it was important to me to show how massive and heavy this vehicle is. So the first thing I needed was a mighty cab. Also, the dump truck needs decent space for debris and rocks it has to transport, so second is a big trailer. With these 2 features, the dump truck is perfectly recognizable and ready for a bright and happy vehiclequilt.
Traditionell genähter Quilt Block / Traditional pieced quilt block pattern
Wissenswertes zu den #vehiclequilt Block Anleitungen
traditionell genähte Blöcke
nur Rechtecke und Quadrate
kein Foundation Paper Piecing (no FPP)
keine Kurven
die Blöcke kommen jeweils in 2 Größen – 9 und 18 inch
Ende des Sommers, wenn die 12 neuen #vehiclequilt Blöcke veröffentlicht sind, gibt es 40 verschiedene Fahrzeuge
in meinen Etsy Shop gibt es Einzelblöcke oder auch Pattern Bundles
sobald alle neuen Blöcke veröffentlicht sind, wird es diese auch in den Pattern Bundles geben
Things to know about the #vehiclequilt block patterns
traditionally pieced blocks
only rectangles and squares
no Foundation Paper Piecing (no FPP)
no curves
the blocks come in 2 sizes each – 9 and 18 inches
at the end of summer, when the 12 new #vehiclequilt blocks are released, there will be 40 different vehicles
in my Etsy store you can buy single blocks or pattern bundles
as soon as all new blocks are released, they will also be available in the pattern bundles
Schaut mal bei dem Blog Beitrag UPDATE – VEHICLEQUILT Block Pattern Bundles vorbei, da habe ich alle #vehiclequilt Block Bundles aufgelistet und erkläre, wie einfach das mit der Bestellung funktioniert, damit jeder seine Blöcke individuell zusammenstellen kann.
Check out the blog post UPDATE – VEHICLEQUILT Block Pattern Bundles, I've listed all the #vehiclequilt block bundles and explain how easy it is to order so everyone can customize their blocks.
Hier geht es zur Muldenkipper Anleitung / Dump Truck Block Pattern
Die vehiclequilt Block Anleitungen enthalten den kleinen 9 inch Block und den großen 18 inch Block. Die PDF Anleitung ist ein automatischer Download, den Du sofort nach Kauf runterladen kannst.
The vehiclequilt block patterns include the small 9 inch block and the large 18 inch block. The PDF patterns are an immediate download after purchase.
Stoffauswahl Muldenkipper / fabric selection Dump Truck
Für den Muldenkipper habe ich folgende Stoffe verwendet:
Weißer Stoff: Luxus Baumwolle, weiss von Stoff und Stil
Grauer Stoff: Luxus Baumwolle, hellgrau von Stoff und Stil
Orangener Stoff: Orange von Kona Cotton Solids 
Grüner Stoff: Pickle Yellow-Green von Kona Cotton Solids 
Brauner Stoff: Moda U Brown von Bella Solids
Gelber Stoff: Sunflower von Bella Solids
Roter Stoff: Christmas Red von von Bella Solids
Blauer Stoff (Fenster): Yarn dyed essex aqua von Robert Kaufman
Schwarzer Stoff: Yarn dyed essex black von Robert Kaufman
For the Dump Truck I used the following fabrics:
White fabric: Luxus Baumwolle, weiss by Stoff und Stil
Gray fabric: Luxus Baumwolle, hellgrau by Stoff und Stil
Orange fabric: Orange by Kona Cotton Solids 
Green fabric: Pickle Yellow-Green by Kona Cotton Solids 
Brown fabric: Moda U Brown by Bella Solids
Yellow fabric: Sunflower byBella Solids
Red fabric: Christmas Red by von Bella Solids
Blue fabric (window): Yarn dyed essex aqua by Robert Kaufman
Black fabric: Yarn dyed essex black by Robert Kaufman
Nähtipps / Tipps und Tricks sewing the vehiclequilt
Falls Du alle gesammelten Tipps und Tricks zum vehiclequilt sehen möchtest, schau Dir diesen Beitrag an:
VEHICLEQUILT PHOTO TUTORIAL – TIPS AND TRICKS. Dort schreibe ich auch über die 1/4 inch Nahtzugabe, die bei diesen vehiclequilt Blöcken sehr wichtig ist. Außerdem zeige ich sehr detailliert, wie Du die Bindingstreifen ohne zusätzliches Hilfsmittel schließt. Wenn Du ein Photo-Tutorial suchst, daß Dir zeigt, wie man ein Binding mit der Maschine annäht, schau Dir meinen Blog Beitrag "Little Square Quilt" an, da zeige ich das sehr ausführlich.
If you want to see all collected tips and tricks about the vehiclequilt block pattern, check out this post:
VEHICLEQUILT PHOTO TUTORIAL – TIPS AND TRICKS. There I also write about the 1/4 inch seam allowance, which is very important for these vehiclequilt blocks. I also show in great detail how to close the binding strips without any additional tools. If you are looking for a photo tutorial that shows you how to machine sew a binding, check out my blog post "Little Square Quilt".
Einige Nähschritte in einem in a Photo-Tutorial / Some sewing steps in a photo-tutorial
Folgend zeige ich nur einen kleinen Teil der Nähschritte, um Dir einen Einblick zu geben, wie einfach es ist, den Block zu nähen. In den Anleitungen findest Du dazu eine Schritt-für-Schritt Anleitung mit grafischen Bildern zu jedem einzelnen Nähschritt.

Los geht es. Um Deine Dreieck an das Rechteck zu nähen, verwende die "easy corner triangle Methode". Die Schritte sind ganz einfach, sobald Du herausgefunden hast, wie man es macht.
Below I show only a small part of the sewing steps to give you an idea of how easy it is to sew the block. In the pattern you will find step-by-step instructions with graphic images for each sewing step.
Here we go. To sew your triangle to the rectangle, use the "easy corner triangle method". The steps are quite simple once you figure out how to do it.
Die Reifen des Muldenkippers / The wheels of the Dump Truck
Der 9 inch Block näht sich exakt wie der 18 inch Block – die einzelnen Nähstücke sehen nur etwas anders aus. Folgend zeige ich Dir das Näh-Foto-Turorial des 18 inch Blocks.
Wenn Du den Unterschied bei den Reifen zwischen 9 und 8 inch Block genau sehen willst, schau mal in den Blog Beitrag zum Schulbus oder hier beim VEHICLEQUILT PHOTO TUTORIAL – TIPS AND TRICKS, da habe ich es im Vergleich gezeigt.
The 9 inch block sews exactly like the 18 inch block – the individual sewing pieces just look a little different. Below I show you the sewing photo tutorial of the 18 inch block.
If you want to see exactly the difference in wheels between 9 and 8 inch block, check out the blog post on the school bus or here at VEHICLEQUILT PHOTO TUTORIAL – TIPS AND TRICKS, I showed it in comparison there.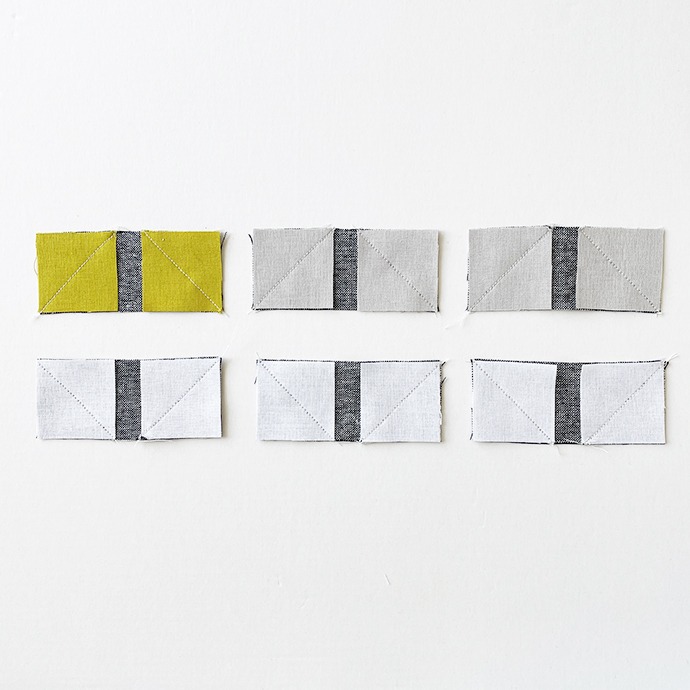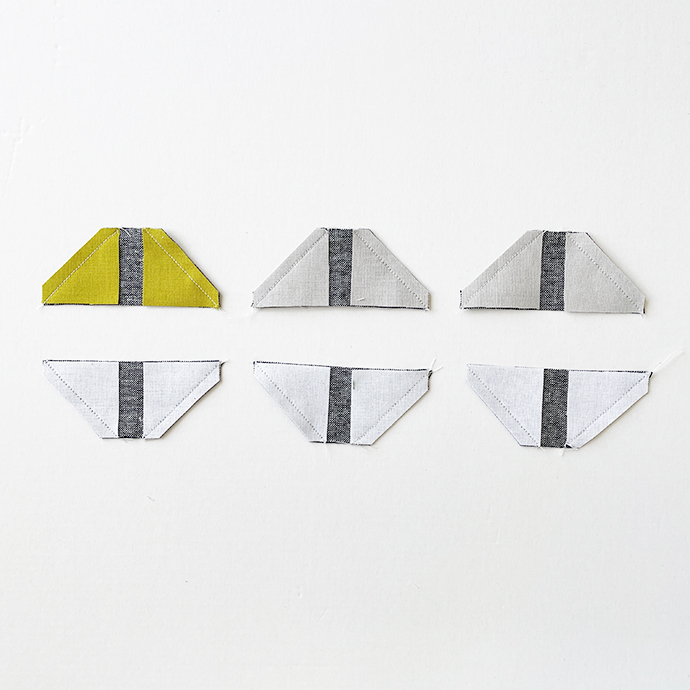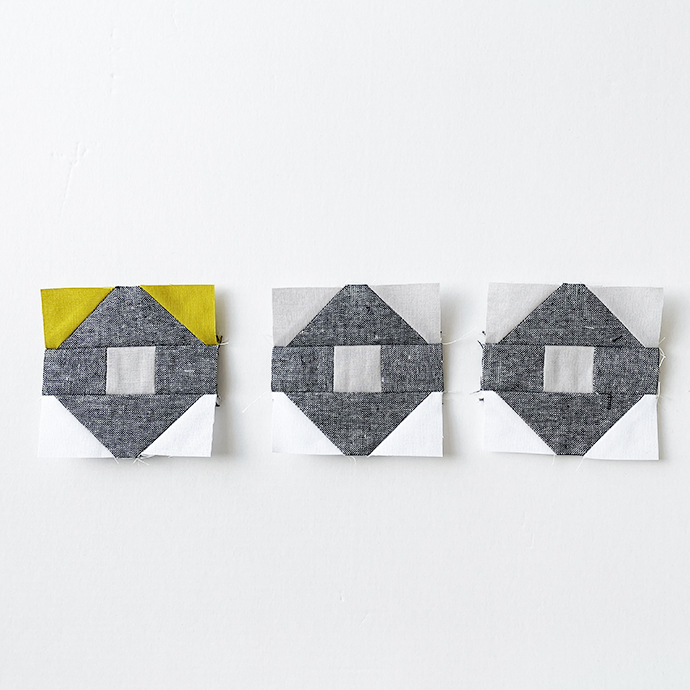 Fertigstellung des Muldenkipper Blocks / Finish the Dump Truck block
Der Muldenkipper Block hat 4 "Units". Ich zähle die 4 weißen Randstücke nicht mit. Jeder Block des #vehiclequilts ist in "Units" unterteilt. In der Anleitung zeige ich eine Abbildung, auf dem die "Units" zu sehen sind. So ist die Schritt-für-Schritt-Anleitung auch für Anfänger super einfach zu befolgen.
The Dump Truck block has 4 "units". I am not counting the 4 white border pieces. Each block of the #vehiclequilt is divided into "units". In the instructions I show a picture where you can see the "Units". This makes the step-by-step instructions super easy to follow, even for beginners.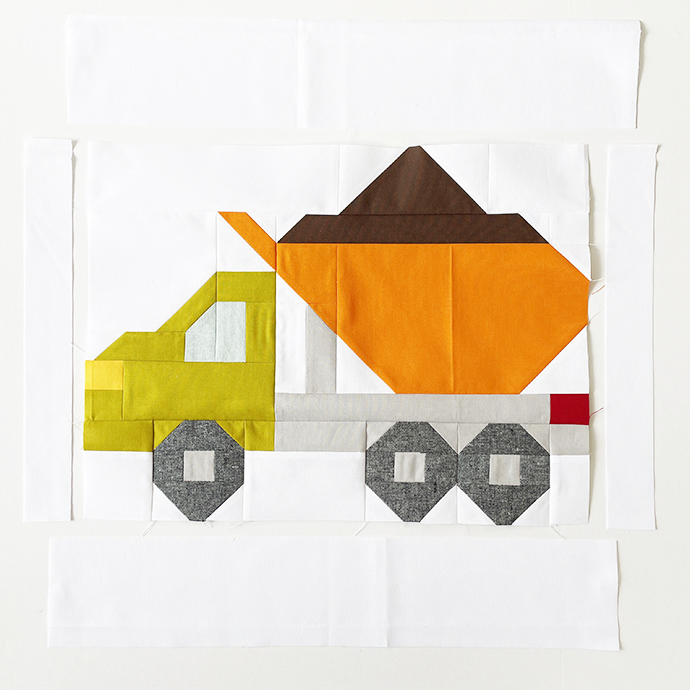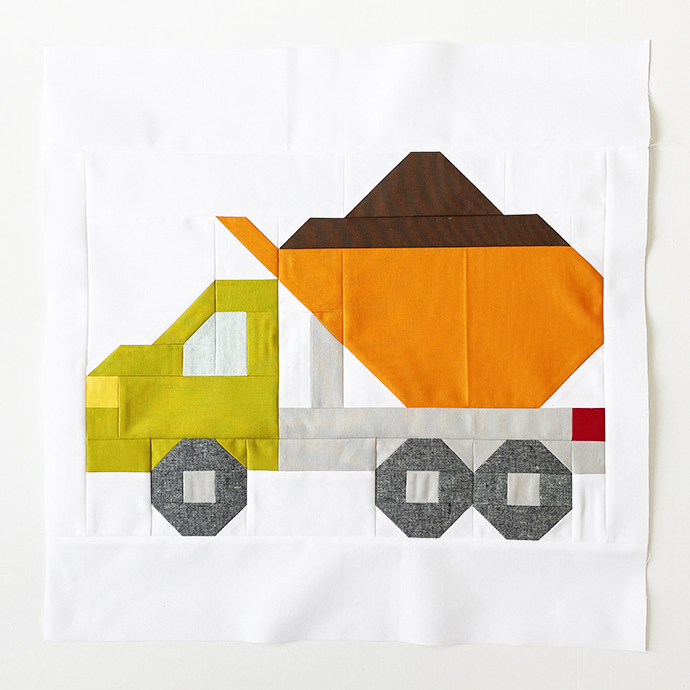 Quilt Binding Tutorial – Binding schließen / How to close binding strips
Wenn Du die Anleitung zu einer detaillierten Schitt für Schritt Anleitung brauchst, die Dir zeigt, wie Du Binding Enden schließen kannst, ohne extra Quilt Lineale oder besondere Hilfsmittel, dann schau hier in diesen Blog Beitrag: VEHICLEQUILT PHOTO TUTORIAL – TIPS AND TRICKS
If you need instructions on a detailed step by step tutorial that shows you how to close binding ends without extra quilt rulers or special tools, check out this blog post: VEHICLEQUILT PHOTO TUTORIAL – TIPS AND TRICKS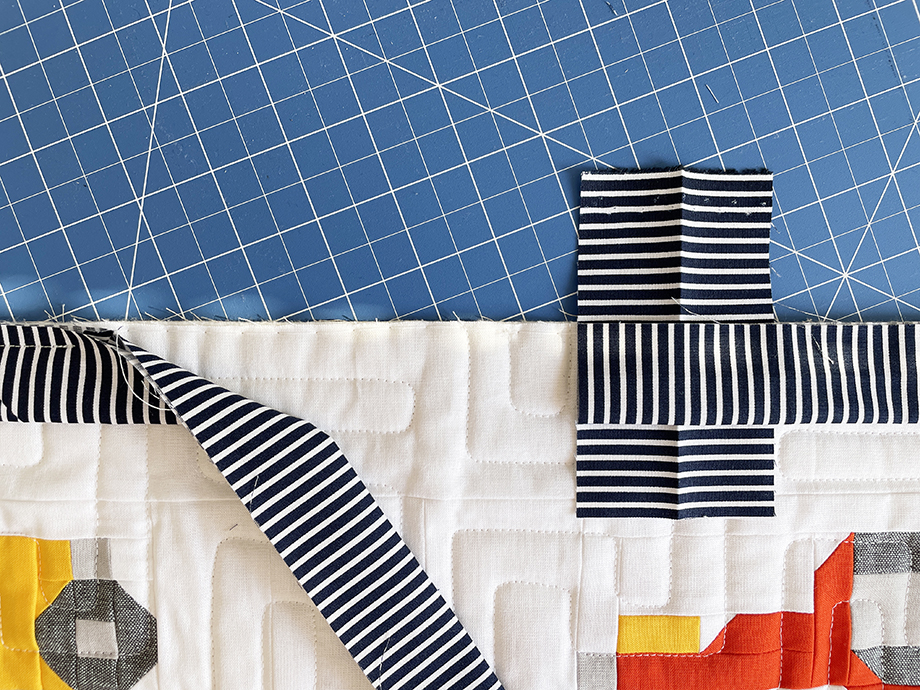 Muldenkipper Kino / Dump Truck cinema
Und hier wieder ein Schnelldurchlauf der Näh-Schritte:
And here again is a quick run through of the sewing steps:
Pattern: Vehiclequilt Pattern – Muldenkipper / Dump Truck Block Pattern
Hier geht es zu den Beiträgen, die bisher zu den einzelnen Blöcken erschienen sind:
Click here for the other posts about the vehiclequilt block published so far:
Und hier geht es zum Blog Beitrag: / Blog post about:
UPDATE – VEHICLEQUILT Block Pattern Bundles
You might also like