***Updated***
Wow! Das waren spannende Wochen, die ich da hinter mir habe. Der große Schritt ist getan, die #vehicequilt Block Anleitungen sind veröffentlicht und ich bin fix und fertig.
Wow! Those were exciting weeks that I have behind me. The big step is done, the #vehicequilt block tutorials are released and I'm all set.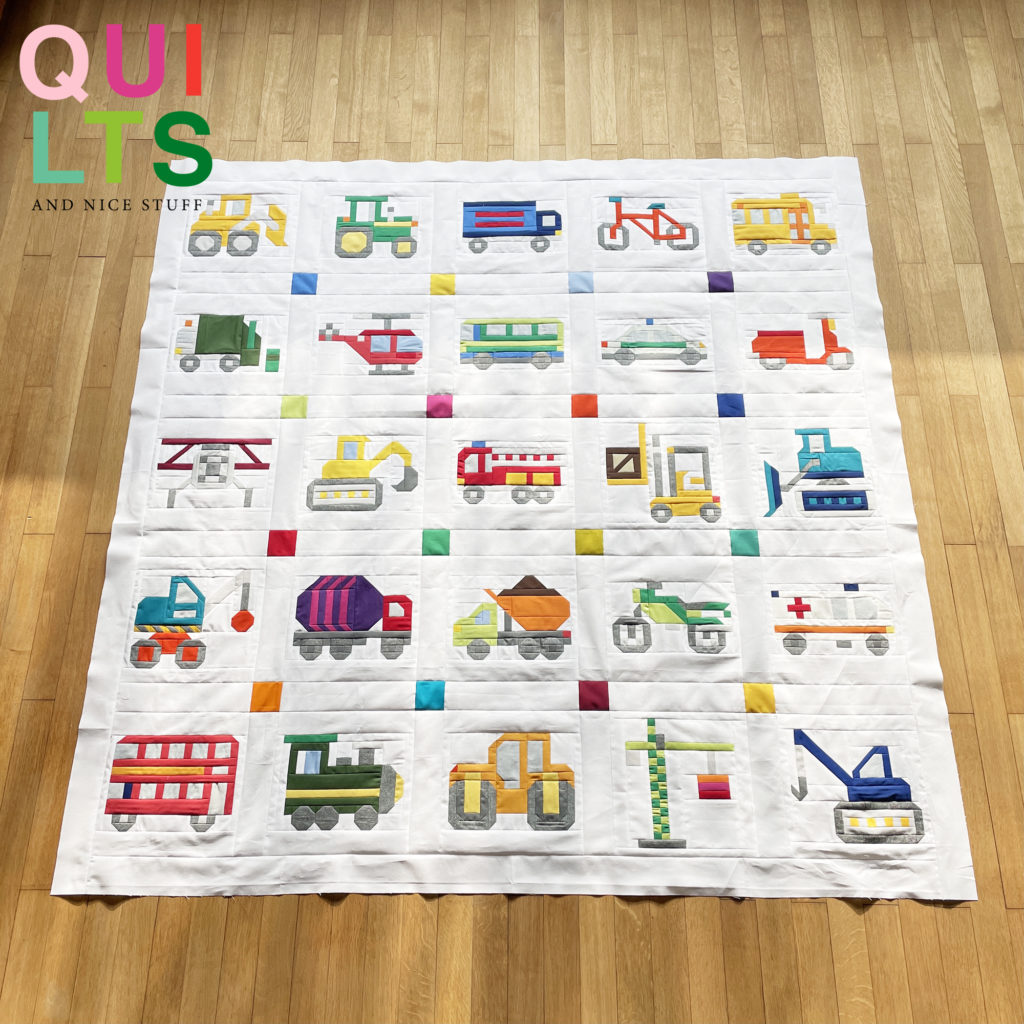 Habe da manchmal doch ganz schön gezittert, da ich ja nicht nur zum ersten Mal eine eigene Quilt Anleitung veröffentlicht, sondern auch noch einen neuen Etsy Shop eröffnet habe. Für alte Hasen klingt das wahrscheinlich nach nicht viel, aber ich fand es mehr als aufregend, dabei auch alles richtig zu machen.
Have there sometimes but quite trembling, because I not only released a quilt pattern for the first time, but also opened a new Etsy store. For old hands this probably does not sound like much, but I found it more than exciting to do everything right.
Und eigentlich ist es auch nicht nur eine Block Anleitung geworden, es sind 40 #vehicequilt Block Anleitungen, die Du einzeln als Block kaufen kann. Oder Du entscheidet Dich für eins der verschiedenen "Pattern Bundles", bei denen Du Deine Lieblingsblöcke selber zusammenstellen kannst. Am besten wäre es natürlich, wenn die Kinder selber Ihre Lieblingsblöcke für Ihren Kinderquilt aussuchen dürfen.
Und so funktioniert es. Du kaufst das gewünschte "Pattern Bundles" – hier nochmal der Link zu meinem Etsy Shop – und bekommt direkt nach dem Kauf automatisiert ein PDF. In diesem PDF findest Du alle 40 Blöcke. Kreuze Deine Lieblingsblöcke entsprechend der Anzahl des "Pattern Bundles" an und schick das PDF an hallo(@)quiltsandnicestuff.com zurück. Du bekommst dann alle gewünschten Anleitungen per Mail zugeschickt. Ich habe lange nach einer Lösung – ohne von mir zusammengestellte Blöcke – gesucht, damit Du Dir die Blöcke selber zusammenstellen kannst. Dies scheint mir die einfachste Lösung zu sein. Aber wenn jemand noch eine bessere Idee hat, immer gerne her damit. Ich freue mich über jeden Vorschlag.
And actually it's not just one block pattern, there are 40 #vehicequilt block patterns you can buy individually. Or you can choose one of the different "Pattern Bundles", where you can put together your favorite blocks yourself. Of course, it would be best if the children themselves can choose their favorite blocks for their children's quilt.
And this is how it works. Afer purchasing a "Pattern Bundles" in my Etsy Shop, you automatically get a PDF. In this PDF you will find all 40 blocks. Mark your favorite blocks according to the number of "Pattern Bundles" and send the PDF back to hello(@)quiltsandnicestuff.com. You will then get all the patterns you chose via mail. I've been looking for a solution – without a predefined selection – so you can choose your favorite blocks. This seems to be the easiest solution. But if someone has a better idea, please let me know. I am happy about every suggestion.
Die verschiedenen "Pattern Bundles"
Available "Pattern Bundles"
Da ich in den Anleitungen pro Blockgröße 3 verschiedene "Quilt Assemblies" zeige, biete ich dafür auch verschiedene "Pattern Bundles" an. Folgende "Pattern Bundles" gibt es:
40 Block Pattern Bundle: Hier bekommst Du jeden der bis jetzt veröffentlichen 40 #vehicequilt Blöcke. Heißt, hier brauchst Du gar keine Auswahl zu machen, weil Du eh alle bestehenden Blöcke bekommst. Also das volle Paket!
Since I show 3 different "Quilt Assemblies" per block size in the patterns, I also offer different "Pattern Bundles" for them. The following "Pattern Bundles" are available:
40 Block Pattern Bundle: Here you get each of the 40 #vehicequilt blocks published to date. Means, here you don't have to make a selection at all, because you get all the blocks anyway. The full package!
25 Block Pattern Bundle: Du kannst aus den 40 #vehicequilt Blöcken Deine 25 Lieblingsblöcke aussuchen. Dieses "Pattern Bundles" bietet sich an, wenn man z.B. einen 5×5 Block Quilt machen möchte. Dies am besten mit den kleineren Blöcken, da der Quilt sonst riesig wird. Genau diesen Quilt habe ich genäht. Mit Sashing und Borders hat er eine Größe von 57 1/2 x 57 1/2 inch, das sind ungefähr 146 x 164 cm. Perfekte Größe für eine schöne Kinderdecke. Das ist das Quilttop, das ich anfangs gezeigt habe.
25 Block Pattern Bundle: You can choose your 25 favorite blocks from the 40 #vehicequilt blocks. This "Pattern Pundle" is great if you want to make a 5×5 block quilt, for example. This is best done with the smaller blocks, otherwise the quilt will be huge. This is exactly the quilt I made. With sashing and borders, it measures 57 1/2 x 57 1/2 inches, which is about 146 x 164 cm. Perfect size for a nice kids quilt. This is the quilt top I showed at the beginning.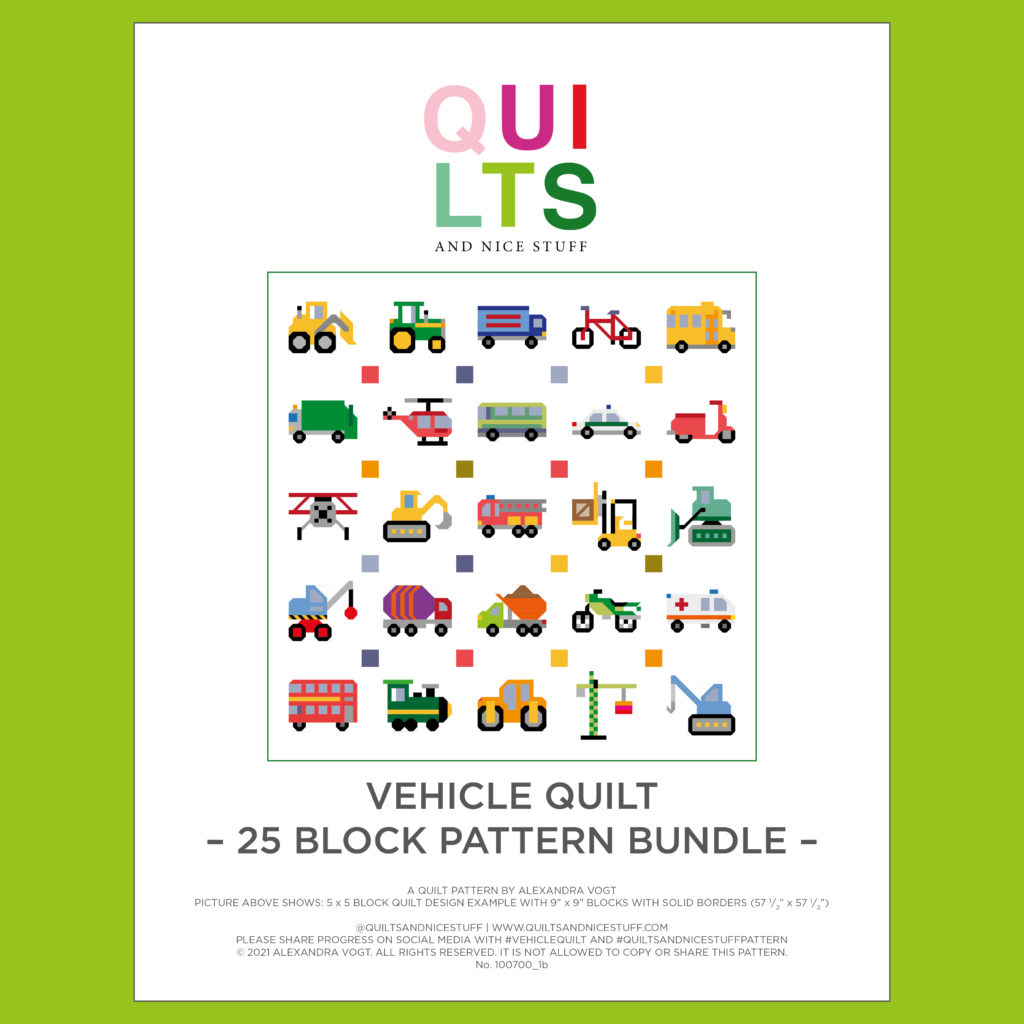 20 Block Pattern Bundle: Hier kannst Du mit Deinen 20 Lieblingsblöcken einen 4×5 Block Quilt zusammenstellen. Größe des Quilts mit Sashing und Borders ist dann ca. 46 1/2 x 57 1/2 inch (ca. 118 x 146 cm).
20 Block Pattern Bundle: Here you can create a 4×5 block quilt with your 20 favorite blocks. Size of the quilt with sashing and borders measures approx. 46 1/2 x 57 1/2 inches (approx. 118 x 146 cm).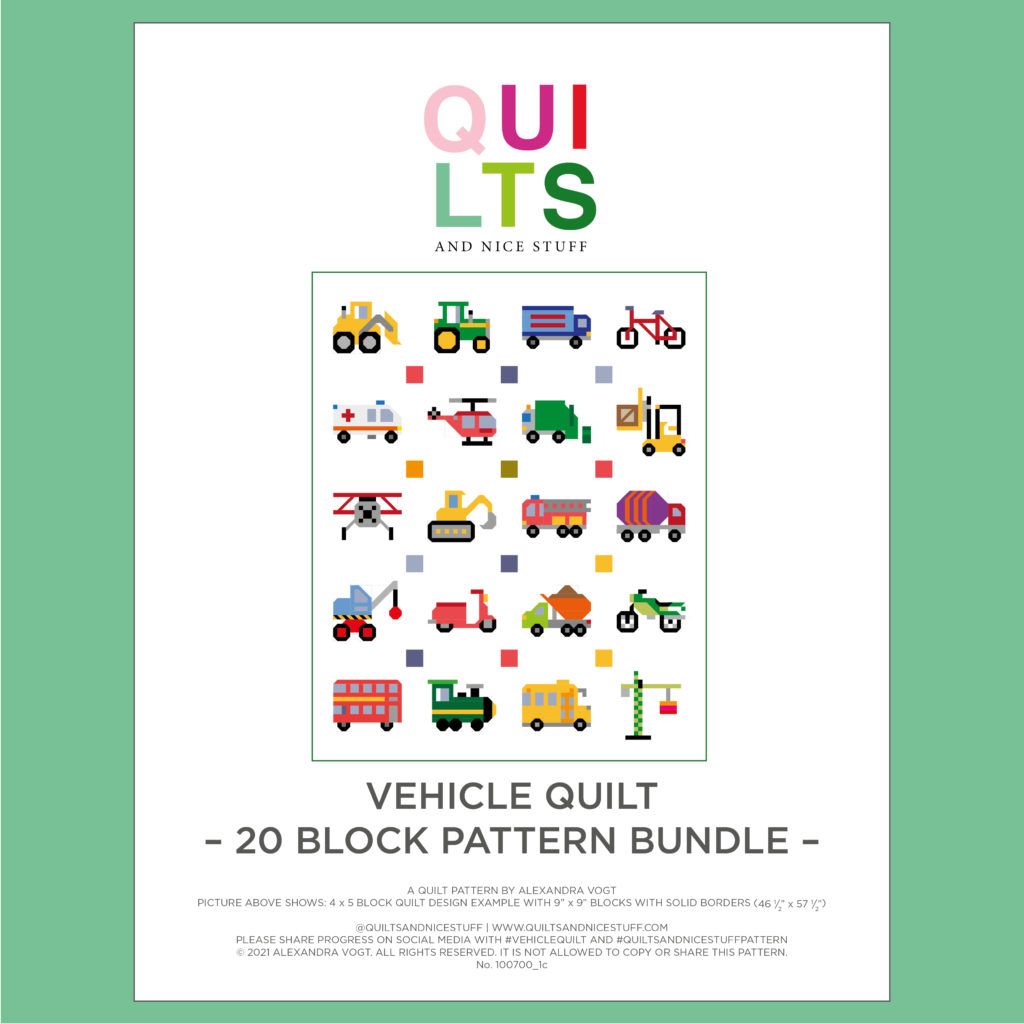 12 Block Pattern Bundle: Dieses "Pattern Bundle", bei dem Du aus den 40 #vehicequilt Blöcken Deine 12 Lieblingsblöcke aussuchen kannst, ist super für Quilts mit der größeren Blockgröße. Hier habe ich in der Anleitung den Zuschnitt für Sashing und Borders für einen 3×4 Block Quilt angegeben. Die Größe dieses Quilts wäre ca. 62 1/2 x 82 1/2 (ca. 159 x 210 cm). Also ein schön großer kuscheliger Quilt, unter dem auch 2 Platz haben.
12 Block Pattern Bundle: This "Pattern Bundle", where you can choose your 12 favorite blocks from the 40 #vehicequilt blocks, is great for quilts with the larger block size. Here the patterns gives you the cutting instruction for sashing and borders for a 3×4 block quilt assembly. The size of this quilt would be about 62 1/2 x 82 1/2 (about 159 x 210 cm). So a nice big cozy quilt with room for two underneath.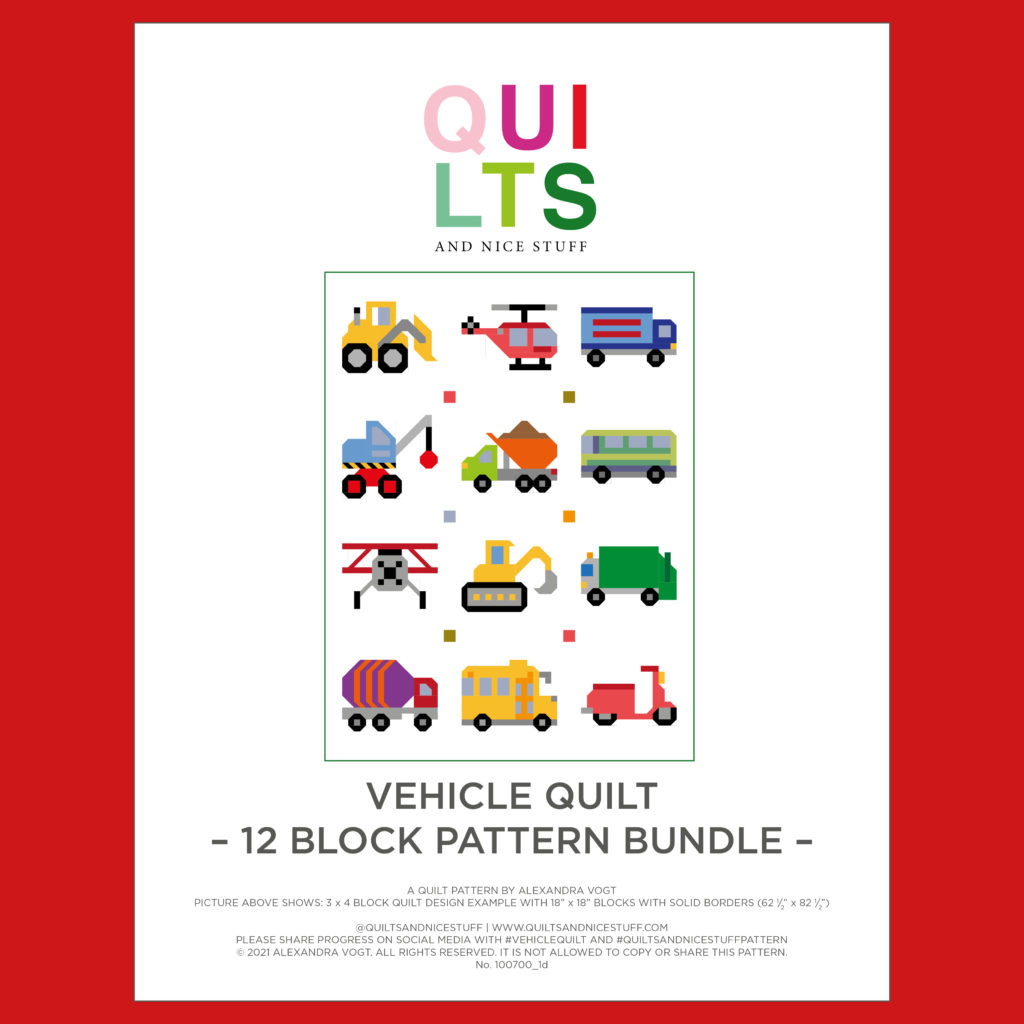 9 Block Pattern Bundle: Das ist das kleinste "Pattern Bundle", das ich anbiete. 9 Deiner Lieblingsblöcke aus allen 40 #vehicequilt Blöcken. Damit kannst Du aus den großen Blockgrößen einen quadratischen 3×3 Block Quilt nähen. Hier habe ich die Borders 1 inch breiter als bei den anderen Quilt Assemblies angelegt. Daraus ergibt sich eine Größe von ca. 66 1/2 x 66 1/2 inch (ca. 169 x 169 cm). Perfekt für das Picknick draußen auf der Wiese.
9 Block Pattern Bundle: This is the smallest "pattern bundle" I offer. 9 of your favorite blocks from all 40 #vehicequilt blocks. With this you can sew a 3×3 square block quilt from the large block sizes. Here I made the borders 1 inch wider than the other quilt assemblies. This results in a size of about 66 1/2 x 66 1/2 inches (about 169 x 169 cm). Perfect for picnics out in the meadow.
Darf es nur ein #vehiclequilt Block sein?
Just one #vehiclequilt Block?
Auch das geht natürlich. Alle #vehiclequilt Blöcke findest Du auch einzeln im Shop. Es sind also keine Grenzen gesetzt, was alles aus den #vehicequilt Blöcken entstehen kann. Mein erstes Projekt neben dem Quilt war, einen großen Korb / Utensilo zu nähen, in dem man z.B. all die vielen Spielzeugautos unterbringen kann. Dazu schreibe ich bald einen eigenen Beitrag mit einer Anleitung.
Of course, this also works. All #vehiclequilt blocks you can also find individually in the Shop. So there are no limits to what all can be created from the #vehicequilt blocks. My first project besides the quilt was to sew a large basket, in which you can store, for example, all the kids toy cars. I'll write a separate post with instructions for that soon.
Heißt, auch nur mit wenigen #vehicequilt Blöcken kann man tolle Dinge nähen. Ich denke da bereits an weitere Projekte. Habe vor ein Knisterbuch aus den kleineren Blocks zu nähen oder eine Babybett-Umrandung aus lauter kleinen Kissen. Da spuken mir schon so einige Sachen im Kopf rum. Und wenn es wirklich nur ein einziger Lieblingsblock sein soll, dann kannst Du aus diesem einen kompletten Quilt nähen. Wer sagt denn, daß alle Bagger unbedingt gelb sein müssen.
Means, even with just a few #vehicequilt blocks you can sew great things. I'm already thinking about other projects. I plan to sew a crackle book from the smaller blocks or a baby crib border made of small pillows. There are already a few things in my head. And if it really should be only one favorite block, then you can sew a complete quilt from it. Who says that all excavators must necessarily be yellow.
Hier geht es zu den Beiträgen der einzelnen vehiclequilt Blöcke, die bisher erschienen sind:
Click here for the other posts about the vehiclequilt block published so far:
You might also like