Auch wenn ich in meinem letzten Beitrag eigentlich versprochen habe, den Geometric Quilt fertigzustellen, hat sich ein Zwischenprojekt eingeschlichen, über das ich gerne schreiben möchte.
Normalerweise nähe ich Quilts nicht in einem Rutsch von Anfang bis Ende, sondern gerne über eine gewisse Zeit hinweg. Daher türmt sich mittlerweile bei mir auch schon ein beträchtlich hoher Stapel nicht vollendeter Quilttops. Da das Zuschneiden zu meiner Lieblingsbeschäftigung beim Patchworken gehört, mache ich das meistens an einem Abend. Auch das Nähen des Quilttops geht meistens sehr schnell – oft fast zu schnell, weil ich auch das sehr genieße. Dann aber liegt das fertige Quilttop erstmal fertig da…und wartet neben vielen anderen fertigen Quiltstops darauf endlich als Sandwich unter die Maschine zum Quilten zu kommen. Wenn ich mal durchzählen würde, komme ich wahrscheinlich auf eine 2-stellige Zahl meiner Quilttops.
Even though I actually promised to finish the Geometric Quilt in my last post, an in-between project has crept in that I'd like to write about.
Normally I don't sew quilts from start to finish in one go, but rather over a period of time. That's why I already have a considerable pile of unfinished quilt tops. Since cutting is one of my favorite things to do in patchwork, I usually do it in one evening. Sewing the quilt top also usually goes very quickly – often almost too quickly, because I enjoy that very much, too. But then the finished quilttop lies there next to many other finished quilt tops for quite a while ready for being…quilted. If I were to do a count, I'd probably come up with a 2-digit number of my quilt tops.
Snowball Stars Quilt – a free screenshotablepattern by @broadclothstudio
Anders bei dem Snowball Stars Quilt von @broadclothstudio. Diesen habe ich bewußt mal von Anfang bis Ende, fast ohne Unterbrechung durch andere Näh- oder Strickprojekte, fertiggestellt.
Es war eine spontane Entscheidung diesen Quilt zu nähen, da ich in den Instagram Stories von @broadclothstudio gesehen habe, daß sie eine Anleitung als "screenshotablepattern" postet. Amandas Quilts, auf Instagram unter @broadclothstudio zu finden, sind moderne Quiltdesigns, die durch den reduzierten Einsatz von wenigen geometrischen Formen so schön klar sind. Ich mag Ihr Design sehr.
@broadclothstudio stellt mehrere dieser kostenlosen Anleitungen auf Ihrem Instagram Account zur Verfügung und hat diese inszwischen auch in ihren Highlights gespeichert. Heißt, man macht Bildschirmphotos der einzelnen Storyposts und verwendet diese als Anleitung. Also fleißig Screenshots gemacht und losgelegt.
Not so with the Snowball Stars Quilt by @broadclothstudio. I deliberately finished it from start to finish, almost without interruption by other sewing or knitting projects.
It was a spontaneous decision to sew this quilt, as I saw on @broadclothstudio's Instagram Stories that she posts instructions as a "screenshotablepattern". Amanda's quilts, found on Instagram at @broadclothstudio, are modern quilt designs that are so beautifully clean with the pared down use of just a few geometric shapes. I really like your design.
@broadclothstudio provides several of these free patterns on her Instagram account and has since saved them to their highlights as well. Meaning, you take screenshots of the individual story posts and use them as a pattern. So diligently made screenshots and started.
Angefangen habe ich gleich mal mit einer Änderung. Ich habe den Quilt vergrößert, da ich wollte, daß er gut als Überdecke auf ein Bett paßt. Anstelle von 4 x 4 Sternen sind es bei mir nun 4 x 6 Sterne. Hieß aber, erstmal ordentlich zählen, um die dann benötigten Stoffteile zu berechnen. Dazu habe ich mir das Quiltmuster nochmal neu in der gewünschten Größe aufgezeichnet und die Stoffteile gezählt.
I started right away with a change. I enlarged the quilt because I wanted it to fit well as a cover on a bed. Instead of 4 x 4 stars, I now have 4 x 6 stars. But first I had to count properly in order to calculate the required fabric pieces. To do this, I drew the quilt pattern again in the desired size and counted the fabric parts.
Die Stoffauswahl für den Star Quilt / The fabric selection for the Star Quilt
Anders als in der Anleitung vorgesehen, habe ich mich für sieben verschiedene Stoffe und weiß als Hintergrundstoff entscheiden.
Ich liebe einfache und "leichte" Farben in Quilts. Daher habe ich mich für sehr dezente Stoffmuster entschieden, die sich zum Teil auch mehrfach wiederholen. In meinem Fall sind es kleine Punkte, die diesen Quilt dominieren.
Die Stoffe habe ich alle bei Traumbeere.de gekauft, es gibt sie dort leider nur nicht mehr. Trotzdem lohnt sich ein Blick in diesen Shop, da es dort traumhafte Stoffe gibt.
Das sind die Stoffe, die ich verwendet habe (Das Bild unten zeigt die Reihenfolge von oben nach unten).
Baumwolle Blumen silbergrau / weiß
Baumwolle uni hell jeansblau meliert
Baumwolle weiße Punkte auf himbeerrosa
Baumwolle uni rot meliert
Baumwolle weiße Punkte auf pastell altrosa
Baumwolle kleine weiße Punkte auf silbergrau maritim
Baumwollstoff weiße Mini Pünktchen auf senf Punkte Sprenkel

Unlike the pattern, I opted for seven different fabrics and white as the background fabric.
I love simple and "light" colors in quilts. That's why I chose very subtle fabric patterns, some of which are repeated several times. In my case it is small dots that dominate this quilt.
The fabrics I have all bought at Traumbeere.de, there they are unfortunately no longer available. Nevertheless, it is worth a look in this store, because there are dreamlike fabrics.
Zuschnitt und Layout des Quiltmusters / Cutting and layout of the quilt pattern
Zugeschnitten habe ich die Stoffe an einem Abend und war so gedankenverloren, daß ich noch nicht mal Bilder gemacht habe. Also wirklich meditativ.
I cut the fabrics in one evening and was so lost in thought that I have not even taken pictures. So really meditative.
Ich habe mir vorher die Stoffteile nicht ausgelegt, um zu schauen, wie am Ende das Quilttop aussieht. Beim Nähen habe ich einfach fast zufällig die kleinen Quadrate von meinen 7 Stoff Stapeln genommen und nur geschaut, daß sie pro Block variieren, also z.B. nicht 3 Mal der senfgelbe Stoff pro Block auftaucht.
Das mache ich, vor allem wenn ich Scrap Quilts nähe, eigentlich immer so. Keiner Farbanleitung oder einem bestimmten vorher ausgelegten Layout folgen. So wird das Nähen noch entspannter, da man nicht ständig aufpassen muß, was als nächstes vernäht wird. Beim Nähen einfach zufällig gewählt das nächste Stoffstück nehmen.
I didn't lay out the fabric pieces beforehand to see what the quilt top would look like in the end. When sewing, I just took the small squares from my 7 fabric stacks almost at random and just made sure they varied per block, so for example, the mustard yellow fabric didn't show up 3 times per block.
I actually do this all the time, especially when sewing scrap quilts. Not following a color guide or a specific layout laid out beforehand. It makes sewing even more relaxed, since you don't have to constantly keep an eye on what's going to be sewn next. When sewing just randomly selected take the next piece of fabric.
Einschub – Tipp für Projekte aus Half Square Triangles / Insert – Tip for projects from Half Square Triangles
Das ist jetzt an dieser Stelle ein kleiner Einschub in das eigentliche Snowball Star Quilt Projekt, da ich einen kleinen Tipp teilen möchte.
Zusätzlich zu der Naht, die ich laut Anleitung mache, setze ich eine zweite Naht ca. einen 1/2 inch daneben.
Now this is a little insertion into the actual Snowball Star Quilt project at this point, as I want to share a little tip.
In addition to the seam I do per the instructions, I put a second seam about a 1/2 inch beside it.
Das mache ich deshalb, da man mit diesen HSTs (half square triangles) danach andere schöne Projekte nähen kann.
I do this because you can sew other beautiful projects with these HSTs (half square triangles) afterwards.
Ich hebe diese HSTs alle auf, auch wenn sie noch so klein sind, um daraus z.B. Taschen oder Laptop Hüllen zu machen. So hat man gleich zurechtgeschnittene kleine Projekte, die man zwischendurch mal machen kann, ohne sich gleich an den nächsten Quilt zu wagen.
Hier zwei Beispiele, die ich aus HSTs gemacht habe, die beim Nähen anderer Quilttops "abgefallen" sind.
I keep these HSTs all, even if they are still so small, to make them, for example, bags or laptop sleeves. So you have immediately cut small projects that you can make in between times, without venturing immediately to the next quilt.
Here are two examples I made from HSTs that "fell off" while sewing other quilt tops.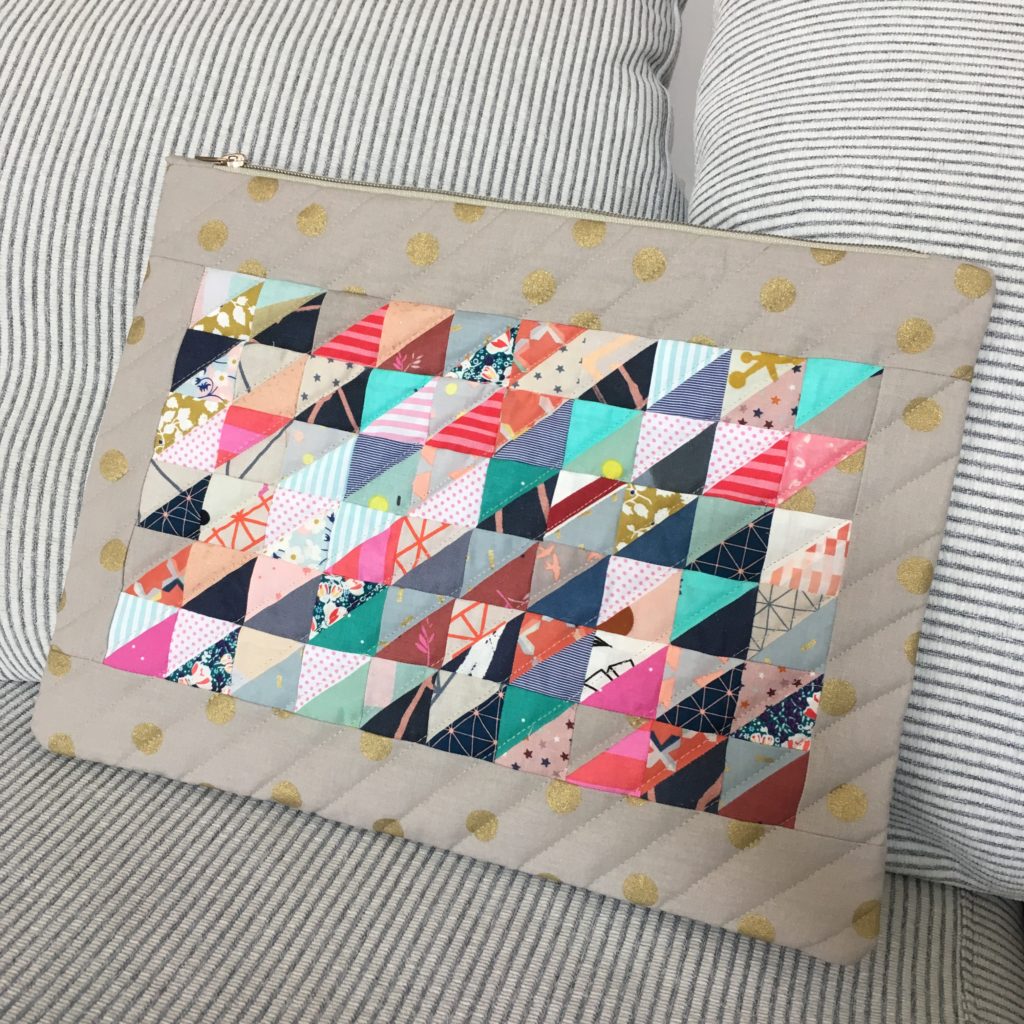 Fertigstellen des Quilttops / Finishing the quilt top
Jetzt geht es aber weiter mit dem Snowball Stars Quilt. Da das Muster herrlich einfach ist und die Anleitung gut erklärt ist, habe ich alle Blöcke hintereinander durchgenäht.
But now it continues with the Snowball Stars Quilt. Since the pattern is wonderfully simple and the instructions are well explained, I sewed through all the blocks one after the other.
In diesem Fall ist Fließbandarbeit wirklich schön. Erst nähen, dann schneiden, dann bügeln.
In this case, assembly line work is really nice. First sew, then cut, then press.
Zwischendurch darf man sich natürlich immer mal wieder an den Blöcken erfreuen.
In between, of course, you can enjoy the blocks every now and then.
Fertigstellung Snowball Stars Quilt / Completion Snowball Stars Quilt
Nachdem ich alle Blöcke fertiggestellt habe, geht es in die 2. Runde. Bei der ersten Reihe habe ich noch, was die Farbdreiecke angeht, recht wahllos die Blöcke aneinandergenäht. Klar nach Anleitung, da es ja verschieden große Blöcke sind. Damit sich aber beim Zusammensetzen des Sterns nicht immer die gleichen Stoffe treffen, habe ich mir die erste fertige Reihe auf den Boden gelegt und beim Nähen der zweiten Reihe gleich darauf geachtet, welches Dreiecke sich bei 1. und 2. Reihe treffen. Genauso habe ich das dann bei jeder weiteren Reihe gehandhabt.
Was das Bügeln der Nahtzugaben angeht, so steht nichts Spezielles in der Anleitung von @broadclothstudio. Daher habe ich die Nahtzugaben alle in Richtung der komplett weißen Hintergrundblöcke gebügelt. Das macht es dann einfacher, wenn es ans Zusammennähen des Quilttops geht.
After I have finished all blocks, it goes into the 2nd round. In the first row I have still, as far as the color triangles are concerned, quite randomly sewn the blocks together. Clearly according to instructions, since they are different sized blocks. But so that the same fabrics don't always meet when putting the star together, I put the first finished row on the floor and when sewing the second row, I immediately paid attention to which triangles meet in the 1st and 2nd row. I then did the same for each subsequent row.
As for pressing the seam allowances, there is nothing specific in @broadclothstudio's pattern. Therefore, I pressed the seam allowances all in the direction of the all-white background blocks. This makes it easier when it comes to sewing the quilt top together.
Wenn ich bei Quilts Reihen zusammennähe, mache ich mir gerne aus irgendwelchen Papierschnipsel Markierungen von 1-10 oder A-Z, mit denen ich meine Reihen kennzeichne. Diese pinne ich am Rand jeder Reihe fest, damit ich nicht durcheinanderkomme.
Diese Markierungen gibt es auf einigen Quilterseiten auch kostenlos zum runterladen, da ich aber sowas gerne irgendwo hinräume und nicht wieder finde, schreibe ich mir die fast jedes Mal neu. Ist ja auch wirklich nicht viel Arbeit und da kommt es auch nicht auf Perfektion an.
Die Nahtzugaben beim Zusammennähen der Reihen habe ich dann auseinandergebügelt, damit das Quilttop schön flach liegt. Das mache ich meisterns wirklich nach jedem Nähschitt, damit man am Schluß nicht so ein Ungetüm an Stoff zum Bügeln vor sich liegen hat. Meistens (eigentlich nie) habe ich nämlich kein Bügelbrett aufgebaut, sondern nur ein zusammengelegtes altes Stoffstück, das es leider nie in einen Quilt geschafft hat, neben meiner Nähmaschine liegen.
Ach da war ja noch das alte Thema bzw. der Wunsch irgendwann mal Platz zum Nähen zu haben… Es ist der Esstisch bei uns in der Wohnung, den ich mit meiner Nähmaschine belagere. Das geht bestimmt vielen so…
Aber jetzt freue mich erstmal über das fertige Quilttop. Genauso luftig leicht hatte ich es mir vorgestellt. Viel weiß und zurückhaltende Stoffmuster.
When I sew rows together for quilts, I like to make markers from 1-10 or A-Z out of random scraps of paper that I use to mark my rows. I pin these to the edge of each row so I don't get confused.
These markers are available on some quilting websites for free download, but since I would loose them, I write them almost every time. It's really not much work and it does not depend on perfection.
I then pressed the seam allowances open when sewing the rows together so that the quilt top would lay nice and flat. I really do this after every sewing step, so that you don't have such a monster of fabric to iron at the end. Most of the time (actually never) I don't have an ironing board set up, but just a folded up old piece of fabric that unfortunately never made it into a quilt, lying next to my sewing machine.
Oh, there was still the old topic or the desire to have sometime space for sewing… It is the dining table in our apartment, which I besiege with my sewing machine.
But for now I'm happy about the finished quilt top. Just as airy light I had imagined it. Much white and restrained fabric patterns.
Das Quilting des Snowball Star Quilts / The quilting of the Snowball Star quilt
Bildertechnisch habe ich den Schritt der Quiltsandwich-Erstellung ganz ausgelassen. Wahrscheinlich, weil es mir am wenigstens Spaßt macht. Ich mache das Quiltsandwich mit Sicherheitnadeln bzw. Quiltnadeln, die leicht gebogen sind. "Spraybasting" habe ich bei nur insgesamt 3 meiner Quilts vor Jahren ausprobiert. Aber 1. ist mir die "Kleberei" zu nervig, 2. ist es doch recht teuer und 3. finde ich es auch nicht wirklich nachhaltig, da man die Sicherheitsnadeln immer und immer wieder verwenden kann.
Aber so schlimm ist es dann ja auch nicht mit dem Quiltsandwich, obwohl in der Rangordnung der Quiltingschritte schon ganz unten angeordnet. Dicht gefolgt von…und jetzt oute ich mich hier komplett: dem Schritt des Quiltens.
Ja, richtig gehört! Ich bin kein großer Fan des Quiltens. Es ist nicht so, daß es mir überhaupt keinen Spaß macht, aber je größer der Quilt desto anstrengender wird es die Stoffmassen unter der Maschine durchzuschieben. Und da kommt es mir sehr zu Gute, daß ich einfache Quiltmuster wie gerade Linien oder weiche Wellen meistens eh am schönsten finde. So auch hier, ich habe ein einfaches Wellenmuster gequiltet. Das lenkt nicht von den Sternen ab, macht den Quilt, durch zuviele Quiltlinien, nicht steif und ist einfach zu quilten.
Picture-wise, I skipped the quilt sandwich creation step altogether. Probably because it's the least fun for me. I make the quilt sandwich with safety pins or quilting pins that are slightly bent. "Spraybasting" I tried on only a total of 3 of my quilts years ago. But 1. the "gluing" is too annoying for me, 2. it is quite expensive after all and 3. I don't really find it sustainable either, since you can use the safety pins over and over again.
But then it's not so bad with the quilt sandwich, although in the hierarchy of quilting steps already arranged at the bottom. Closely followed by…and now I completely oute myself here: the step of quilting.
Yes, you heard me right! I am not a big fan of quilting. It's not that I don't enjoy it at all, but the bigger the quilt, the harder it is to push the masses of fabric under the machine. And that's where I really benefit from the fact that I usually find simple quilting patterns like straight lines or soft waves the most beautiful anyway. So here we are, I quilted a simple wave pattern. It doesn't distract from the stars, doesn't make the quilt stiff from too many quilting lines, and is easy to quilt.
Damit die Wellen doch eine ungefähre Linie bilden, orientiere ich mich beim Quilten an den Kanten der Blöcke. Es muß gar nicht alles ganz gerade sein, aber so hat man einen ganz guten Anhaltspunkt wo die Welle anfängt und am Ende wieder aufhört.
In order for the waves to form an approximate line, I use the edges of the blocks as a guide when quilting. It doesn't have to be all straight, but it gives you a good idea of where the wave starts and ends.
Binding meines Snowball Stars Quilt / Binding of my Snowball Stars Quilt
Ganz oben und unten habe ich mein Quiltsandwich noch mit einer geraden Naht sehr nah zum Rand fixiert. Einmal das überschüssige Batting und Backing getrimmt, geht es los mit dem Binding.
At the very top and bottom, I still secured my quilt sandwich with a straight seam very close to the edge. Once the excess batting and backing is trimmed, it's on to the binding.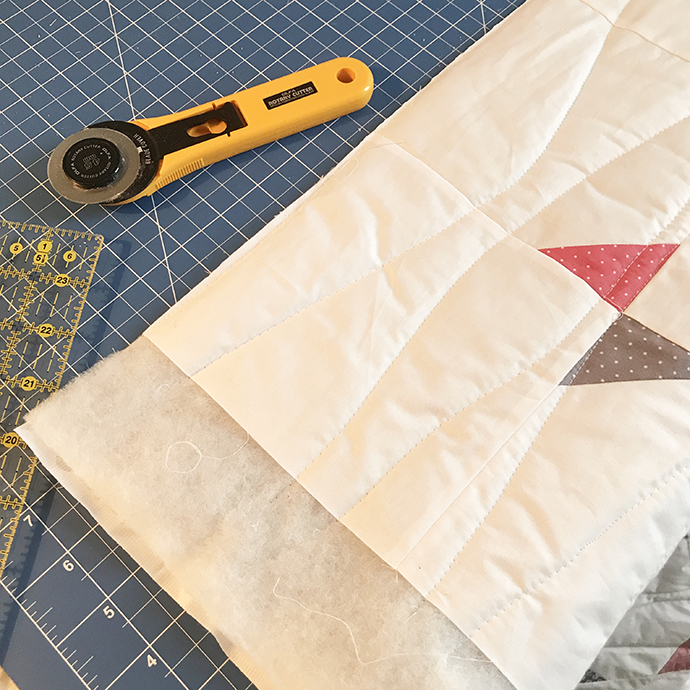 Über die Jahre habe ich schon etliche Binding-Tutorials gesehen und auch einige verschiedene Möglichkeiten ausprobiert. Momentan schneide ich mir meine Binding-Streifen auf 2,5 inch. Das läßt genug Platz, damit das Binding am Ende nicht zu schmal wird.
Over the years I've seen quite a few binding tutorials and have also tried a few different options. Currently, I cut my binding strips to 2.5 inches. That leaves enough room for the binding to cover the quilt.
Ich nähe das Binding im ersten Schritt an die Vorderseite meines Quilts. Hierzu verwende ich meinen Obertransportfuß, damit alle Stofflagen gleichmäßig durch die Maschine gezogen werden.
I sew the binding to the front of my quilt in the first step. For this I use my walkingfoot so that all layers of fabric are pulled evenly through the machine.
Auch hier heißt es wieder viel Stoffmasse durch die Maschine zu schieben.
Again, this means pushing a lot of fabric mass through the machine.
Minitutorial – Bindingstreifen schließen / Mini tutorial – Close binding strips.
Es geht um das Schließen der Bindingstreifen. Das hat mich bei den ersten Quilts echt Nerven gekostet, bis ich die Methode kennengelernt habe, die mir am liebsten war und immer noch ist.
In dieser Methode nimmt man seinen Bindingstreifen als Maßband für das Zusammensetzen des Bindings. Ist das Binding, wie in meinem Fall 2,5 inch breit, müssen sich die Biding-Enden auch 2,5 inch überlappen. Das geht aber auch mit jeder anderen Breite des Bindings.
Aber jetzt Schritt für Schritt:
Am Anfang und Ende des Bindings lasse ich lose Streifen des Bindings (nicht festnähen), die sich ca. 10 inch überlappen. Ein Ende des Sreifen schneide ich ca. in der Mitte des nicht besfestigten Bindings ab. Diesen abgeschnittenen Stoffstreifen lege ich quer auf die Kante des Bindings.
It's all about closing the binding strips. This really got on my nerves with the first quilts until I learned the method that was and still is my favorite.
In this method, you use your binding strip as a measuring tape for assembling the binding. If the binding is 2.5 inches wide, as in my case, the ends of the binding must also overlap by 2.5 inches. But this also works with any other width of the binding.
But now step by step:
At the beginning and end of the binding, I leave loose strips of the binding (do not sew them down) that overlap by about 10 inches. I cut one end of the strip approximately in the middle of the unstitched binding. I place this cut strip of fabric across the edge of the binding.
Hier sieht man in meinem Fall den abgeschnittene Streifen von 2,5 inch bündig an der Kante des Bindings liegen.
Here, in my case, you can see the cut strip of 2.5 inches lying flush against the edge of the binding.
Nochmal in anderer Perpektive, damit es besser sichtbar ist, darunter.
Again in a different perspective, so that it is better visible, below.
Jetzt lege ich das andere lose Ende des Bindings darüber und schneide genau an der 2,5 inch Breite das lose Ende ab.
Now I place the other loose end of the binding over it and cut off the loose end exactly at the 2.5 inch width.
Die beide Bindingstreifenstreifen überlappen sich somit exakt 2,5 inch.
The two binding strips thus overlap exactly 2.5 inches.
So sieht es aus, wenn ich das Stück Binding, das ich als Maß verwendet habe, entferne.
This is what it looks like when I remove the piece of binding I used as a measurement.
Die losen Ende, die sich genau 2,5 inch überlappen, lege ich jetzt rechts auf rechts zusammen und stecke diese mit ordentlich Nadeln fest, damit nichts verrutscht. Dafür muß man den Quilt etwas zusammenraffen, da es sonst zu straff sitzt. Auch muß man darauf achten, daß sich die Bindingstreifen nicht verdrehen.
I now place the loose ends, which overlap exactly 2.5 inches, right sides together and pin them down with neat pins so that nothing slips. You have to gather the quilt a bit to do this, otherwise it will be too tight. You also have to make sure that the binding strips don't twist.
Hier nochmal als Close up. Ecke auf Ecke zusammen.
Here again as a close up. Corner on corner together.
Jetzt geht es an die Maschine. Auch hier muß man den Quilt ordentlich zusammenraffen, damit man das bequem nähen kann. Durch die vier Nadeln hält es aber gut. Wie beim Zusammensetzen der Bindingstreifen nähe ich jetzt diagonal von der oberen Ecke zur unteren Ecke.
Now to the machine. Again, you have to gather the quilt neatly so you can sew this comfortably. But because of the four needles it holds well. As with piecing the binding strips, I now sew diagonally from the top corner to the bottom corner.
Bevor ich 1/4 inch neben der Naht die Ecke abschneide, überprüfe ich vorher nochmal, ob das Binding zu lang oder zu kurz ist. Wenn alles paßt und das Binding die richtige Länge hat, schneide ich die Ecke ab und presse die Nahtzugabe mit dem Finger auseinander. Dann kann das letzte Stück Binding auch an die Vorderseite des Quilts genäht werden.
Before I cut the corner 1/4 inch from the seam, I check again to see if the binding is too long or too short. If everything fits and the binding is the right length, I cut off the corner and press the seam allowance apart with my finger. Then the last piece of binding can be sewn to the front of the quilt.
Der fertige Snowball Quilt / The finished Snowball Quilt
Ich habe das Binding an beiden Seiten mit der Maschine angenäht, obwohl es natülich viel schöner ist, wenn man dieses im letzten Schritt per Hand näht. Dann sieht man nämlich keine Naht. Aber dafür bin ich oft einfach nicht geduldig genug und mich stört auch die Naht gleich neben dem Binding nicht.
I sewed the binding on both sides with the machine, although it is of course much nicer if you sew this by hand in the last step. Then you see no seam. But I'm often just not patient enough and I do not mind the seam right next to the binding.
Ich habe das Backing noch gar nicht gezeigt. Auch hier habe ich mich für einen Stoff mit Punkten entscheiden. Es ist ein dunkelblauer Stoff mit weißen Punkten. Wichtig war mir, daß der Backingstoff nicht zu empfindlich ist, falls der Quilt mal vom Bett rutscht oder draußen auf der Wiese liegt.
Der Backing-Stoff für diesen Quilt war eigentlich zu schmal und ich ihn mit einer Methode breiter gemacht habe, die ich mal irgendwo entdeckt habe. In einem Satz beschreiben: Man schneidet den Stoff in der Länge diagonal auseinander, versetzt ihn und näht ihn dann wieder zusammen. Auch das zeige ich gerne mal in einem Mini-Tutorial mit vielen Bildern.
I haven't even shown the backing yet. I have chosen a fabric with dots again. It is a dark blue fabric with white dots. It was important to me that the backing fabric is not too sensitive in case the quilt slips off the bed or lies outside on the meadow.
The backing fabric for this quilt was actually too narrow and I made it wider using a method I once discovered somewhere. Describe in one sentence: You cut the fabric diagonally apart lengthwise, offset it, and then sew it back together. I also like to show that sometimes in a mini tutorial with lots of pictures.
Der Stoff für das Binding ist der gleiche senfgelbe Stoff mit den Punkten, den ich auch schon für mein Quilttop verwendet habe. Also Punkte, wohin das Auge reicht.
Beim Batting weiß ich sogar noch, woher ich es habe. Es ist ein Batting von Stoff und Stil. Es ist zu 100% aus Polyester, was mich aber bei diesem Quilt nicht stört, da ich hoffe, daß er ständig in Gebrauch ist und sich somit gut waschen läßt. Außerdem ist es eine recht "puffige" Watteeinlage, was den Quilt schön weich und fluffig macht. Da sind mir manchmal die Battings der bekannten Firmen zu dünn und steif.
The fabric for the binding is the same mustard yellow fabric with the dots that I used for my quilt top. So dots as far as the eye can see.
With batting, I even remember where I got it from. It is a batting from Stoff und Stil. It's 100% polyester, but that doesn't bother me with this quilt because I'm hoping it will be in use all the time, so it washes well. It's also a fairly "puffy" batting, which makes the quilt nice and soft and fluffy. That's where the battings of the well-known companies are sometimes too thin and stiff for me.
Noch liegt der fertige Quilt auf unserem Sofa. Aber nicht mehr lange, denn dann wird es ein Geschenk für meine Nichte, die es mit diesem Quilt hoffentlich immer warm hat und viel kuscheln kann.
The finished quilt is still lying on our sofa. But not for long, because then it will be a gift for my niece, who hopefully always has it warm with this quilt and can cuddle a lot.
Pattern: Snowball Star Quilt
Pattern Designer: Amanda of @broadclothstudio
You might also like