Du bist hier / you're here: Home / Posts / vehiclequilt – helicopter block
Was wären die ganzen Fahrzeuge ohne einen Helikopter? Es geht weiter mit meiner Blogserie über den #vehiclequilt und die einzelnen Blöcke. In diesem Beitrag geht es um die Helikopter Block Anleitung.
What would all the vehicles be without a helicopter? It continues with my blog series about the #vehiclequilt and the individual blocks. This post is about the helicopter block pattern.
Sich drehende Rotorenblätter – ohrenbetäubender Lärm… / Rotating rotor blades – deafening noise…
Hier geht es es um den Helikopter. Dieser darf natürlich in der Sammlung faszinierender Fahrzeuge nicht fehlen. Ich bin selber noch nie in einem Helikopter geflogen, reizen würde es mich aber schon mal. Jetzt wieder zurück zum Thema Nähen, ich zeige Dir heute einige Schritte der Helikopter Block Anleitung.
This is about the helicopter. Of course, this must not be missing in the collection of fascinating vehicles. I have never flown in a helicopter myself, but it would tempt me. Now back to the topic of sewing, I show you today some steps of the helicopter block pattern.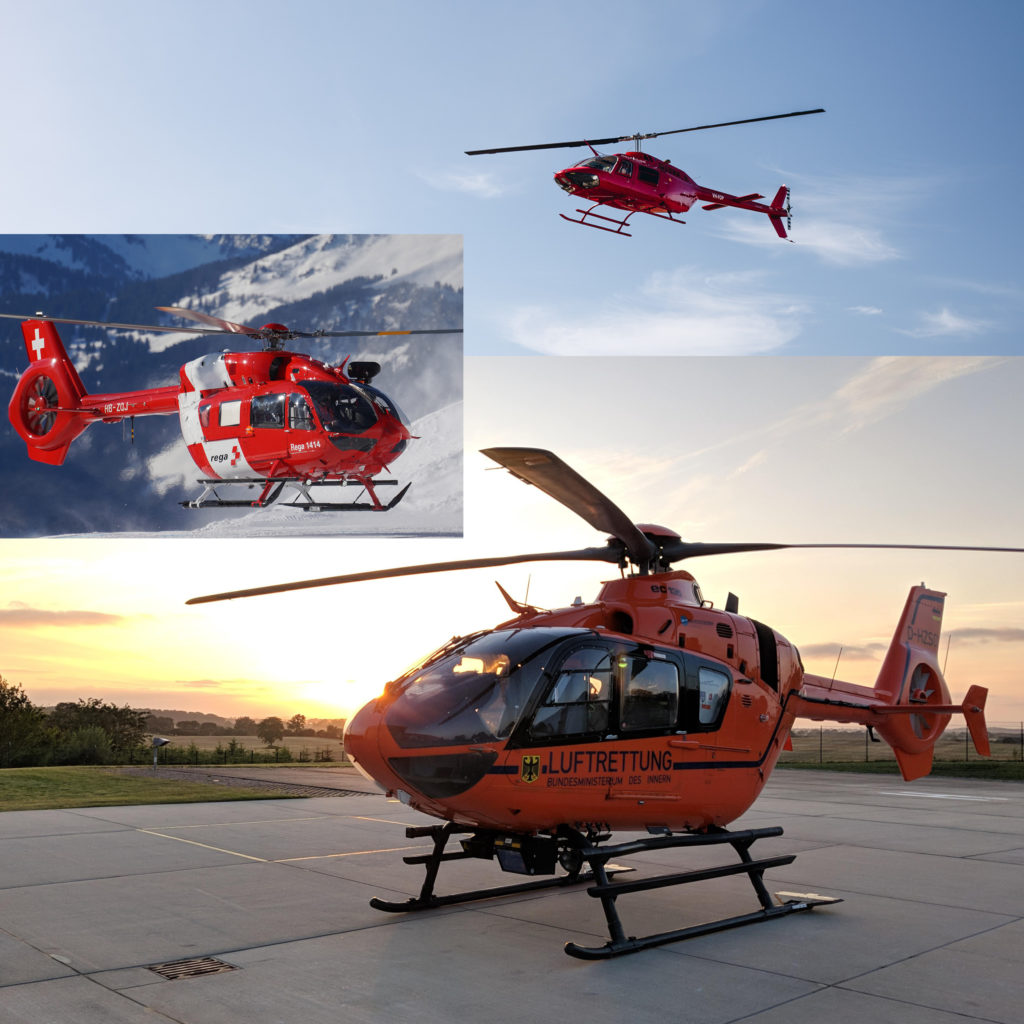 Hier findest Du die Anleitung in meinem Etsy Shop: Helikopter Block Anleitung
Übersicht über alle #vehiclequilt Block Anleitungen auf meiner Website: Pattern Shop
Here you can find the pattern in my Etsy Shop: Helicopter block pattern
Overview of all the #vehiclequilt block patterns on my website: Pattern Shop
Entwerfen des Quiltblocks / Designing the quilt block
Der erste Helikopter Block, den ich entworfen habe, sah noch komplett anders aus. Viel mehr Ecken und Kanten, mehr Ähnlichkeit mit einem Transport-Helikopter, irgendwie etwas unsympathisch. Kann ich nicht ganz erklären, aber mein erster Entwurf sah einfach nicht "nett" aus. Und das sollte der Helikopter Block im #vehiclequilt doch sein. Ein freundlicher Helikopter. Schließlich habe ich die vehiclequilt Blöcke ja für Kinder- und Babyquilts entworfen.
Folgend siehst Du den roten Helikopter in der kleinen 9 inch Größe. In der 18 inch Größe habe ich einen blauen Helikotper genäht.
My first helicopter block draft I designed looked completely different. Much more rough edges, more resemblance to a transport helicopter, somehow a bit unappealing. Can't quite explain it, but my first design just didn't look "nice". And that's what the helicopter block in the #vehiclequilt was supposed to be. A friendly helicopter. After all, I designed the vehiclequilt blocks for kids and baby quilts.
Below you see the red helicopter in the small 9 inch size. In the 18 inch size I sewed a blue helicopter.
Traditionell genähter Quilt Block / Traditional pieced quilt block pattern
Der Quilt-Block wird nach traditioneller Art genäht. Kein "Foundation Paper Piecing" (also keine Papiervorlage). Es müssen keine Rundungen genäht werden. Damit sind die Anleitungen für Nähänfanger gut geeignet.
Mit den vehiclequilt Blöcken kann man unendlich viele unterschiedliche Quilts nähen. Unten folgend mal ein Beispiel, wenn man nur die Helikopter Blöcke verwendet. Das geht sehr gut mit Unistoffen oder auch Stoffen, die ein Muster haben. Unbegrenzte Möglichkeiten!
The block is made with traditional piecing techniques (squares and rectangles), no foundation paper piecing (no FPP), no curves. Thus, the instructions are well suited for sewing beginners.
With the vehiclequilt blocks you can sew an infinite number of different quilts. Below is an example using only the helicopter blocks. This works very well with solid fabrics or even fabrics with prints. Unlimited possibilities!


Verwendeter Stoff / Fabric used in the Helicopter block
Die vehiclequilt Blöcke gibt es als kleinen 9 inch Block und als großen 18 inch Block. Dieses Näh-Foto-Tutorial zeigt die 18 inch Blockgröße. Alle Nähschritte sind bei der 9 inch Blockgröße gleich, aber einige Teilstücke des kleinen Blocks sehen etwas anders aus.
Zuerst schneidest Du alle Teile zurecht, die Du brauchst. Die 2. Seite der Anleitung zeigt Dir die genaue Schnittanleitung für den kleinen und großen Block in einer übersichtlichen Tabelle.
Ich habe alle Schnittteile nach Farben sortiert ausgelegt. Auf der zweiten Seite der Anleitung findest Du auch das Stoffdiagramm, so dass Du jedes der zugeschnittenen Teile mit dem richtigen Buchstaben beschriften kannst.
Für den großen Helikopter Block habe ich folgende Stoffe verwendet:
Weißer Stoff: Luxus Baumwolle, weiss von Stoff und Stil
Grauer Stoff: Luxus Baumwolle, hellgrau von Stoff und Stil
Grüner Stoff: bluegrass green von Kona Cotton
Blauer Stoff: Cyan von Kona Cotton
Blauer Stoff (Fenster): Yarn dyed essex aqua von Robert Kaufman
Schwarzer Stoff: Yarn dyed essex black von Robert Kaufman
The vehiclequilt blocks come in a small 9 inch block and a large 18 inch block. This sewing photo tutorial shows the 18 inch block size. All sewing steps are the same for the 9 inch block size, but some pieces of the small block look slightly different.
First, cut all the pieces you need. The 2nd page of the pattern shows you the exact cutting instructions for the small and large block in a clear chart.
I used to lay them out, all sorted by color. Second page of the pattern also shows you the fabric diagram, so you can label each of your cut pieces with the right letter.
I used the following fabrics for the large size helicopter block:
White fabric: Luxus Baumwolle, weiss by Stoff und Stil
Grey fabric: Luxus Baumwolle, hellgrau by Stoff und Stil
Green fabric: bluegrass green by Kona Cotton
Blue fabric: Cyan by Kona Cotton
Blue fabric (window): Yarn dyed essex aqua by Robert Kaufman
Black fabric: Yarn dyed essex black by Robert Kaufman
Tipps und Tricks – 1/4 inch Nahtzugabe / Check your 1/4 seam
Falls Du alle gesammelten Tipps und Tricks zum vehiclequilt sehen möchtest, schau Dir diesen Beitrag an:
VEHICLEQUILT PHOTO TUTORIAL – TIPS AND TRICKS. Dort schreibe ich auch über die 1/4 inch Nahtzugabe, die bei diesen vehiclequilt Blöcken sehr wichtig ist. Also einmal kurzer Zwischenstopp bei den TIPS AND TRICKS und die 1/4-Nahtzugabe überprüft.
If you want to see all collected tips and tricks about the vehiclequilt block pattern, check out this post:
VEHICLEQUILT PHOTO TUTORIAL – TIPS AND TRICKS. There I also write about the 1/4 inch seam allowance, which is very important for these vehiclequilt blocks. So one short stop at the TIPS AND TRICKS, check the 1/4 seam allowance andcome back.
Helikopter Block Näh-Foto-Tutorial / Sewing-Photo-Tutorial of the Helicopter Block
Verglichen mit einigen anderen vehclequilt Blöcken ist der Helikopter Block recht einfach zu nähen. Es gibt nur einige Schritte, bei denen Du mit der "easy corner triangle method" Deine Dreiecke an die Quadrate und Rechtecke nähst. Das zeige ich Dir auch hier VEHICLEQUILT PHOTO TUTORIAL – TIPS AND TRICKS oder in dem folgenden Photo-Tutorial, wenn es um das Dach des Helikopter geht. Es ist nämlich wirklich einfach.
Compared to some other vehclequilt blocks, the helicopter block is pretty easy to sew. There are only a few steps where you sew your triangles to the squares and rectangles using the "easy corner triangle method". I'll show you that also here VEHICLEQUILT PHOTO TUTORIAL – TIPS AND TRICKS or in the following photo tutorial when it comes to the roof of the helicopter. It is really simple.
Rotorenblätter für den Helikopter / The helicopter rotor blades
Wenn Du Deinen Rotorenblätter, den Heck Rotor und das Dach genäht hast, geht es ans Zusammensetzen der einzelnen Nähstücke. Hier ist es wichtig, die Nähstücke so exakt wir möglich zusammenzusetzen, damit Du am Ende die richtigen Maße hast. Hier behelfe ich mir immer mit ordentlich Nadeln.
Nimm Dir die unteren beiden Nähteile und schau, wo sich die Nähte treffen. In diesem Fall treffen sich die Nähte beim Heckrotor. Diese steckst Du mit Nadeln genau ab, damit die Näht genau übereinander liegen. Heißt, die Nadel sticht exakt durch die Nahtlinie.
Ich verwende bei solchen Nähteilen viele Nadeln, da ich diese mit einem normalen Fuß zusammennähe und keinen Obertransportfuß verwende. Wenn Du mit einem normalen Nähfuß nähst, wird der untere Stoff immer etwas mehr geschoben / gezogen, als der obere Stoff. Das liegt daran, daß der normale Fuß den oberen Stoff nicht "transportiert". Wenn Du keine Nadeln verwendest, wirkt der obere Stoff oft etwas länger, obwohl er es gar nicht ist. Durch Nadeln verhinderst Du das.
When you have sewn your rotor blades, the tail rotor and the roof, it is time to assemble the individual sewing pieces. Here it is important to assemble the sewing pieces as accurately as possible so that you have the correct dimensions at the end. Here I always help myself with a lot of pins.
Take the bottom two sewing pieces and look for nesting seams. In this case, the seams meet at the tail rotor. Pin them precisely with needles so that the seams lie exactly on top of each other. This means that the needle pins exactly through the seam.
Schöne Aussichten / Beautiful views
Es geht weiter mit den Fenstern des Helikopters. Und davon hat der Helikopter einige.
It continues with the windows of the helicopter. And the helicopter has a few of them.
Die Hubschrauberkabine entsteht / Sewing the cabon of the helicopter
Jetzt, wo Du die Fenster, den "Bauch" und die Kufen des Helikopter genäht hast, kannst Du alle Teile zusammensetzen.
Now that you have sewn the windows, the "belly" and the skids of the helicopter, you can put all the pieces together.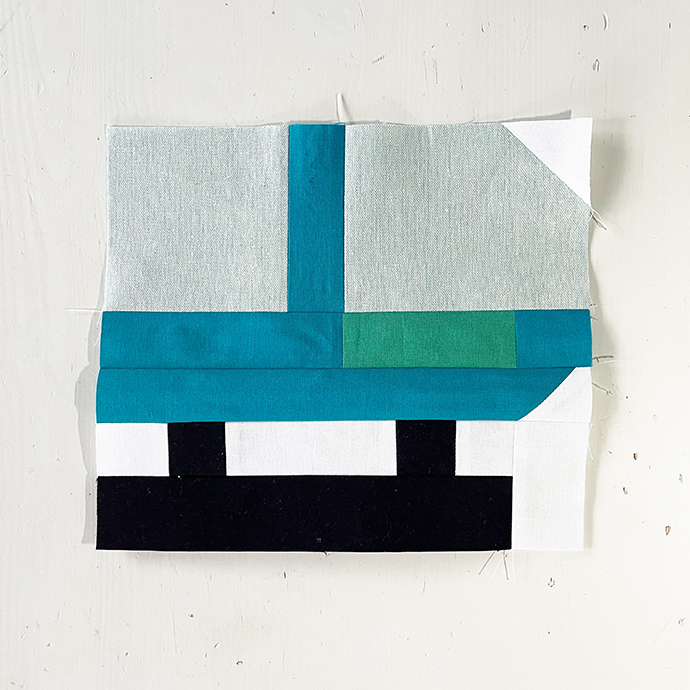 Fertigstellung des Helikopter Blocks / Finish the helicopter block
Der Helikopter Block hat 3 "Units". Ich zähle die 4 weißen Randstücke nicht mit. Jeder Block des #vehiclequilts ist in "Units" unterteilt. In der Anleitung zeige ich eine Abbildung, auf dem die "Units" zu sehen sind. So ist die Schritt-für-Schritt-Anleitung auch für Anfänger super einfach zu befolgen.
Wie Du unten bei den Bildern sehen kannst, hab ich tagsüber mit Sonne angefangen den Block zusammenzunähen und dann erst abends ohne gutes Licht weitergemacht…
The helicopter block has 3 "units". I am not counting the 4 white border pieces. Each block of the #vehiclequilt is divided into "units". In the instructions I show a picture where you can see the "Units". This makes the step-by-step instructions super easy to follow, even for beginners.
As you can see in the pictures below, I started sewing the block together during the day with sun and then continued in the evening without good light….
Noch mehr Helikopter Blöcke / some more helicopter blocks
Ich freue mich immer sehr, wenn ich die Photos der Blöcke der Testnäherinnen bekomme. Es ist so spannend, was aus so einem Block alles entsteht.
Hier zeige ich Euch einige der Helikopter Blöcke die wirklich klasse geworden sind. Sarah von @sarah_frambooske hat den Helikopter Block genäht und wunderschöne Stoffe mit Mustern verwendet.
I am always very happy when I get the photos of the blocks of the test sewers. It is so exciting to see what comes out of such a block.
Here I show you some of the helicopter blocks that turned out really great. Sarah from @sarah_frambooske sewed the helicopter block and used beautiful fabrics with patterns.
Hier zwei Helikopter Blöcke, die Margaret von @quiltyglass und Linda von @quiltart genäht haben. Beide haben Unistoffe verwendet. Linda (rechte Seite) hat einen weißen Hintergrundstoff mit ganz leichtem Muster verwendet, was den Block nochmal spezieller macht.
Here are two helicopter blocks sewn by Margaret of @quiltyglass and Linda of @quiltart. Both used solid fabrics. Linda (right side) used a white background fabric with a very light print, which makes the block even more special.
Und noch ein Helicopter Block, den ich sehr liebe, weil die Stoffauswahl so schön ist. Genäht hat den Helicopter Block Kaytie von @kaytie_and_her_life.
And another helicopter block, which I love because the choice of fabric is so beautiful. Kaytie from @kaytie_and_her_life sewed the Helicopter Block.
Ein bißchen Helikopter Block Kino / Some helicopter block cinema
Hier ein Schnelldurchlauf der Helikopter-Näh-Schritte:
Here's a quick run-through of the helicopter sewing steps: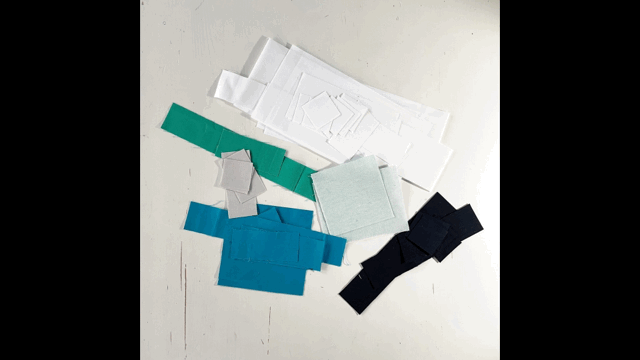 Pattern: Helikopter Block Anleitung / helicopter block pattern
Hier geht es zu den Beiträgen, die bisher zu den einzelnen Blöcken erschienen sind:
Click here for the other posts about the vehiclequilt block published so far:
Und hier geht es zum Blog Beitrag: / Blog post about:
UPDATE – VEHICLEQUILT Block Pattern Bundles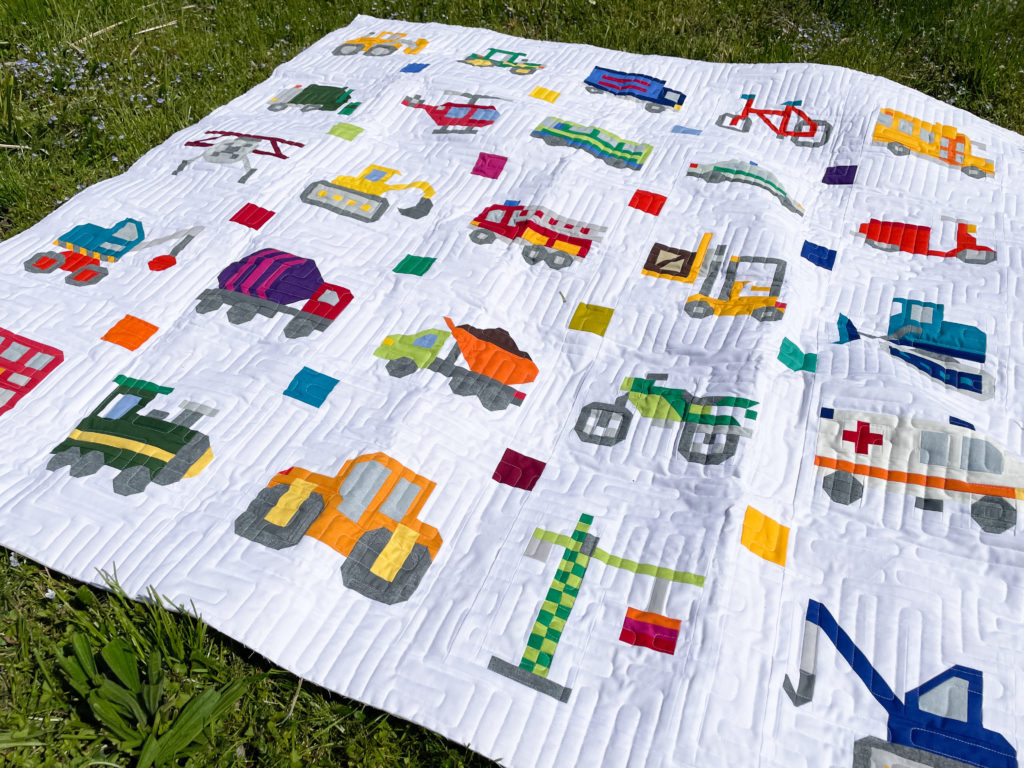 Credits pictures and mock up: Photo by Phil Won Unsplash, Photo by Isaac Benhesedon Unsplash, Photo by Yoshiki 787on Unsplash, Pixeden
You might also like