Du bist hier / you're here: Home / Posts / vehiclequilt – crawler excavator block
Jetzt, da alle #vehiclequilt Block Anleitungen veröffentlicht sind, möchte ich eine Blogserie starten, in der jeder Block einzeln in einem Beitrag vorgestellt wird. Ich zeige Dir anhand eines Näh-Photo-Tutorials einige Schritte, also hol Dir schnell die Bagger Block Anleitung in meinem Etsy shop, da wir diese Blogserie mit "schwerem Gerät" beginnen.
Since the #vehiclequilt block patterns are released, I want to start a blog series where each block will be introduced in more detail. I'll show you the some steps in a sewing photo tutorial, so hop over to my Etsy shop and get the Crawler Excavator Block pattern, as we start this block series with a heavy machine!
Darf ich vorstellen… / May I introduce…
Hier kommt etwas Schweres! Große Maschinen, schmutzig, laut und so spannend zu beobachten. Meine Kinder haben diese riesigen Fahrzeuge früher geliebt! Große Bagger mit riesigen Schaufeln. Einfach spektakulär! Wir hatten früher einen Haufen Spielzeugbagger, mit denen die Kinder gespielt haben. Deshalb zeige ich Dir heute mehr über den Bagger Block des #vehiclequilt.
Here comes some heavy duty stuff! Powerful machines, dirty, noisy and so exciting to watch. My kids loved these giant vehicles! The crawler excavator with its giant shovel. Just spectacular! We used to have a bunch of toy excavators the kids played with. So today I'll show you more about the the crawler excavator block of the #vehiclequilt.
Hier findest Du die Anleitung in meinem Etsy Shop: Bagger Block Anleitung
Übersicht über alle #vehiclequilt Block Anleitungen auf meiner Website: Pattern Shop
Here you can find the pattern in my Etsy Shop: The Crawler Excavator Block
Overview of all the #vehiclequilt block patterns on my website: Pattern Shop
Entwerfen des Quiltblocks / Designing the quilt block
Der Bagger Block war einer der ersten Entwürfe, die ich für den #vehiclequilt erstellt habe. Angefangen mit einigen Rechtecken und Quadraten habe ich begonnen, das Design zu verfeinern, indem ich einige Dreiecksformen integriert habe. Trotzdem wollte ich, dass das Design so geometrisch wie möglich bleibt, ohne Kurven oder krumme Winkel. Und vor allem sollte es ein Design sein, bei dem alle Fahrzeuge in eine feste Blockgröße passen. Das war der schwierigste Teil. Daher gibt es von jedem der Fahrzeugblöcke einen kleinen 9 inch Block und einen großen 18 inch Block.
The crawler excavator block was one of the first designs I created for the #vehiclequilt. Started with some rectangles and squares I began to refine the design a bit more by giving them some triangle shapes. But, I still wanted the design to be as geometric as possible with no curves of strange angles. And most important I wanted to create a design where all the vehicles should fit in a fixed size of block. That was the trickiest part. So of each the vehicle blocks you can find a small 9 inch block and big 18 inch block.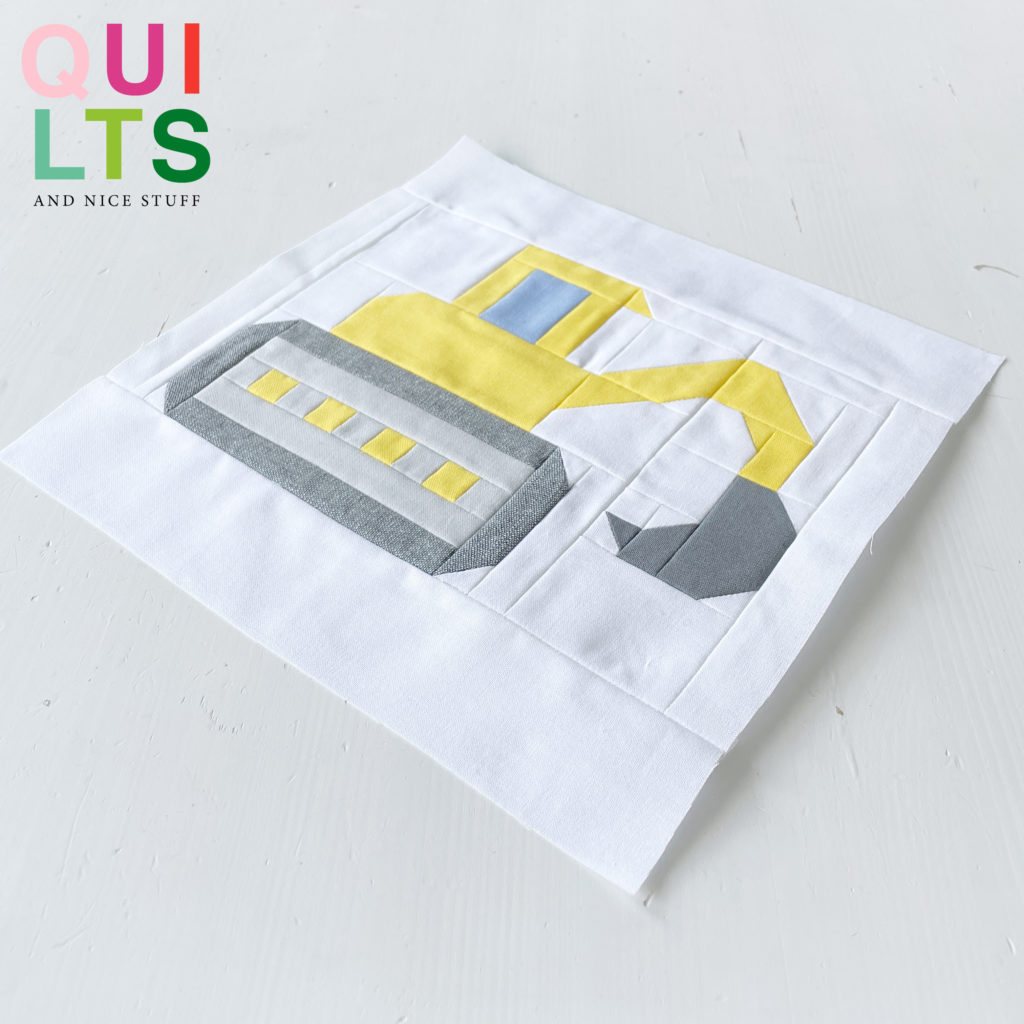 Bagger Block Näh-Foto-Tutorial / Sewing-Photo-Tutorial of the Crawler Excavator Block
Dieses Näh-Foto-Tutorial zeigt Dir einige Schritte anhand der 18 inch Blockgröße. Alle Nähschritte sind bei der kleinen 9 inch Blockgröße gleich, aber einige Teilstücke des kleinen Blocks sehen etwas anders aus.
Also laß uns anfangen und alle Teile zuschneiden, die wir brauchen. Auf der zweiten Seite der Anleitung findest Du die genaue Schnittanleitung für den kleinen und großen Block.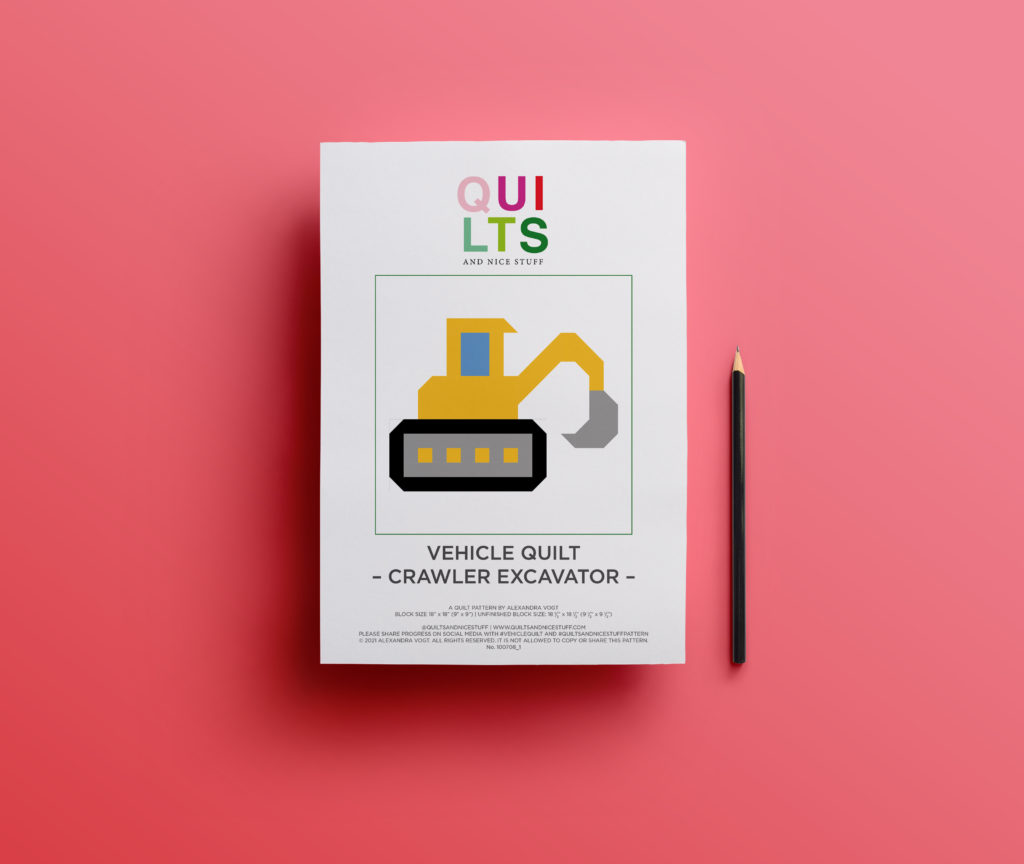 Ich habe alle Schnittteile nach Farben sortiert ausgelegt. Auf der zweiten Seite der Anleitung findest Du auch das Stoffdiagramm, so dass Du jedes der zugeschnittenen Teile mit dem richtigen Buchstaben beschriften kannst.
Für den Bagger Block habe ich folgende Stoffe verwendet:
Weißer Stoff: Luxus Baumwolle, weiss von Stoff und Stil
Grauer Stoff: Luxus Baumwolle, hellgrau von Stoff und Stil
Gelber Stoff: sunny yellow von Kona Cotton
Blauer Stoff: Yarn dyed essex aqua von Robert Kaufman
SchwarzerStoff : Yarn dyed essex indigo von Robert Kaufman
This Sewing-Photo-Tutorial shows some steps of the the 18 inch block size. All sewing steps are the same for the small 9 inch block size, but some sewing pieces on the small block look slightly different.
So let's start and get ready with cutting all the pieces you need. Second page of the pattern show you the exact cutting instructions for the small and big block.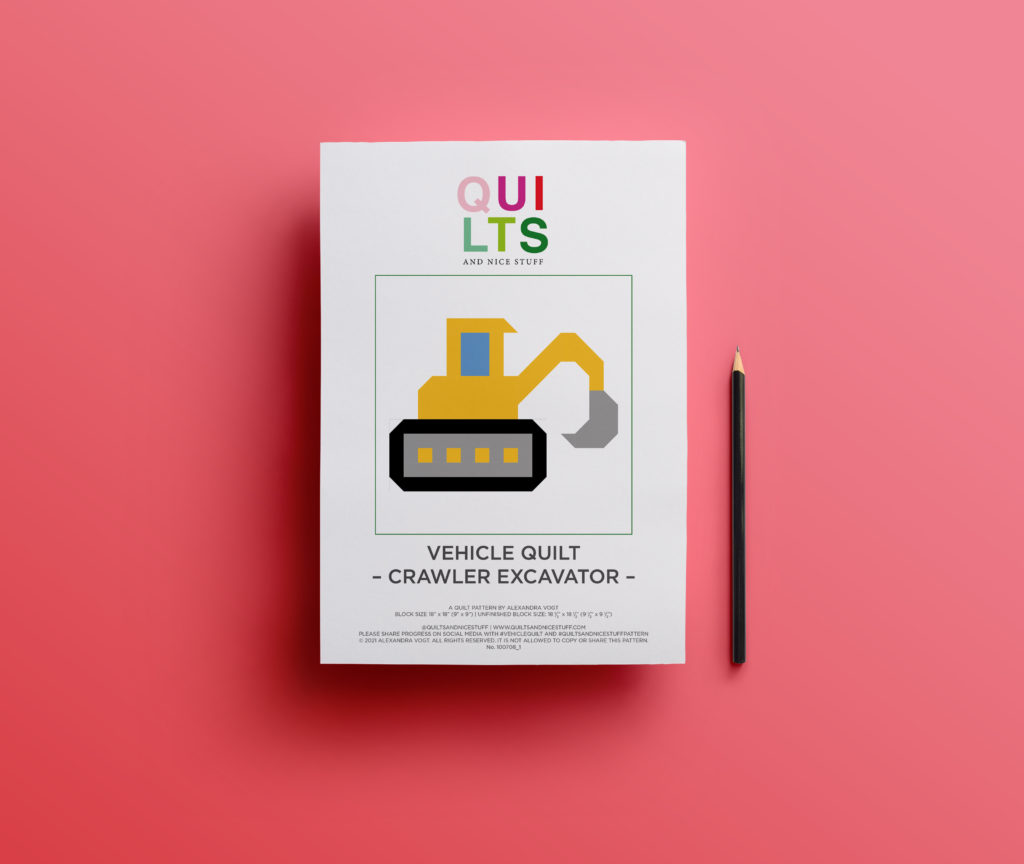 I used to lay them out, all sorted by color. Second page of the pattern also shows you the fabric diagram, so you can label each of your cut pieces with the right letter.
For my crawler excavator block I used the following fabrics.
White fabric: Luxus Baumwolle, weiss by Stoff und Stil
Grey fabric: Luxus Baumwolle, hellgrau by Stoff und Stil
Yellow fabric: sunny yellow by Kona Cotton
Blue fabric: Yarn dyed essex aqua by Robert Kaufman
Black fabric: Yarn dyed essex indigo by Robert Kaufman
Nähtipp Nummer1 : Überprüf Deine 1/4 inch Nahtzugabe / Sewing Tipp No. 1 – Check your 1/4 seam
Falls Du alle gesammelten Tipps und Tricks zum vehiclequilt sehen möchtest, schau Dir diesen Beitrag an:
VEHICLEQUILT PHOTO TUTORIAL – TIPS AND TRICKS
Für alle vehiclequilt Blöcke gibt es eine Empfehlung, die ich Dir gerne geben möchte. Überprüf Deine 1/4-Nahtzugabe. Das ist ganz einfach!
If you want to see all the collected tips and tricks about the vehiclequilt, check out this post:
VEHICLEQUILT PHOTO TUTORIAL – TIPS AND TRICKS
For all of the vehiclequilt blocks there is one recommendation I would like to give you. Check your 1/4 seam. That is done very easily.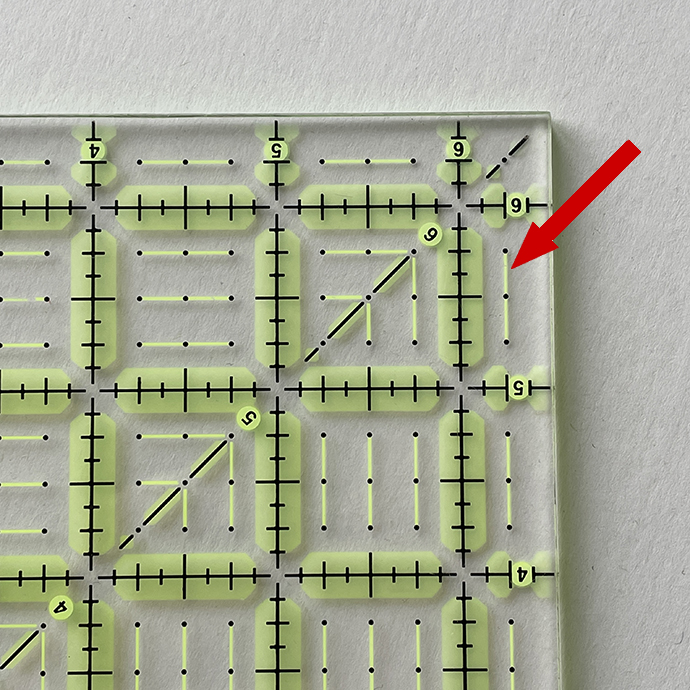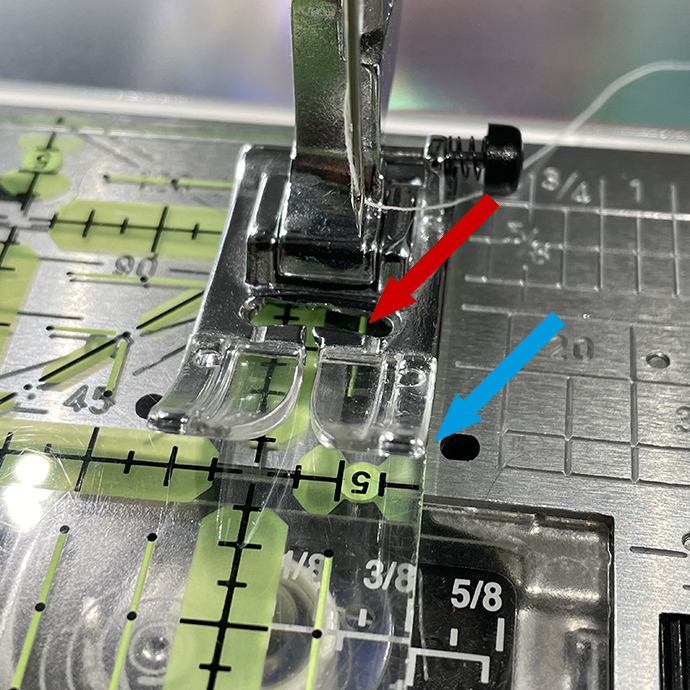 Laß uns mit dem Nähen beginnen / Let's start sewing
Laß uns mit was Einfachem anfangen und die Teile des Baggerfensters zusammennähen. Alle diese Schritte sind in der Anleitung mit grafischen Illustrationen bebildert. Außerdem findest Du die Maße der einzelnen Teilstücke unter dem jeweils abgebildeten Arbeitsschritt.
Starting with something easy and sew together the pieces of the excavator window. All these steps are shown in the pattern by illustrated grafics. Also you'll find the measurement of each sewn piece below the illustrated step.
Der Bagger bekommt ein Fenster / The Crawler excavator is getting a window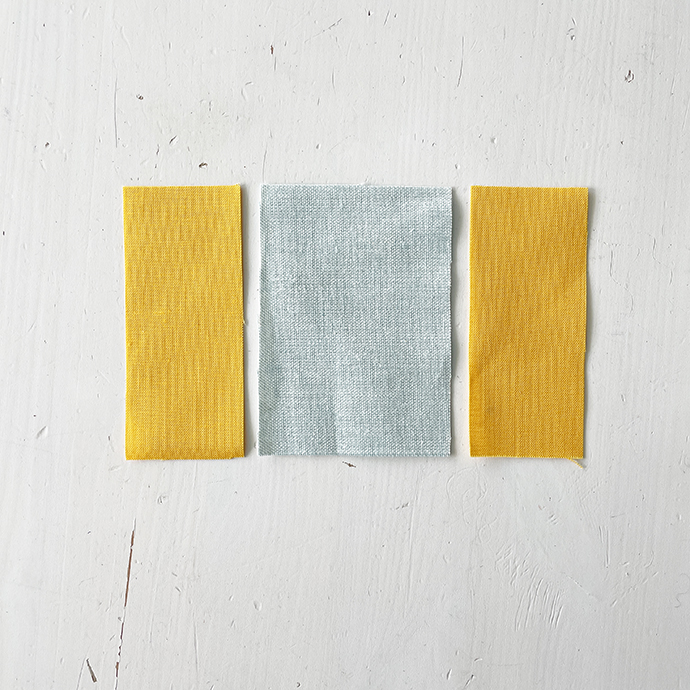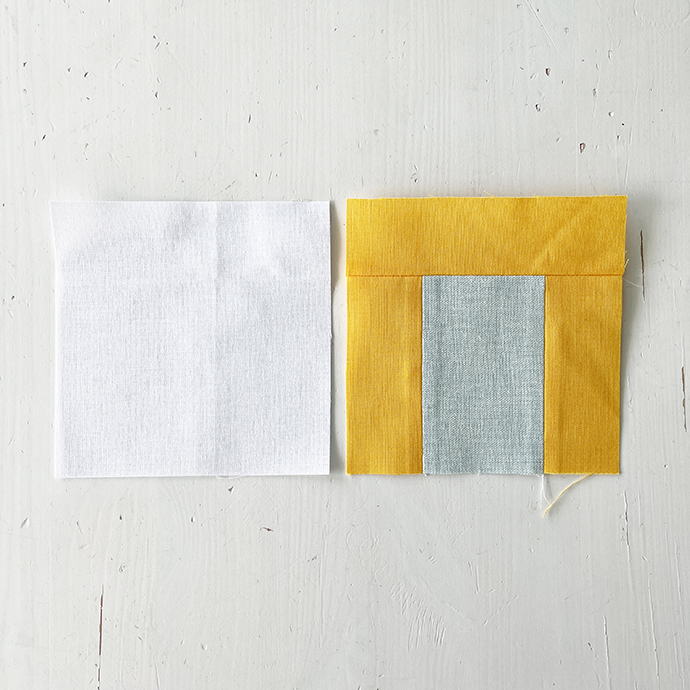 Um Deine Dreieck an das Rechteck zu nähen, verwende die "easy corner triangle Methode". Die Schritte sind ganz einfach, sobald Du herausgefunden hast, wie man es macht. Also los geht's:
For sewing your triangle onto a rectangle, use the "easy corner triangle method". The steps are quite easy as soon as you've figured out how to do it. So here we go: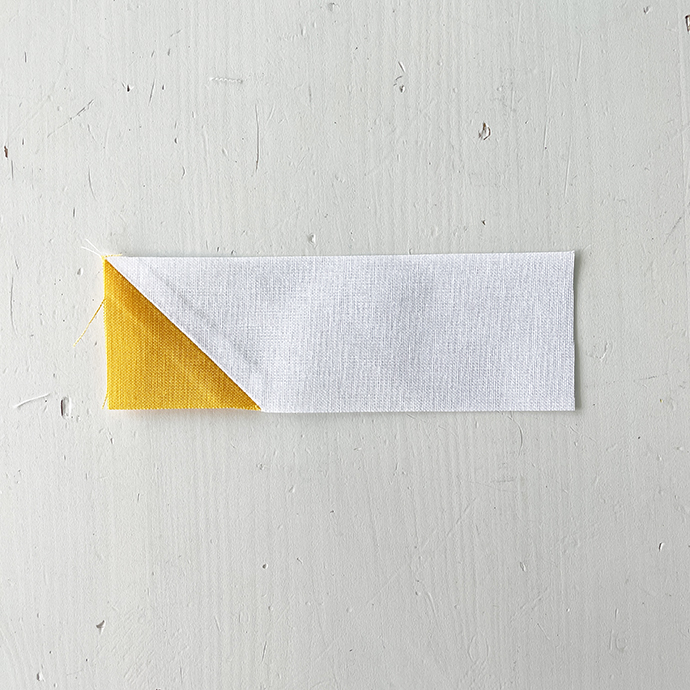 Weiter zum nächsten Teil… Folge einfach den Schritten der Bagger Block Anleitung.
In der nächsten Beschreibung findest Du die Abkürzung "HST". HST steht für "Half Square Triangle".
Ein Half Square Triangle ist eine quadratische Quiltblockeinheit, die aus zwei Dreiecken besteht. Die Dreiecke werden an ihrer diagonalen Seite zusammengenäht. Jedes Dreieck bildet eine Hälfte des Quadrats.
Onto the next part…just follow the steps of the crawler excavator block pattern.
Within the next decription you'll find the shortcut "HST". HST stands for Half Square Triangle.
A half square triangle is a square quilt block unit made from two triangles. The triangles are sewn together on their diagonal side. Each triangle forms one half of the square.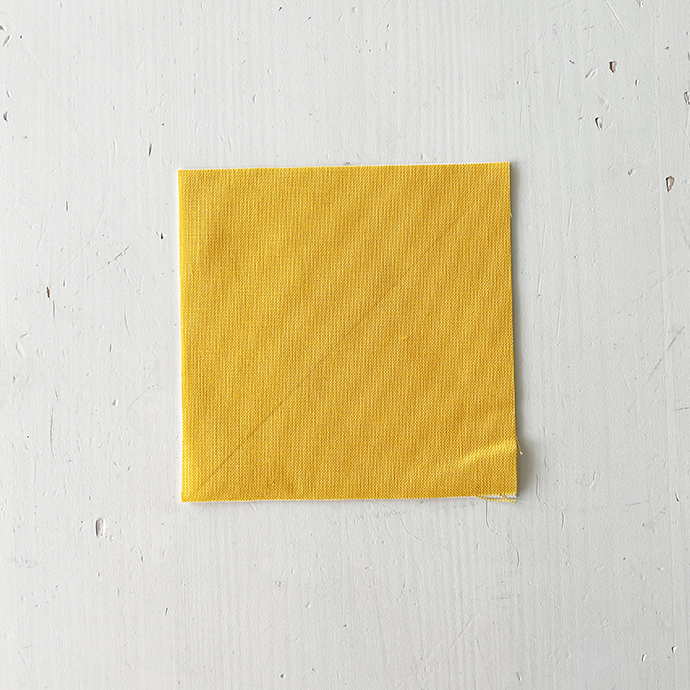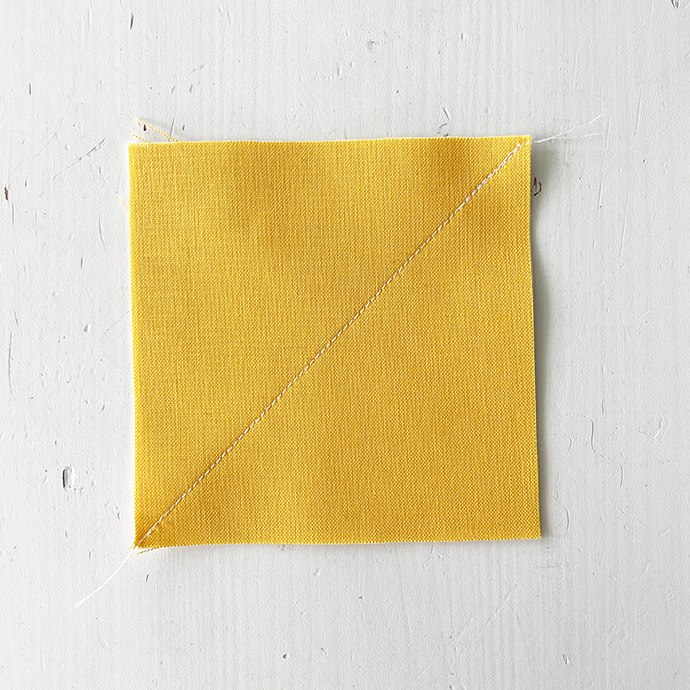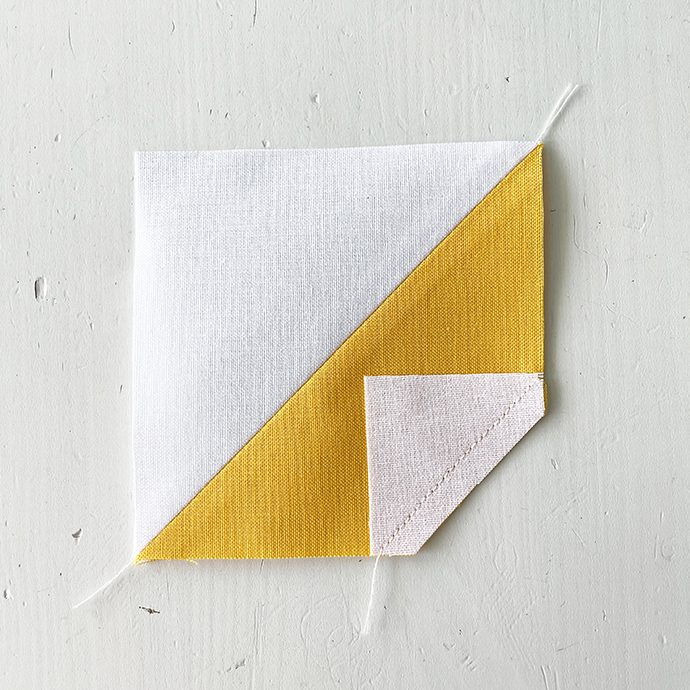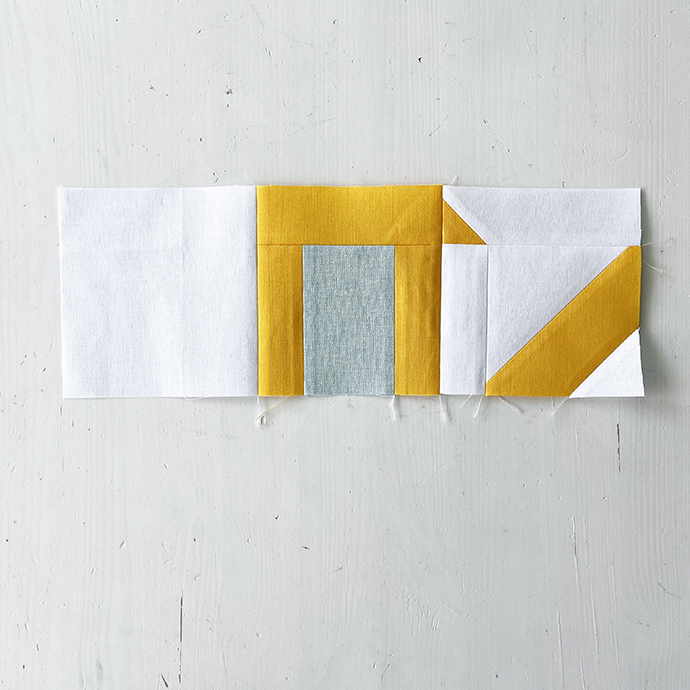 Der Bagger lernt fahren / The excavator learns to drive
Es folgen wieder einige Dreiecke, aber jetzt nähen wir die Baggerkette. Zeit, den schwarzen Stoff ins Spiel zu bringen.
Falls Du Dich wunderst, dass ich einige der Schritte unten scheinbar zweimal zeige, obwohl sie so ähnlich sind, ist leicht erklärt. Wenn Du Stoffe verwendest, die ein bestimmtes Muster haben, das eine Richtung hat, wäre dieses verkehrt herum. Deshalb mache ich es so detailliert.
Again some triangles but now we are sewing the excavator chain. So some heavy stuff here and time for taking the dark fabric.
If you wonder that I seem to show some of the steps twice below, although they are so similar. If you use fabrics that have a certain print having one direction, it would be upside down. That's why I do it in such detail.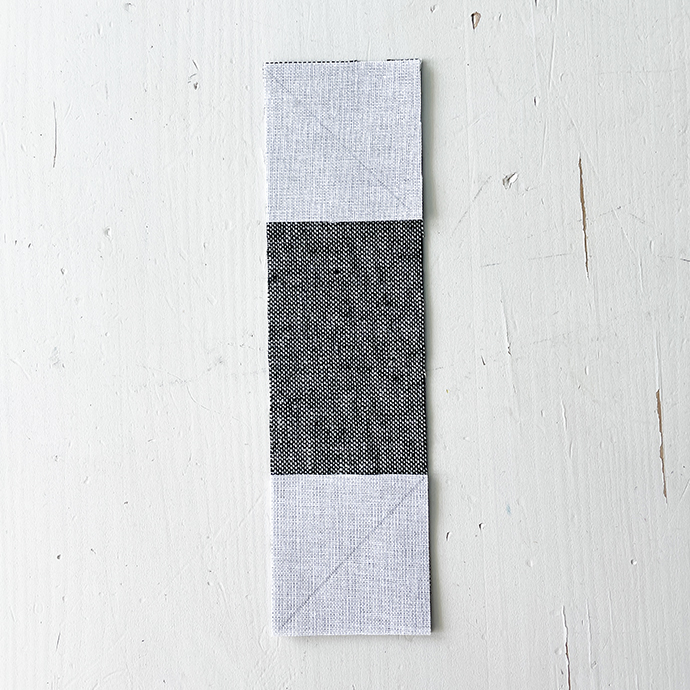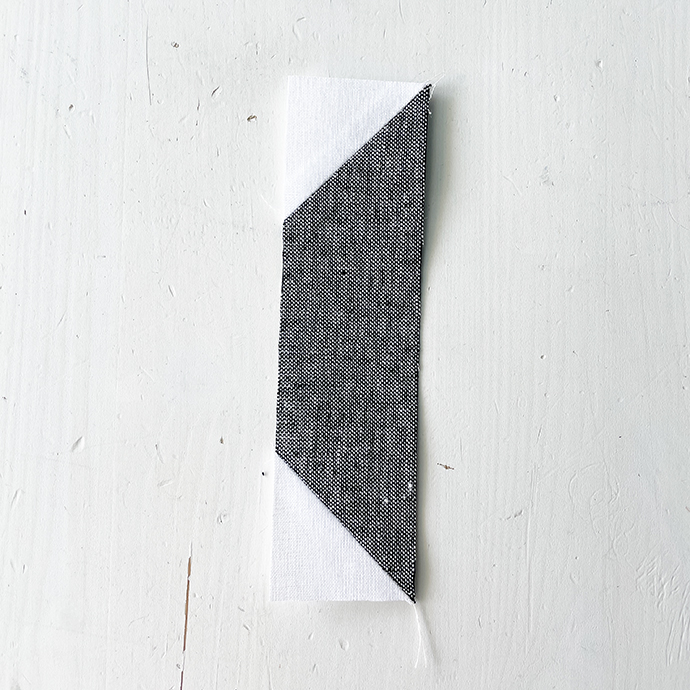 Baggerarm und Baggerschaufel / Crawler excavator arm and shovel
Jetzt kommt die Schaufel des Bagger Blocks. Es werden ziemlich viele kleine Teile benötigt, aber wenn Du auf Deine 1/4 ich Naht achtest und die Teile nicht verwechselst, sollte es kein Problem sein.
Now comes the shovel part of the crawler excavator block. A very important part of the giant machine. Quite a lot of smal pieces are needed but if you pay attention of your 1/4 inch seam and don't get your pieces wrong, this should be done quite easily
Fertigstellung des Bagger Blocks / Finish the crawler excavator block
Der Bagger Block hat 4 "Units". Ich zähle die 4 weißen Randstücke nicht mit. Jeder Block des #vehiclequilts ist in "Units" unterteilt. In der Anleitung zeige ich eine Abbildung, auf dem die "Units" zu sehen sind. So ist die Schritt-für-Schritt-Anleitung auch für Anfänger super einfach zu befolgen.
There are 4 units in crawler excavator block. I don't count the 4 white border pieces. Each block of the #vehiclequilt pattern is divided into units. There is a diagram in the pattern where you can see the units. So even for beginners the step by step instruction is super easy to follow.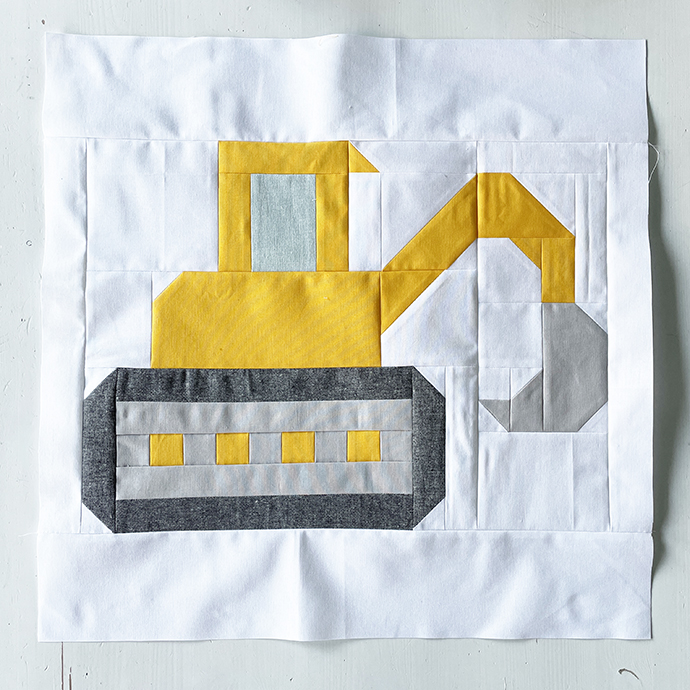 Der Bagger Block ist bereit zum Einsatz! Bügel Deinen Bagger Block nochmal gut. Ich lege meine Blöcke über Nacht meistens unter ein schweres Buch, damit die Nähte flach werden.

Nochmal im Schnelldurchlauf sehen, was Du gerade genäht hast. Bitteschön:
The excavator block is ready to dig some gravel. Give your block a good press. I'll put my blocks under a heavy book overnight so all the seams flatten out.
You wanna see what you have sewn in a quick movie? Here you go: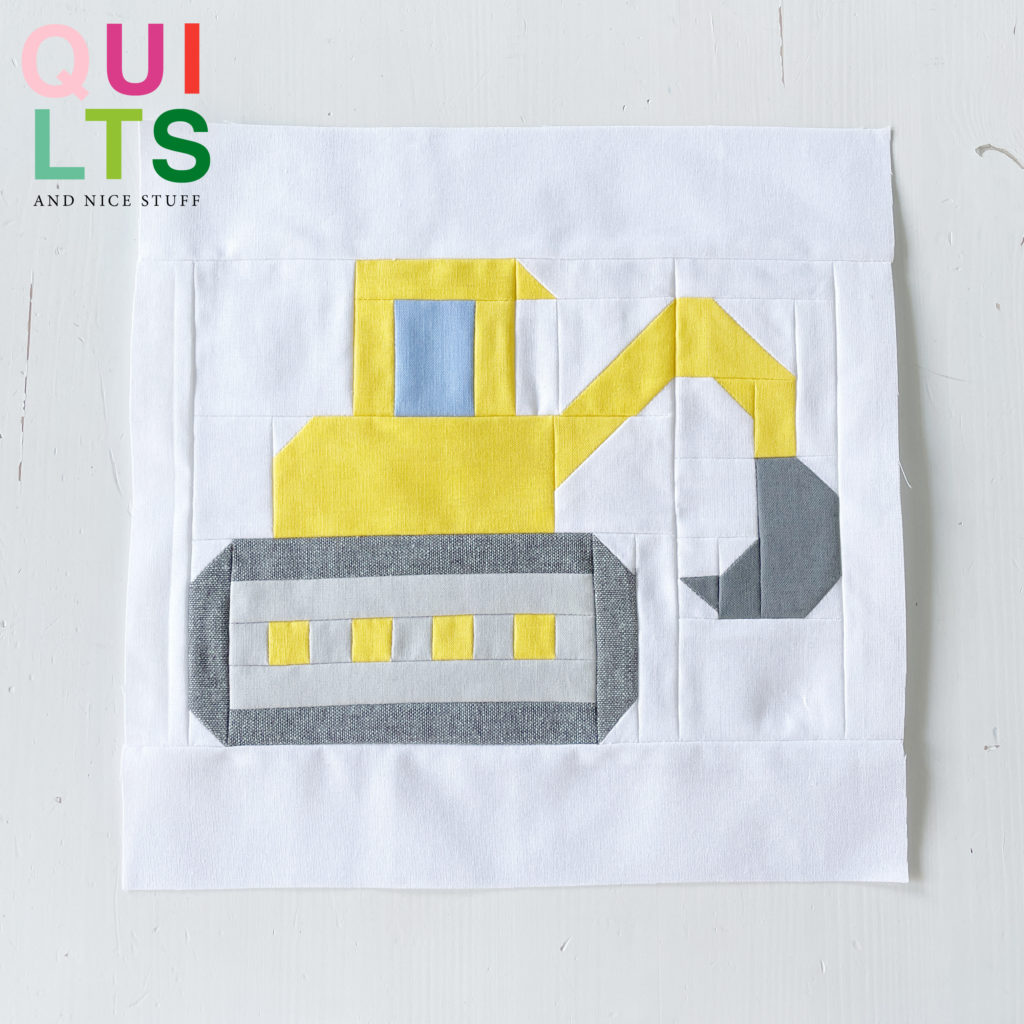 Pattern: Bagger Block Anleitung / Crawler Excavator Block
Credits pictures and mock up: Photo by Gerold Hinzen on Unsplash, Photo by Dimitry Zub on Unsplash, Photo by Wioletta Płonkowska on Unsplash, Photo by Boukaih on Unsplash, Pixeden
You might also like