Du bist hier / you're here: Home / Posts / vehiclequilt – family car block
Erinnert Ihr Euch an die Griswolds? Den Film? Dieser völlig chaotische Familien-Road-Movie? Genau an dieses Auto muß ich immer denken, wenn ich den neuen #vehiclequilt anschaue. Darf ich präsentieren: die Familienkutsche!
Do you remember the Griswolds? The movie? That totally chaotic family road movie? That's exactly the car I have to think of every time I look at the new #vehiclequilt. May I present: the family car!
Hier findest Du die Anleitung in meinem Etsy Shop: Familienkutsche Block Anleitung
Übersicht über alle #vehiclequilt Block Anleitungen auf meiner Website: Pattern Shop
Here you can find the pattern in my Etsy Shop: Family Car block pattern
Overview of all the #vehiclequilt block patterns on my website: Pattern Shop
Entwerfen des Quiltblocks / Designing the quilt block
Ich wollte unbedingt ein Auto entwerfen. Ein Auto mit einem Surfbrett auf dem Dach. In Gedanken an die unzähligen Urlaube als Kind mit der Familie, die Anreise im Auto mit viel zu vielen Koffern, Taschen, Kindern, Tieren und Eltern. 4 Kinder bei gleißender Sonne und keiner Klimaanlage hinten auf der Rückbank. Einzige Beschäftigung der Walkman, bei dem wir uns die Kopfhörer geteilt und um Batterie zu sparen die Kassetten mit dem Bleistift zurückgespult haben. In Gedanken schon in Italien, Griechenland, am Meer, im See…
I really wanted to design a car. A car with a surfboard on the roof. Thinking of the countless vacations as a kid with the family, the journey in the car with far too many suitcases, bags, children, animals and parents. 4 children in the glaring sun and no air conditioning in the back seat. The only occupation was the Walkman, where we shared the headphones and to save battery rewound the cassettes with a pencil. In thoughts already in Italy, Greece, at the sea, in the lake…
In diese Erinnerungen versunken ist die Familienkutsche entstanden und ich liebe den neuen Block sehr. Folgend siehst Du den 9 inch Block. Wie auch bei allen #vehiclequilt Anleitungen ist neben dem kleineren 9 inch Block auch der große 18 inch Block dabei.
Immersed in these memories, the family car was created and I love the new block very much. Below you can see the 9 inch block. As with all #vehiclequilt block patterns, the smaller 9 inch block is included as well as the larger 18 inch block.
Traditionell genähter Quilt Block / Traditional pieced quilt block pattern
Die #vehiclequilt Anleitungen kommen alle komplett ohne Foundation Paper Piecing (FPP) aus. Du vernähst nur Quadrate und Rechtecke. Auch habe ich keine Rundungen in die Anleitungen integriert, damit die Anleitungen alle anfängerfreundlich sind. Da die Schnittteile alle sehr klein sind, kannst Du die Blöcke auch super als Scrapbuster verwenden. Suche Dir aus Deinen Stoffresten raus, was Du für die Blöcke brauchst.
Mit den vehiclequilt Blöcken kann man unendlich viele unterschiedliche Quilts nähen. Du kannst einen Quilt nähen, in dem alle Fahrzeuge zu finden sind. Es gibt inzwischen schon 32 #vehiclequilt Blöcke und es kommen noch weitere 8 Blöcke dazu, die nach und nach veröffentlicht werden. Sobald alle neuen 12 Blöcke veröffentlicht sind, werde ich diese auch in die Bundles integrieren.
Oder Du suchst Dir Dein Lieblingsfahrzeug raus und nähst damit einen ganzen Quilt. Bei dem kannst Du dann durch unterschiedliche Stoffe unendliche Möglichkeiten kreieren. Wenn Du ein kleineres Projekt willst, kannst Du natürlich auch ein Kopfkissen nähen oder ein Utensilo, bei dem Du einige Blöcke unterbringst. So wie ich das hier gemacht habe. Zum Utensilo schreibe ich mal einen ganz eigenen Block Beitrag. Muß nur dazu kommen….
The #vehiclequilt block patterns are all sewn completely without Foundation Paper Piecing (FPP). You only sew squares and rectangles. I also didn't include any curves in the patterns so they are all beginner friendly. Since the pattern pieces are all very small, you can also use the blocks as scrapbusters. Pick out what you need for the blocks from your fabric scraps.
With the vehiclequilt blocks you can sew an infinite number of different quilts. You can sew a quilt in which all vehicles can be found. There are already 32 #vehiclequilt blocks and there are 8 more blocks to come, which will be released little by little. As soon as all new 12 blocks are released, I will integrate them into the bundles as well.
Or you can choose your favorite vehicle and sew a whole quilt with it. You can then create endless possibilities with it by using different fabrics. If you want a smaller project, you can of course sew a pillow or a utensilo where you just take some blocks. Like I did here. There will be an extra blog post about sewing the utensilo in the near future…
Schaut mal bei dem Blog Beitrag VEHICLEQUILT BLOCK PATTERN BUNDLES vorbei, da habe ich alle #vehiclequilt Block Bundles aufgelistet und erkläre, wie einfach das mit der Bestellung funktioniert, damit jeder seine Blöcke individuell zusammenstellen kann.
Check out the blog post VEHICLEQUILT BLOCK PATTERN BUNDLES, I've listed all the #vehiclequilt block bundles and explain how easy it is to order so everyone can customize their blocks.
Hier geht es zur Anleitung der Familienkutsche / The Family Car Block Pattern
Die vehiclequilt Block Anleitungen enthalten den kleinen 9 inch Block und den großen 18 inch Block. Die PDF Anleitung ist ein automatischer Download, den Du sofort nach Kauf runterladen kannst.
The vehiclequilt block patterns include the small 9 inch block and the large 18 inch block. The PDF patterns are an immediate download after purchase.
Stoffauswahl Familienkutsche / fabric selection Family Car
Zuerst schneidest Du alle Teile zurecht, die Du brauchst. Die Anleitung gibt Dir eine genau Schnittanleitung in einer übersichtlichen Tabelle. Wenn Du alle Teile geschnitten hast, markiere sie mit den Buchstaben, die Du im "fabric diagram" findest. So findest Du Dich leicht zurecht. Da ich inzwischen schon so viele vehiclequilt Blöcke genäht habe, lege ich mir alle Schnittteile einfach nach Farben sortiert aus.
Für die Familienkutsche habe ich folgende Stoffe verwendet:
Weißer Stoff: Luxus Baumwolle, weiss von Stoff und Stil
Grauer Stoff: Luxus Baumwolle, hellgrau von Stoff und Stil
Hellbrauner Stoff: Together Tan von Bella Solids
Braun dunkel: U Brown von Bella Solids
dunkelblauer Stoff: Marine Blue von Kona Cotton
hellblauer Stoff: Bluebell von Bella Solids
Roter Stoff: Christmas Red von Bella Solids
Gelber Stoff: Sunflower von Bella Solids
Blauer Stoff (Fenster): Yarn dyed essex aqua von Robert Kaufman
Schwarzer Stoff: Yarn dyed essex black von Robert Kaufman
First you cut all the pieces that you need. The patterns give you exact cutting instructions in a clear diagram. When you have cut all the pieces, mark them with the letters you see in the "fabric diagram". This way you can easily find your way around. Since I have already sewn so many vehiclequilt blocks, I simply lay out all the pattern pieces sorted by color.
For the family car I used the following fabrics:
White fabric: Luxus Baumwolle, weiss by Stoff und Stil
Gray fabric: Luxus Baumwolle, hellgrau by Stoff und Stil
Lightbrownfabric: Together Tan by Bella Solids
Darkbrown fabric: U Brown by Bella Solids
Darkblue fabric: Marine Blue by Kona Cotton
Lightblue fabric: Bluebell by Bella Solids
Red fabric: Christmas Red by Bella Solids
Yellow fabric: Sunflower by Bella Solids
Blue fabric (window): Yarn dyed essex aqua by Robert Kaufman
Black fabric: Yarn dyed essex black by Robert Kaufman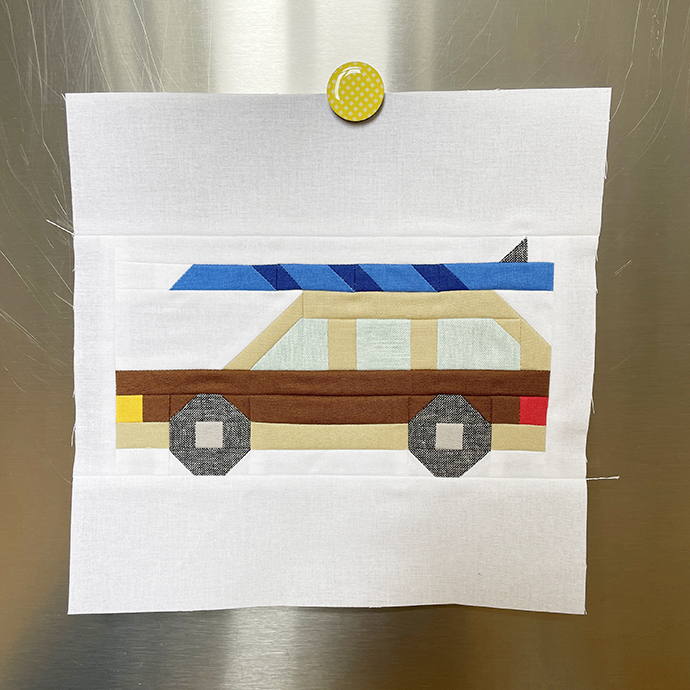 Nähtipps / Tipps und Tricks sewing the vehiclequilt
Falls Du alle gesammelten Tipps und Tricks zum vehiclequilt sehen möchtest, schau Dir diesen Beitrag an:
VEHICLEQUILT PHOTO TUTORIAL – TIPS AND TRICKS. Dort schreibe ich auch über die 1/4 inch Nahtzugabe, die bei diesen vehiclequilt Blöcken sehr wichtig ist. Außerdem zeige ich sehr detailliert, wie Du die Bindingstreifen ohne zusätzliches Hilfsmittel schließt. Wenn Du ein Photo-Tutorial suchst, daß Dir zeigt, wie man ein Binding mit der Maschine annäht, schau Dir meinen Blog Beitrag "Little Square Quilt" an, da zeige ich das sehr ausführlich.
If you want to see all collected tips and tricks about the vehiclequilt block pattern, check out this post:
VEHICLEQUILT PHOTO TUTORIAL – TIPS AND TRICKS. There I also write about the 1/4 inch seam allowance, which is very important for these vehiclequilt blocks. I also show in great detail how to close the binding strips without any additional tools. If you are looking for a photo tutorial that shows you how to machine sew a binding, check out my blog post "Little Square Quilt".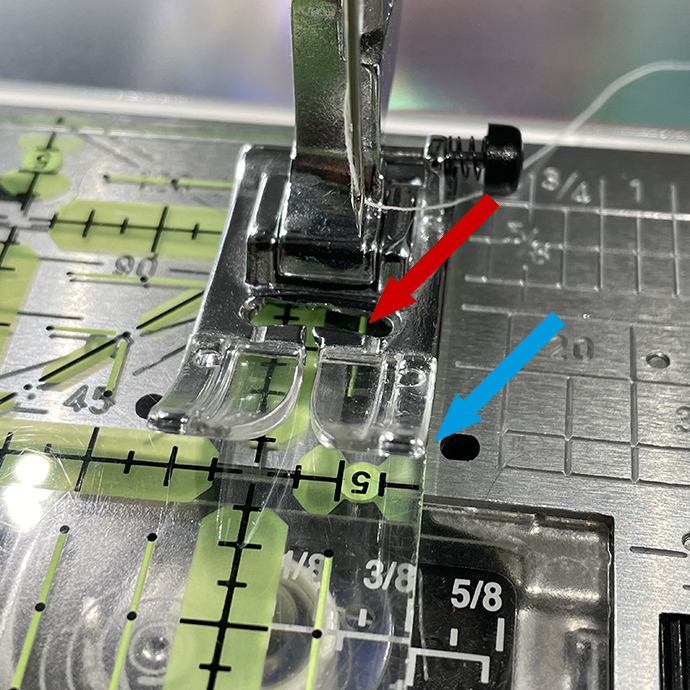 Was ist mit Deiner Familienkutsche? / What about your family car?
Meine Familienkutsche ist fertig genäht. Diesmal habe ich kein kleines Photo-Näh-Tutorial gezeigt. Fehlt Dir das? Würde mich freuen, wenn Du mir schreibst, ob Du auch weiterhin einige Schritte in den Beiträgen sehen möchtest.
Und wenn Du Lust hast, schick mir hier in den Kommentaren Deine genähten Blöcke. Wenn Du bei Instagram #vehiclequilt und / oder #quiltsandnicestuffpattern verwendest, freue ich mich riesig die Blöcke zu sehen. Oder Du taggst mich direkt mit @quiltsandnicestuff, dann kann ich Deinen Block in meinen Stories zeigen.
Noch ein Tipp: Ich lege meine Blöcke immer 1, 2 Tage unter ein dickes Buch, damit die Nähte richtig schön flach liegen. Mit meinen neuen Blöcken habe ich schon ein neues Projekt im Sinn, für das ich allerdings noch das Design erstellen muß. Es wird ein Quiltdesign, in das man die Blöcke toll einarbeiten kann. Eventuell hat das auch schon etwas mit Weihnachten zu tun… Also schaut mal wieder vorbei!
My family car is finished. This time I didn't show a little photo sewing tutorial. Do you miss that? Would be happy if you write me if I shall continue to show some photos of the steps.
And if you feel like it, send me your sewn blocks here in the comments. If you use #vehiclequilt and / or #quiltsandnicestuffpattern on Instagram, I'm super excited to see the blocks. Or you can tag me directly with @quiltsandnicestuff, then I can show your block in my stories.
Another tip: I always put my blocks under a thick book for 1, 2 days so that the seams lie really nice and flat. With my new blocks, I already have a new project in mind, but I still have to create the design for it. It will be a quilt design that will be great to work the blocks into. Maybe it has something to do with christmas… So take a look again!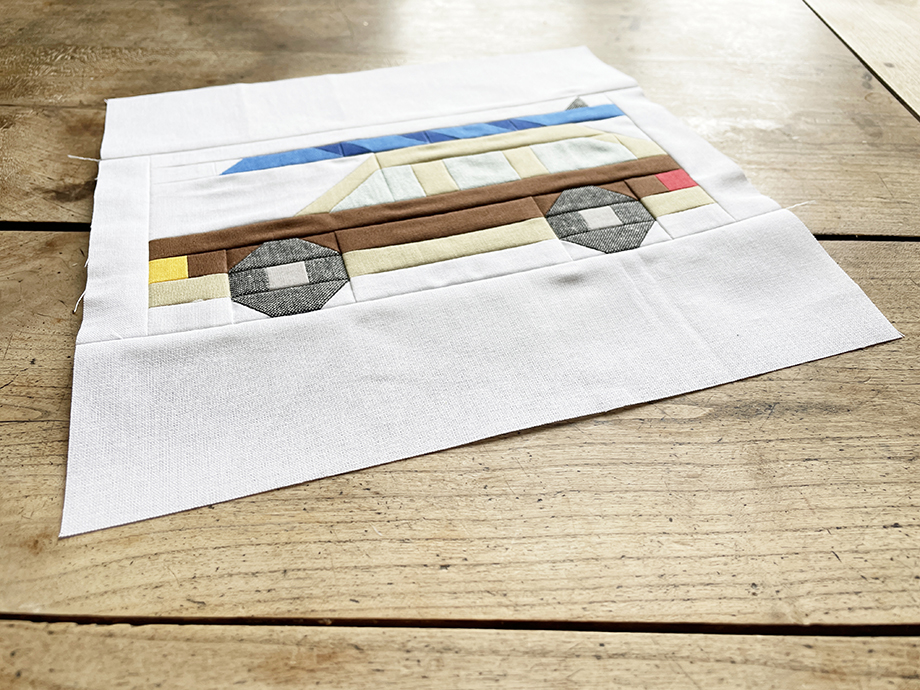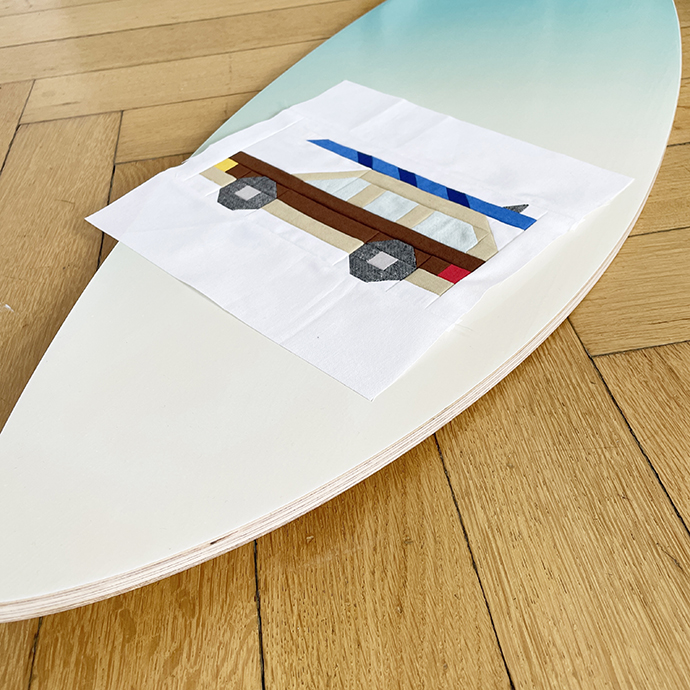 My lovely pattern testers of the Family Car
Auch diesmal zeige ich Euch die tollen Blöcke meiner Testnäherinnen. Ich bin wie immer so dankbar, daß ich diese wahnsinnig schönen Blöcke zu sehen bekomme.
Kat von @quiltystitchystuff hat mir diese beiden großartigen Bilder geschickt. Kat hilft mir sehr, da sie schon einige der #vehiclequilt Blöcke genäht hat und sich somit inzwischen echt gut auskennt. Sie näht sehr präzise und entdeckt jede kleine Unregelmäßigkeit in den Anleitungen. Der Block ist wirklich wieder wunderbar geworden. Ich danke Dir sehr, Kat.
Once again, I'm showing you the amazing blocks from my test sewers. As always, I am so grateful that I get to see these insanely beautiful blocks.
Kat from @quiltystitchystuff sent me these two great pictures. Kat helps me a lot, because she has already test sewn some of the #vehiclequilt blocks and therefore knows her way around really well by now. She sews very precisely and discovers every little irregularity in the patterns. The block really turned out wonderful again. Thank you very much, Kat.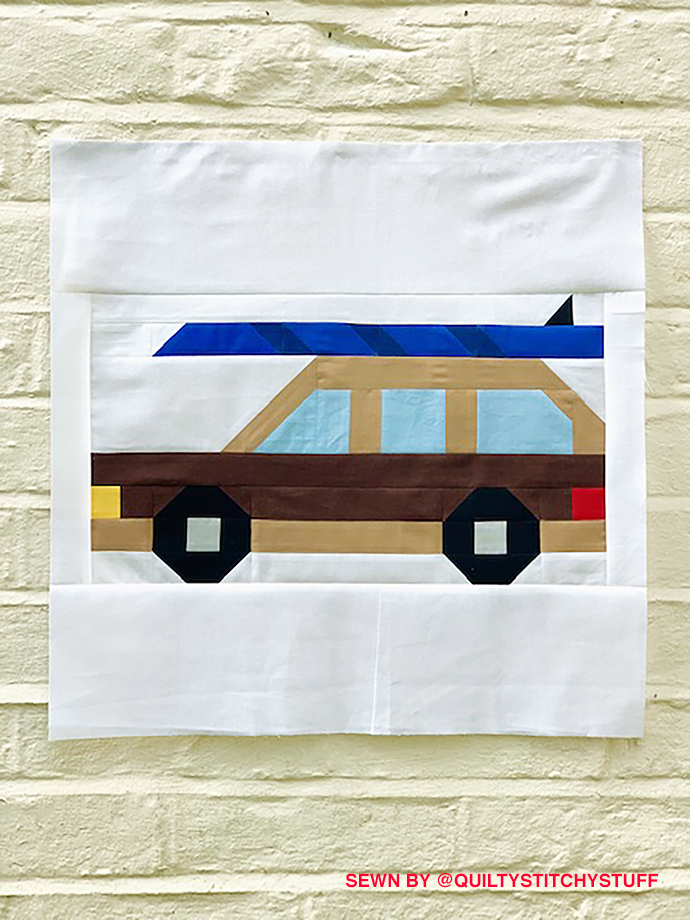 Angela von @babkas_happy_place war die perfekte Testerin für diesen Block, da sie selber genau so ein Auto mit den Holzpaneelen fährt. Wer könnte also besser geeignet sein, die richtige Stoffauswahl zu treffen und diesen brillianten Block zu nähen. Love it!
Angela from @babkas_happy_place was the perfect tester for this block, as she drives just such a car with the wooden panels herself. So who better to choose the right fabric and sew this brilliant block. Love it!
Familienkutsche Kino / Family Car cinema
Und hier wieder ein Schnelldurchlauf der Familienkutsche-Näh-Schritte:
And here again is a quick run through of the family car sewing steps:
Pattern: Vehiclequilt Pattern – Familienkutsche Block / Family Car Block
Vehiclequilt Blog – Beiträge / blog posts
Hier geht es zu den Beiträgen, die bisher zu den einzelnen Blöcken und zum Vehiclequilt erschienen sind:
Click here for the blog posts about individual blocks and the vehiclequilt:
Credits pictures and mock up: Photo by Fluid Imagery on Unsplash, Photo by parth upadhyay on Unsplash, Photo by Matthew Henry on Unsplash, Pixeden, mockups-design.com
You might also like