Du bist hier / you're here: Home / Posts / Little Square Quilt – Free quilt pattern
Es wird mal wieder bunt und fröhlich! Ich möchte Euch den Little Square Quilt vorstellen.
Hast Du schon die Anleitung für den Little Square Quilt? Der Little Square Quilt ist eine kostenlose Anleitung für die Anmeldung zu meinem Newsletter.
It will be colorful and cheerful again! I would like to introduce the Little Square Quilt.
Do you already have the Little Square Quilt pattern? The Little Square Quilt is a free pattern for subscribing to my newsletter.
Das Quiltdesign des Little Square Quilts / The design of the Little Square Quilt
Inspiriert vom….na klar Regenbogen! Das Little Square Quilt Design ist modern und reduziert und kommt in 2 Größen. Die Throw Quilt Größe mit allen 12 Farben und die Baby Quilt Größe mit 8 farben. Ich liebe das Farbenspiel der regenbogen bunten Quadrate auf dem weißen Hintergrund. Gerade durch die Unistoffe kommen die Farben besonders gut zur Geltung. Aber auch gemusterte Stoffe, alle Arten von Scraps, gefüllte Quadrate, oder bunte Quadrate auf dunklem Hintergrund – das Design bietet unendliche Möglichkeiten eigener Ideen.
Inspired by….a rainbow! The Little Square Quilt is a bright and modern design that comes in 2 sizes. The throw size quilt with all 12 colors and the baby size quilt with 8 colors. I love the play of rainbow color squares on the white background. Especially using solid fabrics the colors pop up well. But also fabrics with prints, all kinds of scraps, color filled squares, or colorful squares on a dark background – the design offers endless possibilities of your own ideas.
The Little Square Quilt – Testnähen / Pattern Test
…und ich muß immer wieder feststellen, ich liebe die Quilting community. So viele wahnsinnig nette Leute. So ist es immer ein Vergnügen, mit so lieben Testnäherinnen zu tun zu haben. Ich liebe den Austausch und außerdem freue mich mich jedesmal, was für tolle Ideen sie mitbringen. So auch dieses Mal, jeder Quilt mit einer anderen Idee.
Katrin @kaytie_and_her_life hat einen wunderschönen Little Square Quilt genäht. Sie hat die Little Squares mit Farbe gefüllt, was den Quilt noch bunter macht. Regenbogen, wo man hinschaut. Katrin hatte letztens auch den #vehiclequilt genäht, der einfach großartig geworden ist. Schau mal auf Ihrem Account vorbei!
…and I always have to say, I love the quilting community. So many insanely nice people. So it is always a pleasure to get in contact with such lovely pattern testers. I love the exchange and besides, I'm always happy to see what great ideas they come up with. Also this time, each quilt with a different idea.
Katrin @kaytie_and_her_life has sewn a beautiful Little Square quilt. She filled the Little Squares with color, which makes the quilt even more colorful. Rainbow everywhere you look. Katrin had also sewn the #vehiclequilt the other day, which turned out just gorgeous. Check it out on her account!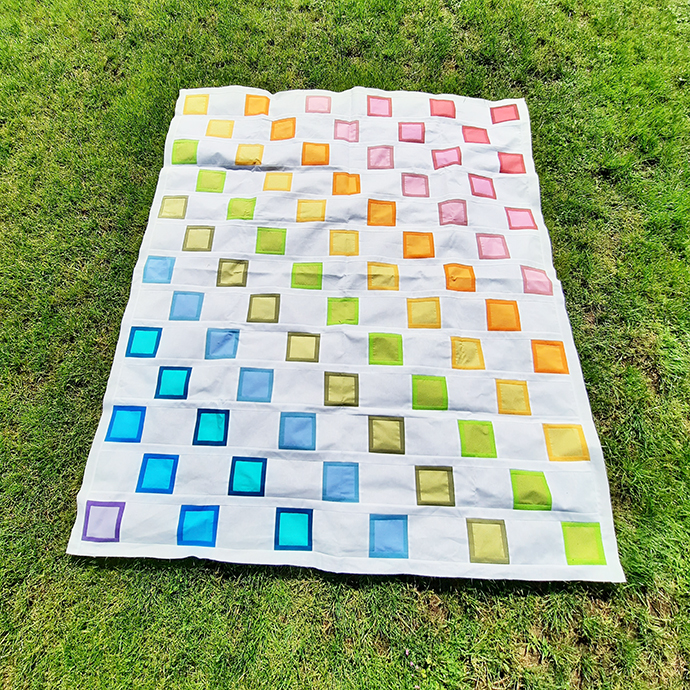 Anastasia @anastasia7749 hat den Little Square Quilt mit dunklem Hintergrund genäht. Dadurch kommen die Farben richtig toll zur Geltung. Für meinen nächsten Little Square Quilt werde ich die Variante nähen. So tolle leuchtende Farben.
Anastasia @anastasia7749 sewed the Little Square Quilt with a dark background. This makes the colors really pop. For my next Little Square Quilt I will sew the variation. Such amazing bright colors. Love it!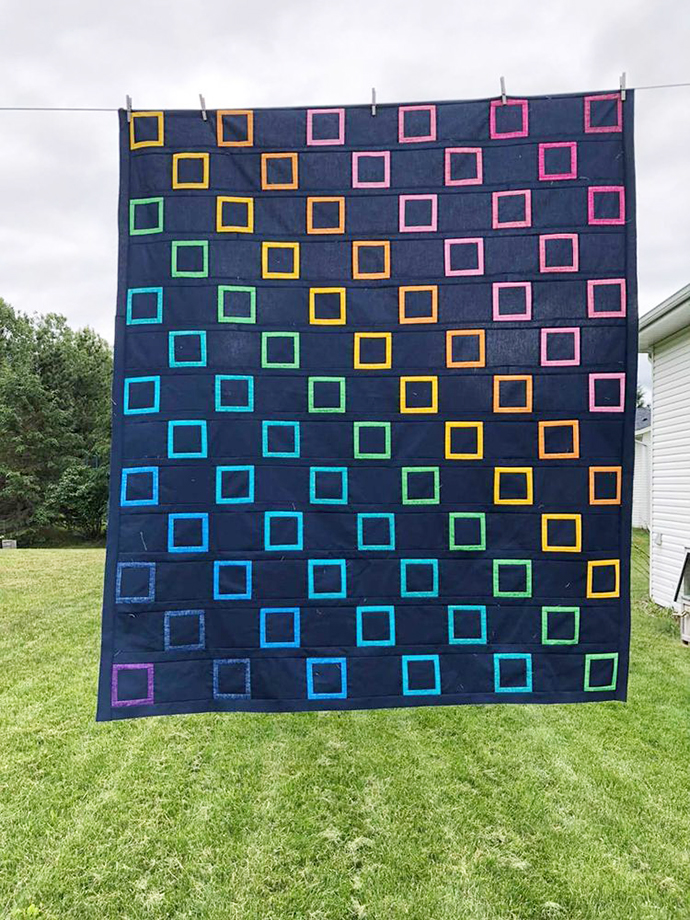 Eine dritte wunderschöne Variante hat Kat @quiltystitchystuff genäht. Sie hat nicht nur die Little Squares farbig gefüllt, sondern auch die Rechtecke dazwischen. Eine tolle Farbexplosion! Und schaut Euch diese kleine Wäscheleine mit all den bunten Little Squares an.
A third beautiful variant has sewn Kat @quiltystitchystuff. She has not only filled the Little Squares with color, but also the rectangles in between. What a brilliant color explosion! And look at this cute rainbow clothesline with all the Little Squares.
Was Du für den Little Square Quilt brauchst / Supply list for the Little Square Quilt
Wenn Du den Quilt in dieser Farbgebung nähen willst brauchst Du:
• Für die Throw Quilt Größe 12 verschiedene Unistoffe (max. Fat Quarter) und 3.3 yd. weißen Background Stoff, für die Baby Quilt größe 8 verschiedene Unistoffe (max. Fat Eighth) und 1.8 yd. weißen Background Stoff.
• Batting / Binding
• Nähmaschine
• Schneidematte
• Rollschneider
• Quilt Lineal (inch)
• Stekcnadeln
• Garn
If you want to make the quilt in this color scheme you will need:
• For the Throw Quilt size 12 different solid fabrics (max. fat quarter) and 3.3 yd. of white background fabric, for the Baby Quilt size 8 different solid fabrics (max. fat eighth) and 1.8 yd. white background fabric.
• Batting / Binding
• Sewing Machine
• Cutting Mat
• Rotary Cutter
• Quilt Ruler (inch)
• Pins
• Thread
Der Zuschnitt / Start cutting your fabric
Der Zuschnitt der Unistoffe ist sehr schnell gemacht. Du brauchst 2 verschieden lange Streifen. Die Anzahl der Streifen in der jeweiligen Farbe einfach der Anleitung entnehmen. Beim weißen Hintergrundstoff brauchst Du neben Streifen auch viele Quadrate und Rechtecke. In der Anleitung findest Du dazu die Angaben in einer Liste und zusäzlich noch ein Diagramm für den Zuschnitt bei einer Stoffbreite von 42 inch.
The cutting of the solid fabric is done very quickly. You only need 2 strips of different lengths. For the number of strips in the respective color just have a look in the cutting diagram. For the white background fabric, you also need many squares and rectangles in addition to strips. In the pattern you'll find thecutting instruction in a list and additionally shown in a diagram for fabric width of 42 inches.
Noch schneller geht der Zuschnitt, wenn Du Dir erst die langen Streifen in Breite des Stoffes zuschneidest und diese dann übereinanderlegst und gleich gleich 3 Streifen auf einmal schneidest.
The cutting is even faster if you first cut the long strips in the width of the fabric and then put them on top of each other and cut 3 strips at once.
Welche Unistoffe ich genau verwendet habe, kann ich leider nicht sagen, da ich neben Stoffen, die ich für meinen #vehiclequilt verwendet habe, auch noch in meinem Stash die restlichen Farben zusammengesucht habe. Ich wollte ja schließlich einen bunten Regenbogen zusammenbekommen. Und so solltest Du es auch machen. Einfach Deine Lieblingsfarben wählen und daraus Deinen eigenen Regenbogen bauen.
Unfortunately, I can't tell exactly which solid fabrics I used, because in addition to fabrics I used for my #vehiclequilt, I also gathered the rest of the colors in my stash. After all, I wanted to get a colorful rainbow. And so should you. Just pick your most favorite colors and build your rainbow.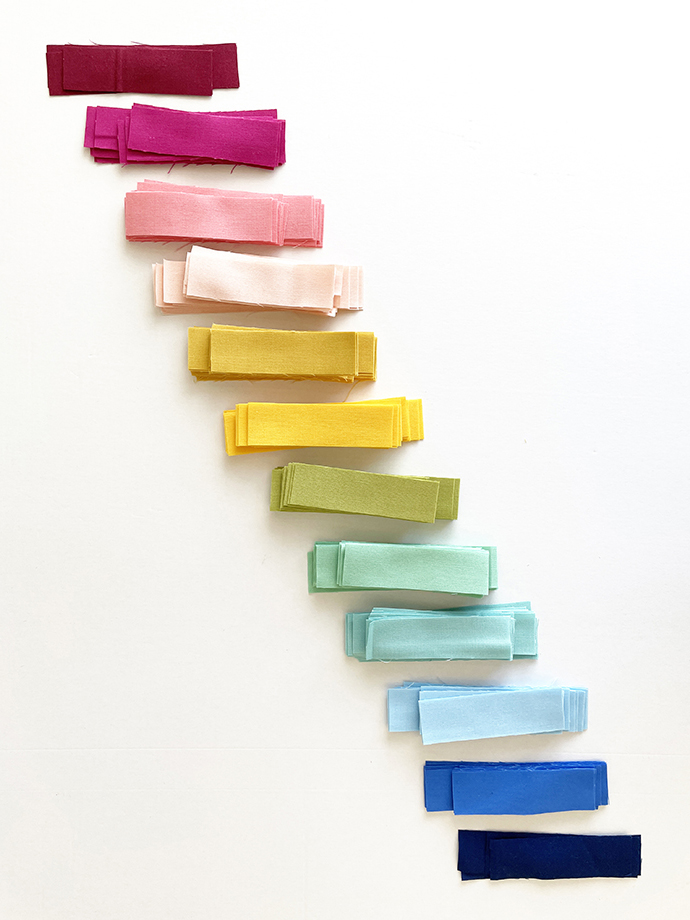 Bei dem weißen Hintergrund Stoff brauchst Du einige Stoffstreifen, die über die gesamte Breite und Länge Deines Quilts reichen. Hierzu schneidest Du erst Streifen über Deine gesamte Stoffbreite und weitere kürzere Streifen, die Du dann anschließend verbindest. Das ist in der Anleitung mit Illustrationen genau erklärt.
For the white background fabric, you'll need a few strips of fabric that span the entire width and length of your quilt. To do this, first cut strips WOF (width of fabric) and then cut shorter strips and connect them. You'll find an instruction for this illustrated in the pattern.
Nach dem Schneiden bleibt ein fröhlicher bunter Haufen Reste übrig und das gute Gefühl alle Stoffe für den Little Square Quilt aus dem vorhandenen Stash bekommen zu haben.
After cutting, you're left with a happy colorful pile of scraps and the good feeling when having used all the fabrics for the Little Square Quilt from your stash.
Die Little Squares entstehen / Sew your Little Squares
Das Zusammensetzen der Little Squares ist sehr einfach, weshalb der Quilt auch sehr gut für Nähanfänger geeignet ist. Du brauchst 2 länger und 2 kürzere Deiner bunten Streifen und ein Quadrat des Hintergrundstoffes.
Assembling the Little Squares is very easy, which is why the quilt is also very beginner friendly. You'll need 2 longer and 2 shorter color strips and one square of background fabric.
Im ersten Schritt nähst Du die beiden kürzeren Streifen an die Seite des Quadrats.
First, sew the 2 shorter strips to the side of your square.
Anschließend nähst Du die längeren Streifen oben und unten an das Quadrat. Die Nahtzugaben habe ich jeweils auseinandergebügelt. Da der Quilt keine "nesting seams" hat, also keine Nähte, die sich treffen, ist es egal in welche Richtung Du Deine Nahtzugabe bügelst. Jeder hat da ja bestimmte Vorlieben.
Then sew the longer strips to the top and bottom of your square. I pressed the seam allowances open. Since the quilt has no nesting seams, it doesn't matter which way you press your seam allowances. So feel free to do as you prefer.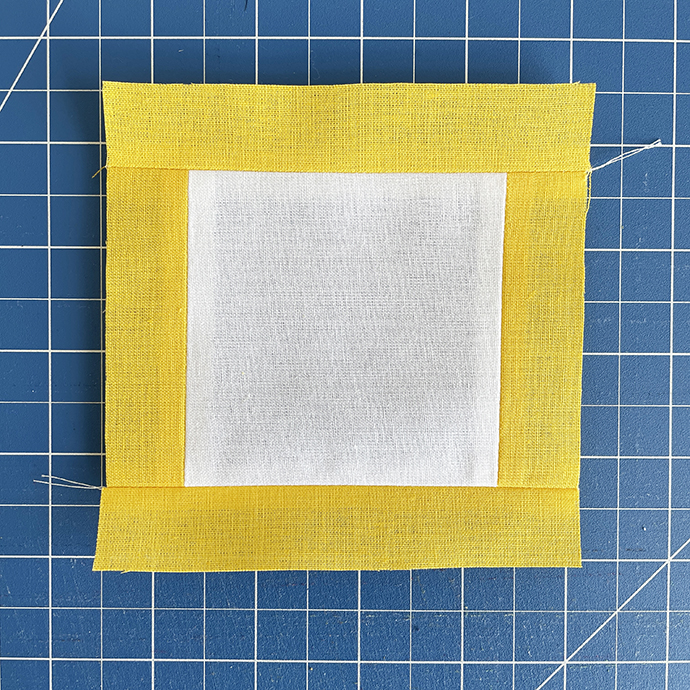 So geht das Nähen der Little Squares jetzt weiter und weiter mit all Deinen Regenbogenfarben. Ich habe den Farben Namen gegeben, um diese besser unterscheiden zu können. Die Namen beziehen sich aber auf keine Stoffkollektion. Die Buchstaben bei den Farben findest Du auch in der Anleitung wieder.
The sewing of the Little Squares goes on and on with all your rainbow colors. I have given names to the colors to better distinguish them. But the names do not refer to any fabric collection. The letters you'll see here are also used in the pattern.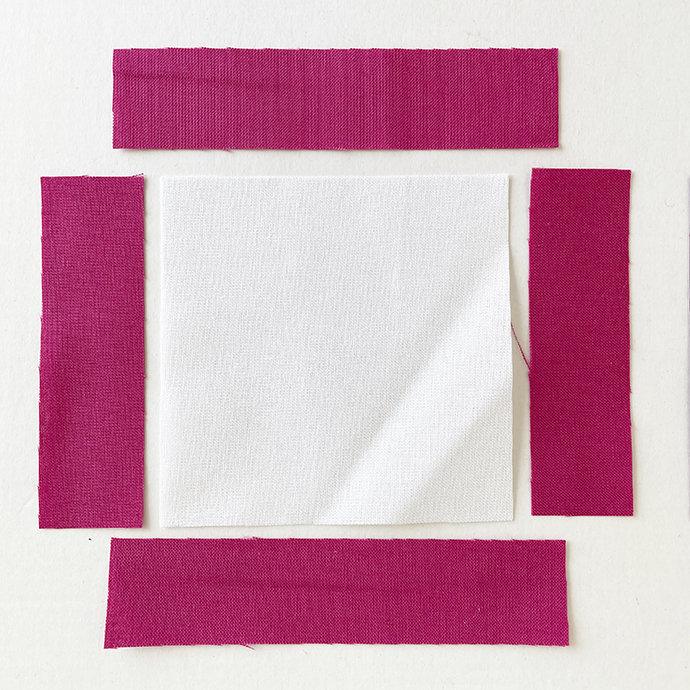 "Chain Piece" your Little Squares
Wenn Du es noch effizenter und schneller magst, dann ist "Chain piecing" das Zauberwort für das Nähen der Little Squares. Heißt, erst nähst Du jeweils einen bunten Streifen an die Seite des Quadrats…
If you like it even more efficient and faster, then "chain piecing" is the magic word for sewing the Little Squares. First you sew a color strip on each side of the square….
Dann folgt die andere Seite mit dem 2. kürzeren Streifen.
Then go on and sew the short strips to the other side of your square.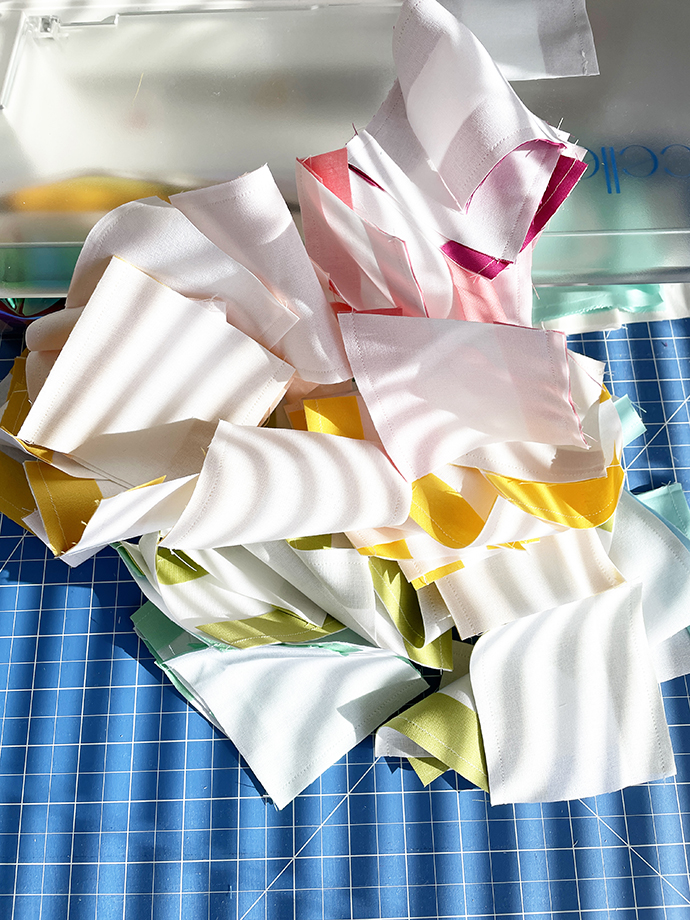 Geschnitten und gebügelt wird bei Deiner "Chain Piecing" Kette immer erst am Ende.
Do the cutting and pressing of your Little Squares after your Chain Piecing is done.
Jetzt näh die längeren Streifen oben und unten an Deine Little Squares.
Now sew the longer strips to the top and bottom of your Little Squares.
Und dann läuft das Bügeleisen heiß, wenn Du alle Deinen Little Squares bügelst.
Give all of your Little Squares a good press.
Sortiere Deine Little Squares / Sort your Little Squares
Wenn Du alle Deine Little Squares zusammen hast, heißt es mal eben aufgepaßt. Jetzt brauchst Du ein wenig Konzentration um Dir die Reihen bzw. Squares richtig zusammenzulegen. Jede ungerade Reihe hat beim Throw Quilt 6 Little Squares (Baby Quilt 4 Squares) und jede gerade Reihe hat 5 Little Squares (Baby Quilt 3 Squares).
Folgend habe ich die Reihen für den Throw Size Quilt ausgelegt. In der Anleitung ist für den Throw Size Quilt und Baby Size Quilt die jeweilige Reihenfolge der Farben pro Reihe anhand einer Illustration dargestellt.
When you have sewn all your Little Squares, it's time to pay attention. Now you need a little concentration to get the rows and squares right. Each odd row in the Throw Quilt has 6 Little Squares (Baby Quilt 4 squares) and each even row has 5 Little Squares (Baby Quilt 3 squares).
Below I have laid out the rows for the Throw Size Quilt. In the instructions for the Throw Size Quilt and Baby Size Quilt the respective order of colors per row is shown with an illustration.
Reihe 1 / Row 1

G: olive / H: hellgrün / I: türkis / J: hell-blau / K: blau / L: navi
G: olive / H: light-green / I: turquoise / J: light-blue / K: blue / L: navi
Reihe 2 / Row 2
G: olive / H: hellgrün / I: türkis / J: hell-blau / K: blau
G: olive / H: light-green / I: turquoise / J: light-blue / K: blue
Reihe 3 / Row 3
F: gelb / G: olive / H: hellgrün / I: türkis / J: hell-blau / K: blau
F: yellow / G: olive / H: light-green / I: turquoise / J: light-blue / K: blue
Reihe 4 / Row 4
F: gelb / G: olive / H: hellgrün / I: türkis / J: hell-blau
F: yellow / G: olive / H: light-green / I: turquoise / J: light-blue
Reihe 5 / Row 5
E: senfgelb / F: gelb / G: olive / H: hellgrün / I: türkis / J: hell-blau
E: mustard /F: yellow / G: olive / H: light-green / I: turquoise / J: light-blue
Reihe 6 / Row 6
E: senfgelb / F: gelb / G: olive / H: hellgrün / I: türkis
E: mustard /F: yellow / G: olive / H: light-green / I: turquoise
Reihe 7 / Row 7
D: blassrosa / E: senfgelb / F: gelb / G: olive / H: hellgrün / I: türkis
D: babyrosé / E: mustard /F: yellow / G: olive / H: light-green / I: turquoise
Reihe 8 / Row 8
D: blassrosa / E: senfgelb / F: gelb / G: olive / H: hellgrün
D: babyrosé / E: mustard / F: yellow / G: olive / H: light-green
Reihe 9 / Row 9
C: pfirsich / D: blassrosa / E: senfgelb / F: gelb / G: olive / H: hellgrün
C: peach /D: babyrosé / E: mustard / F: yellow / G: olive / H: light-green
Reihe 10 / Row 10
C: pfirsich / D: blassrosa / E: senfgelb / F: gelb / G: olive
C: peach /D: babyrosé / E: mustard / F: yellow / G: olive
Reihe 11 / Row 11
B: himbeere / C: pfirsich / D: blassrosa / E: senfgelb / F: gelb / G: olive
B: raspberry / C: peach /D: babyrosé / E: mustard / F: yellow / G: olive
Reihe 12 / Row 12
B: himbeere / C: pfirsich / D: blassrosa / E: senfgelb / F: gelb
B: raspberry / C: peach /D: babyrosé / E: mustard / F: yellow
Reihe 13 / Row 13
A: dunkelrot / B: himbeere / C: pfirsich / D: blassrosa / E: senfgelb / F: gelb
A: rich red / B: raspberry / C: peach / D: babyrosé / E: mustard / F: yellow
Die Reihen des Little Square Quilts / The rows of the Little Square Quilt
Hast Du alle Little Squares für Deine Reihen geordnet und zusammengelegt? Dann geht es los mit den Reihen. Damit das nicht im großen Chaos endet, näh am besten Reihe für Reihe. Nimm Dir dafür die jeweiligen Little Squares und Rechtecke, die Du brauchst.
Have you sorted and put together all the Little Squares for your rows? Then start sewing the rows. So that this does not end in a big chaos, sew best row by row. Take the respective Little Squares and rectangles that you need for each row.
Starte auf der linken Seite und arbeite Dich durch, bis Du zum Ende der Reihe kommst.
Start on the left side and work your way to the end of the row.
Wenn Du alle 13 Reihen beim Throw Size Quilt und alle 9 Reihen beim Baby Size Quilt zusammen hast, geht das Bügeln los. Das habe ich beim Zusammennähen der Reihen ausgelassen und mache das jetzt.
When you have all 13 rows together on the Throw Size Quilt and all 9 rows together on the Baby Size Quilt, the pressing starts. I skipped this when sewing the rows and am doing it now.
Zusammensetzen des Little Square Quilt / Quilt Assembly of the Little Square Quilt
Leg Deine Reihen am besten auf dem Boden aus, damit Du einen guten Überlick hast. Jetzt kommen die langen Sashing Streifen ins Spiel. Wenn Du diese noch nicht zusammengenäht hast, ist jetzt der richtige Zeitpunkt. Nimm Dir jeweils einen sehr langen Streifen und einen kurzen Streifen und näh diese zusammen. Somit erhälst Du Deine Sashing Streifen, die genau die Breite der Reihen haben.
Näh jeweils an der unteren Seite der Reihen einen Sashing Streifen an. Es bleibt noch ein Sashing Streifen übrig, den Du an die obere Seite Deiner ersten Reihe nähst. Bügel die Reihen.
Nimm Dir jetzt Reihe 1 und 2 und leg diese vor Dich. Im folgenden Bild siehst Du die Rückseite einer Reihe und recht schwach die Reihe darunter. Ich habe dort an den Seiten des Little Squares die Abstände zum darunterliegenden Little Square markiert. Die Abstände sollen immer gleich breit sein. Das kannst Du gut nach Augenmaß machen. Wenn Du es sehr genau haben willst, kannst Du es auch ausmessen. Am besten verwendest Du hier viele Stecknadeln, damit die Little Squares beim Nähen an der richtigen Stelle bleiben.
It is best to lay out your rows on the floor, then you have a good overview. Now the long sashing strips come into play. If you haven't sewn them together yet, now is the time. Take one very long strip and one short strip and sew them together. This way you get your sashing strips exactly the width of the rows.
Sew a sashing strip to the bottom of each row. You will have one sashing strip left, which you sew to the top of your first row. Press the rows.
Now take row 1 and 2 and put them in front of you. In the following picture you can see the back of a row and quite faintly the row below. I have marked on the sides of the Little Square the distances to the Little Square below. The distances should always be the same width. You can do this by eye. If you want it very exact, you can also measure it. It is best to use a lot of pins so that the Little Squares stay in the right place while sewing.
Näh jetzt die Reihen zusammen und bügel anschließend.
Now sew the rows together and press afterwards.
Reihe für Reihe setzt sich der Little Square Quilt zusammen.
Row by row, the Little Square Quilt comes together.
Im letzten Schritt nähst Du noch die seitlichen Sashing Streifen an den Quilt und hurraaaaaa….fertig!
The last step is to sew the side sashing strips to the quilt and hurrayaaaaa….ready!

Backing for the Little Square Quilt
Der Little Square Quilt ist auf der Vorderseite so leuchtend ist wie ein Regenbogen. Für die Rückseite wollte ich diesmal einen besonders weichen Stoff haben. Daher habe ich mich für ein Minky Stoff entscheiden, damit es sich so richtig schön kuscheln läßt. Die Farbe des Backings paßt gut zu den leuchtenden Farben der Vorderseite.
The Little Square Quilt is as bright as a rainbow on the front. For the backing I wanted to have a very soft fabric. Therefore, I chose a minky fabric, for a maximum cuddly feeling. The color of the backing goes well with the bright colors of the front.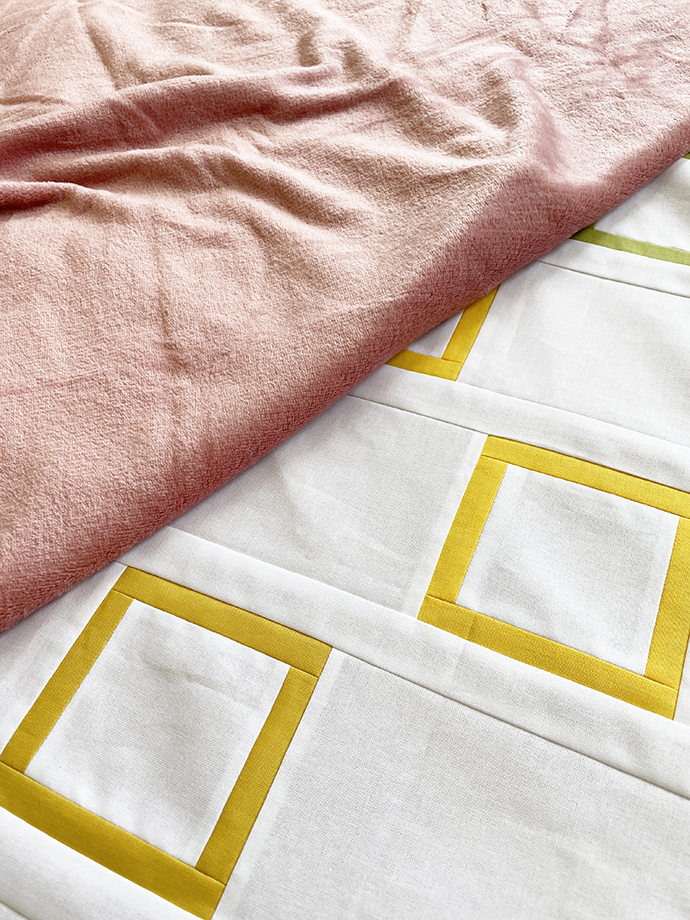 Basting the Little Square Quilt
Quilt Basting, nicht gerade meine Lieblingsaufgabe, aber auch das muß gemacht werden. Da ich einen dicken Minky Stoff verwende, verzichte ich auf das Vlies. Dadurch scheint zwar durch den weißen Stoff eventuell leicht die rosa Backing Rückseite, aber das stört mich nicht sehr. Es fällt nur auf, wenn man den Quilt gegen das Licht hält.
Quilt Basting, not exactly my favorite task, but it must be done too. Since I'm using a thick minky fabric, I'm not using any batting. This does cause the pink backing to possibly shine slightly through the white fabric, but it doesn't bother me much. It is only noticeable when you hold the quilt up to the light.
Der Minky Stoff ist eigentlich eine gekaufte Decke, die von der Größe gerade so als Backing für meinen Little Square Quilt reicht. Dazu habe ich noch die Seitennaht aufgetrennt, um noch 2 inch mehr zu gewinnen.
The Minky fabric is actually a purchased blanket that is just about big enough to use as backing for my Little Square Quilt. I also unpicked the side seam to gain 2 more inches.
Raus mit den Sicherheitsnadeln und los geht es mit dem Zusammenstecken.
Out with the safety pins and off you go with the basting.
Diesmal sehr strukturiert und übersichtlich, da ich mich einfach durch die Little Squares gearbeitet habe.
This time very structured and clear, as I just worked my way through the Little Squares.
Zusätzlich noch Stecknadeln an die Ränder und der Little Sqaure Quilt ist fertig für Quilten.
Add pins to the edges and the Little Sqaure Quilt is ready for quilting.
Quilting the Little Square Quilt
Wer mir auf Instagram folgt, weiß, daß ich meistens straight lines oder wavy lines quilte. Einfach, weil ich das schlichte Quilting sehr mag, aber vor allem auch, weil es am einfachsten und schnellsten geht. Am liebsten würde ich natürlich jeden Quilt in professionelle Hände eines Longarm Quilters geben, aber das ginge dann doch zu sehr ins Geld…
If you follow me on Instagram, you know that I mostly quilt straight lines or wavy lines. Simply because I like a simple quilting very much, but especially because it is the easiest and fastest. Of course, I would love to give every quilt into professional hands of a longarm quilter, but not in the budget now…
Also quilte ich auch hier meine oft verwendeten "wavy lines". Was ich an diesem Quilting liebe, ist die Leichtigkeit, die der Quilt behält. Zwar sind die Quilitinglinien zum Teil sehr nah beieinander, der Quilt bekommt aber nicht diese "Schwere", die manch enges Quiltmuster mit sich bringt.
So again, I quilt my often used "wavy lines". What I love about this quilting is the lightness that the quilt retains. While some of the quilting lines are very close together, the quilt doesn't get that "heaviness" that some tight quiltings bring.
Die eigentliche Quiltingstiche sieht man auf der Rückseite des Minky Stoffes gar nicht. Läßt sich nur erahnen, was ich sehr mag.
You can't see the actual quilting stitches at all on the back of the Minky fabric. Can only be guessed, which I like very much.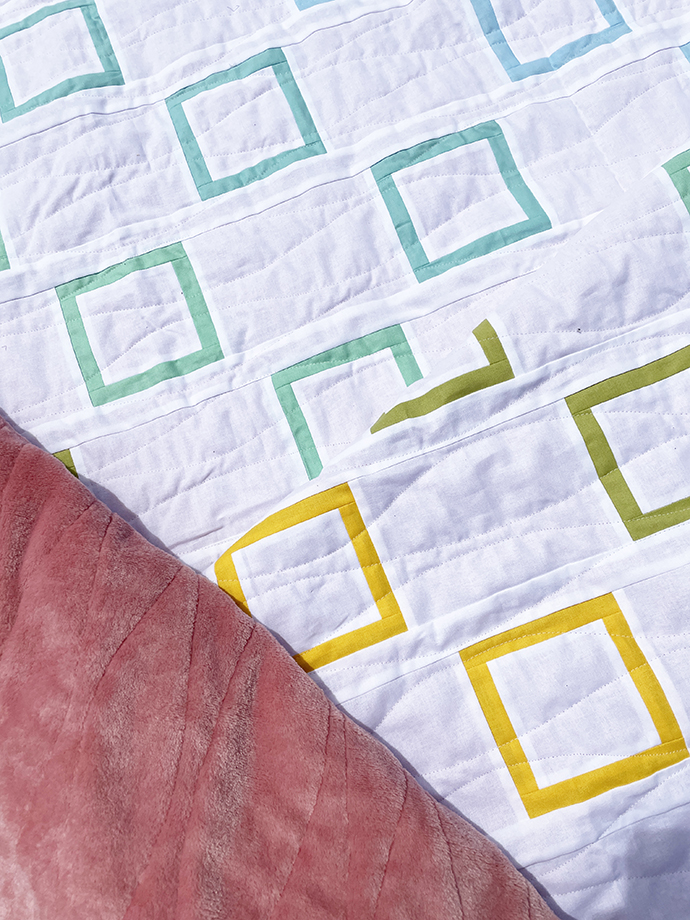 Welches Binding für den Little Square Quilt? / Which binding for the Little Square Quilt?
Nächster und letzter Schritt ist das Binding. Ich lege mir dazu die potenziellen Bindingstoffe immer unter den Quilt und klappe auch die Rückseite um. So hat man gleichzeitig Vorder- und Rückseite im Blick. Diesmal habe ich sogar jeweils die blauen und roten Little Squares auf den Stoff gelegt, um noch besser entscheiden zu können. Hilfreich ist es auch, Photos zu machen. Durch das Hin- und Herklicken ergibt sich für mich meistens sehr schnell eine Entscheidung, welcher Stoff fürs Binding es sein soll.
Next and last step is the binding. I always put the potential binding fabrics under the quilt and fold over the back as well. This way you can see the front and back at the same time. This time I even put the blue and red Little Squares on the fabric to be able to decide even better. It is also helpful to take photos. By clicking back and forth, I usually decide very quickly which fabric I want for the binding.
Gestreiftes Binding verbinden / Join together striped binding tutorial
Hier füge ich ein kleines Tutorial ein, da mich das Zusammennähen gestreifter Stoffe für Bindings immer zum Verzweifeln bringt. Meistens schaffe ich es nicht, daß die Linien genau aufeinandertreffen. Dabei ist es eigentlich nicht schwer.
Bei meinem Binding habe ich mich für eine Breite von 2 1/2 inch entscheiden. Für meinen Quilt brauche ich insgesamt 5 Streifen. Das ist abhängig von der Stoffbreite und der Quiltgröße, die Du genäht hast.
Here I include a little tutorial, because sewing striped fabrics together for bindings always makes me despair. Most of the time I can't get the lines to meet exactly. But it is actually not difficult.
For my binding, I opted for a width of 2 1/2 inches. I need a total of 5 strips for my quilt. It depends on the width of the fabric and the size quilt you sewed.
Nimm Dir ein Ende eines Bindingstreifens und falte das rechte Ende in einem 45° Grad Winkel nach oben. Der blaue Streifen des Stoffes liegt ausgerichtet zur oberen Kante des Bindingstreifens. Klebe ein Stück Wondertape 1/2 inch neben den Falz (einfacher Klebestift tut es genauso).
Take one end of a binding strip and fold the right end up at a 45 degree angle. The blue strip of fabric is aligned with the top edge of the binding strip. Tape a piece of Wondertape 1/2 inch next to the fold (glue stick will do it as well).
Nimm Dir einen zweiten Bindingsteifen und leg beide Streifen rechts auf rechts so zusammen, daß sich die Streifen des Stoffes genau treffen. Dank des Klebers bleiben die Bindingstreifen an Ort und Stelle. Du kannst aber auch gerne zusätzlich noch Stecknadeln verwenden, damit auch wirklich nichts verrutscht. Jetzt wird der Bindingstreifen wieder aufgeklappt. Genau in der Falte wird genäht. Je schmaler die Streifen Deines Stoffes sind, desto genauer muß Du auf der Linie bleiben.
Take a second binding strip and place both strips right sides together so that the strips of the fabric meet exactly. Thanks to the glue, the binding strips will stay in place. You can also use pins to make sure that nothing slips. Now unfold the binding strip again. Sew exactly in the fold. The narrower the strips of your fabric are, the more precisely you have to stay on the line.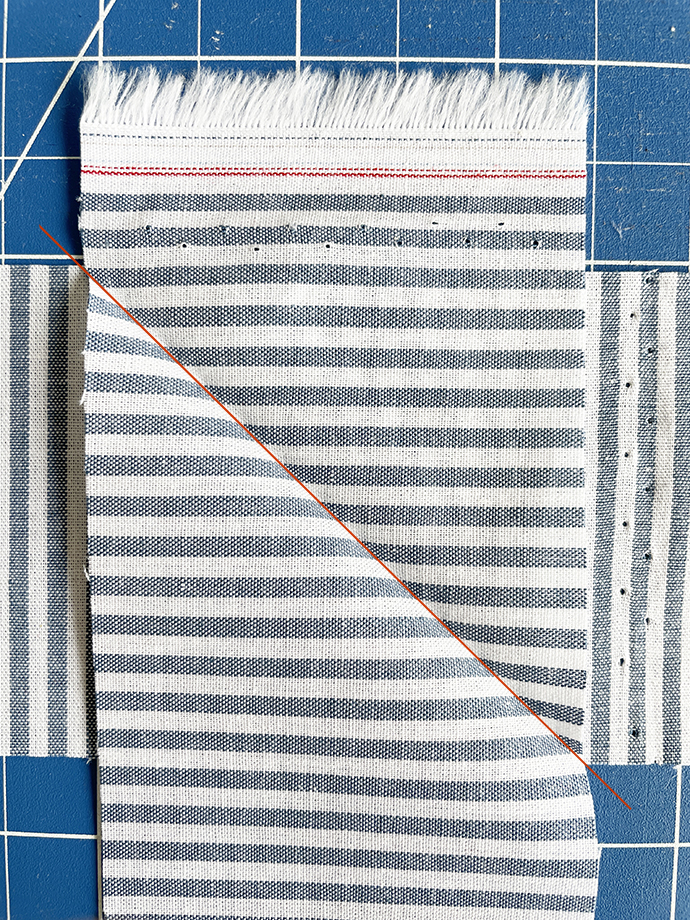 Nachdem Du auf der Linie genäht hast klappt die Seite noch um, um zu Prüfen, ob sich die Streifen treffen. Wenn das gut aussieht, schneide 1/4 inch neben der Naht die Ende ab. Fertig! Das mußt Du je nach Anzahl Deiner Streifen noch einige Male wiederholen.
After you have sewn on the line, fold the side over to check that the strips meet. If it looks good, cut off the end 1/4 inch from the seam. Done! You will need to repeat this a few more times depending on the number of strips you have.
Da jetzt alle Bindingstreifen zu einem langen langen Streifen zusammengenäht sind, bügel den Bidingstreifen längs in der Mitte zusammen. Wenn Du auf eine Stelle stößt, bei der sich 2 Bindingstreifen treffen, bügel die Nahtzugaben auseinander.
Now that all the binding strips are sewn together into one long long strip, press the binding strip together lengthwise down the middle. When coming to the point where 2 bidings strips meet, press seams open.
Trim the Little Square Quilt
Puhhhh…bei diesem Backing quäle ich mich mit ordentlich Fusseln ab, die ich mir durch die Stoffauswahl angetan habe, um den Quilt zurechtzuschneiden. Dafür lege ich mir den Quilt mit einer gerade ausgerichteten Kante auf die Schneidematte. Leg das Lineal an die Kante und richte es an deinem Borderstreifen aus. Der Streifen ist genau 1 1/4 inch breit. So kannst Du Dich einmal um den Quilt arbeiten.
Phewhhh…with this backing, I have quite a fluff story going on to cut the quilt to size. To do this, I lay the quilt on the cutting mat with the edge aligned straight. Put the ruler on the edge and line it up with your border strip. The strip is exactly 1 1/4 inches wide. This way you can work your way around the quilt.
So sehr ich den Backingstoff liebe, die Fusseln sind wirklich überall….uuuuarghhh… (ein feuchtes Tuch hilft übrigens, um die Fusseln halbswegs zu bändigen oder natürlich eine Fusselrolle, die bei mir nur leider leer war).
As much as I love the backing fabric, the lint is really everywhere….uuuuarghhh…. (by the way, a damp cloth helps to tame the lint halfway or of course a lint roller, mine was unfortunately empty).
Das Binding annähen / Sew on the binding to the Little Square Quilt
Das Binding des Little Square Quilts nähe ich mit der Nähmaschine an. Hierzu verwende ich meinen Obertransportfuß, damit alle Stofflagen gleichmäßig durch die Maschine gezogen werden. Bevor ich damit anfangen, lege ich das Binding einmal um den Quilt, um zu vermeiden, daß die Nähte einer Bindingstreifen nicht direkt auf die Ecken meines Quilts fallen. Such Dir eine Seite des Quilts aus, an der Du anfängst den Bindingstreifen anzunähen. Laß am Anfang einen ca. 12 inch langen Bidingstreifen, den Du nicht annähst.
I sew on the binding of the Little Square Quilt with the sewing machine. I use my walking foot for this so that all layers of fabric are pulled evenly through the machine. Before I start, I place the binding once around the quilt to prevent the stitches of a binding strip from falling directly on the corners of my quilt. Pick a side of the quilt to start sewing the binding strip to. Leave an approximately 12 inch long binding strip at the beginning that you will not sew on.
Für mein 2 1/2 inch breites Binding stelle ich meine Nadel auf die 1/4 Naht Position, damit ich die rechte Seite meines Nähfusses genau entlang der Kante des Quilts und Bindings führen kann.
For my 2 1/2 inch wide binding, I set my needle to the 1/4 seam position so I can guide the right side of my presser foot right along the edge of the quilt and binding.
Die Einstellung des Nähfusses ist allerdings abhängig von der Nähmaschine. Ich habe das für mich ausprobiert. Das nächste Photo ist etwas seltsam, zeigt aber meinen Test hinter der Maschine, ob das Binding bei der Nahfußeinstellung einmal um die Kante des Quilts reicht. Probiert das nach einigen inch aus.
However, the setting of the presser foot depends on the sewing machine. I tried this out for myself. The next photo is a little odd, but shows my test behind the machine to see if the binding reaches once around the edge of the quilt at the presser foot setting. Try that out after a few inches.
Wenn Du zur ersten Ecke kommst, hör 1/4 inch vor der Ecke auf zu nähen. Laß die Nadel im Stoff und dreh Deinen Quilt um 45° Grad. Näh jetzt bis zur Ecke des Quilts. Faden abschneiden.
When you get to the first corner, stop sewing 1/4 inch before the corner. Leave the needle down and turn your quilt 45 degrees. Now sew to the corner of the quilt. Cut your thread.
Deine Naht verläuft erst gerade entlang der Kante, dann ein kleines Stück im 45° Grad Winkel bis zur Ecke.
Your seam first runs straight along the edge, then a small piece at a 45 degree angle to the corner.
Klapp Deinen Bindingstreifen um 90° Grad nach oben, anschließend nach unten.
Fold your binding strip up 90 degrees, then down.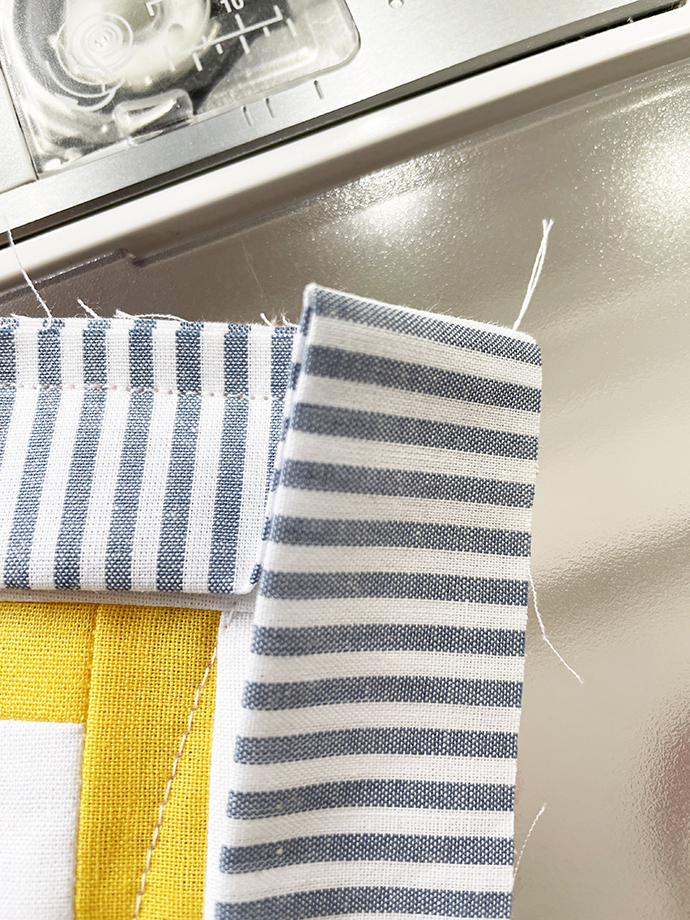 Näh jetzt wieder entlang der Kante bis zur nächsten Ecke.
Now sew again along the edge to the next corner.
Bindingstreifen schließen / Close binding strips.
Wenn Du das Binding an allen vier Seiten des Quilts angenäht hast, stoppe ca. 11, 12 inch bevor Du wieder zum Angang Deines Bindingstreifens kommst.
So entsteht eine ca. 12 inch große "Lücke" an dem das Binding nicht angenäht ist.
Leg Deinen rechten Streifen über die Lücke und schneide diesen in der Mitte der Lücke ab.
Nimm das abgeschnittene Stück Binding, falte es auseinander und leg es rechtwinklig unter den rechten Bindingstreifen. Die Breite Deines abgeschnittenen Bindingstücks beträgt ja 2 1/2 inch.
When you have sewn the binding to all four sides of the quilt, stop about 11, 12 inches before you come back to the beginning of your binding strip.
This will create a 12 inch "gap" where the binding is not sewn on.
Place your right strip over the gap and cut it in the middle of the gap.
Take the cut piece of binding, unfold it, and place it squarely under the right binding strip. The width of your cut binding piece is 2 1/2 inches.
4. Nimm jetzt den linken Bindingstreifen und leg ihn über das abgeschnittene Stück Binding.
5. Schneide den linken Bindingstreifen bündig mit der rechten Kante des abgeschnittenen Stück Bindings ab.
6. Die beide Bindingstreifenstreifen überlappen sich somit exakt 2,5 inch.
4. Now take the left binding strip and place it over the cut piece of binding.
5. Cut the left binding strip flush with the right edge of the cut piece of binding.
6. The two binding strips overlap exactly 2.5 inches.
Die beiden Bindingstreifen, die sich genau 2,5 inch überlappen, lege ich jetzt rechts auf rechts zusammen und stecke diese mit 4 Nadeln fest, damit nichts verrutscht. Dafür muß man den Quilt etwas zusammenraffen, da es sonst zu straff sitzt. Auch muß man darauf achten, daß sich die Bindingstreifen nicht verdrehen.
I now place the two binding strips, which overlap exactly 2.5 inches, right sides together and pin them down with four pins so nothing slips. You have to gather the quilt a bit to do this, otherwise it will be too tight. You also have to make sure that the binding strips don't twist.
Jetzt geht es an die Maschine. Auch hier muß man den Quilt ordentlich zusammenraffen, damit man das bequem nähen kann. Durch die vier Nadeln hält es aber gut. Wie beim Zusammensetzen der Bindingstreifen nähe ich jetzt diagonal von der oberen Ecke zur unteren Ecke.
Now to the machine. Again, you have to gather the quilt neatly so you can sew this comfortably. But because of the four needles it holds well. As with piecing the binding strips, I now sew diagonally from the top corner to the bottom corner.
Bevor ich 1/4 inch neben der Naht die Ecke abschneide, überprüfe ich vorher nochmal, ob das Binding zu lang oder zu kurz ist. Wenn alles paßt und das Binding die richtige Länge hat, schneide ich die Ecke ab.
Before I cut the corner 1/4 inch from the seam, I check again to see if the binding is too long or too short. If everything fits and the binding is the right length, I cut off the corner.
Press die Nahtzugabe mit dem Finger auseinander. Dann kann das letzte Stück Binding auch an die Vorderseite des Quilts genäht werden.
Press the seam allowance open with your finger. Then sew the last piece of binding to the front of the quilt.
Das Binding ist jetzt auf der Vorderseite des Quilts angenäht. Im nächsten Schritt bügel ich das Binding einmal auf der Vorderseite des Quilts nach außen. Diesen Schritt muß man nicht machen, aber mir hilft es, da sich das Binding so leichter und gleichmäßiger auf die Rückseite klappen läßt.
The binding is now sewn to the front of the quilt. In the next step, I press the binding out on the front of the quilt. You don't have to do this step, but it helps me when folding the binding onto the back.
Zurück zur Maschine. Klapp das Binding auf die Rückseite des Quilts. Das Binding wird soweit umgeklappt, daß der Nähfuß jetzt rechts nicht mehr bündig an der Kante entlang geführt wird, sondern ein Stückchen weiter links.
Return to the machine. Fold the binding to the back of the quilt. Fold the binding over so that the presser foot is no longer flush along the edge on the right side, but a little further to the left.
Das bewirkt, daß Du das Binding auf der Rückseite mit einer Nahtlinie auf dem Binding annähst, das Binding der Vorderseite aber nicht erfaßt wird, sondern sich eine Nahtlinie ein Stück daneben bildet. (meinen Nähfuß sollte ich auch mal wieder reinigen…)
This causes a seam line on the binding on the back of the quilt, the binding of the front is not grasped, but a seam line just next to the binding. (Should I clean my presser foot?)
Wenn Du zur ersten Ecke kommst, hör ca. 4 inch davor auf zu nähen, laß aber die Nadel im Stoff stecken, also den Faden nicht abschneiden. Klapp erst das untere Binding um und fixiere es mit einer Nadel oder Klammer. Klapp dann das rechte Binding um und form Dir eine schöne Ecke. Die will natürlich gar nicht bleiben wo sie hin soll, also auch festgepinnt.
When you get to the first corner, stop sewing about 4 inches before it, but leave the needle down, so don't cut the thread. Fold the lower binding first and fix it with a needle or clamp. Then fold the right binding and form a nice corner. Of course, it does not want to stay where it should, so pin it.
Näh jetzt langsam bis zur Ecke und laß die Nadel abgesengt im Stoff. Dreh Deinen Quilt um 90° Grad und näh weiter entlang der Kante. Die Naht auf der Vorderseite entlang der Ecke sollte knapp neben dem Binding entlang laufen.
Now sew slowly to the corner and leave the needle lowered in the fabric. Turn your quilt 90 degrees and continue sewing along the edge. The seam on the front along the corner should run just beside the binding.
Hier nochmal in der Nahaufnahme der Vorder- und Rückseite. Und nein, das klappt bei mir leider nicht immer. Manchmal erfasse ich doch das Binding auf der Vorderseite. Aber kleine Schönheitsfehler machen einen Quilt doch erst liebenswert!
Here again a close-up of the front and back. And no, unfortunately that doesn't always work for me. Sometimes I do catch the binding on the front. But small mistakes are what make a quilt lovable!
Der Little Square Quilt ist fertig und ich mag ihn sehr!
The Little Square Quilt is finished and I like it very much!
Hier geht es zur Newsletter Anmeldung und Anleitung des Little Square Quilts.
Click here for the newsletter sign in and Little Square Quilt pattern.
You might also like