Der Sommer steht vor der Tür und mit ihm kommen fröhliche Tage voller Sonnenschein, Picknicks im Freien und endloser Abenteuerlust. Wenn Du ein leidenschaftlicher Quilter bist, wirst Du aber wahrscheinlich trotzdem die ein oder andere Minute an der Nähmaschine sitzen.
Heute möchte ich Dir einen kleinen Überblick über die neuen Fahrzeug Block Anleitungen geben. 2023 sind doch wieder so viele dazugekommen und einige davon will ich Dir hier zeigen. Ob du einen Fahrzeugquilt für Dein Zuhause gestalten möchtest oder ein einzigartiges Geschenk für einen geliebten kleinen Menschen planst, diese Fahrzeug Blöcke bieten Dir alle Möglichkeiten. Schau natürlich gerne auch alle schon vorhandenen Fahrzeug Blöcke in meinem Pattern Shop an, sie lassen sich toll kombinieren!
Summer is just around the corner, bringing with it cheerful days filled with sunshine, outdoor picnics, and boundless adventure. As a passionate quilter, you may find yourself spending a few minutes at the sewing machine despite the summer vibes. Today, I want to give you a brief overview of the new vehicle block patterns. In 2023, so many exciting ones have been added, and I'd love to showcase some of them here. Whether you're looking to create a vehicle-themed quilt for your home or planning a unique gift for a beloved little one, these vehicle blocks offer you endless possibilities. Feel free to explore all the existing vehicle blocks in my Pattern Shop as well – they can be combined beautifully!
Landwirtschaftliche Fahrzeuge / Agricultural Vehicles
Kennst du schon die neuen Fahrzeug Quilt Blöcke rund um das Thema Landwirtschaft. Diese sind zum Teil auf Kundenwunsch entstanden und es hat mir großen Spaß gemacht, die Blöcke zu entwerfen. Die Blöcke zeigen verschiedene Fahrzeuge wie Traktoren, Kornanhänger und Mähdrescher, genau das Richtige für alle Landwirtschaftsfans!
Have you heard about the new vehicle quilt blocks centered around agriculture? These were partly created based on customer requests, and I had a great time designing them. The blocks showcase various vehicles such as tractors, grain cart, and combines, making them a perfect fit for all the agriculture enthusiasts out there!
Schwimmende Fahrzeuge 2023 / Floating Vehicles
Jetzt zeige ich Dir alle neuen Fahrzeuge, die schwimmen können. Hier gibt es Segelboote, Piratenschiffe, Containerschiffe und und und. Laß Dich inspirieren und vielleicht stellst Du ja einen wunderschönen Schiff Quilt zusammen.
Now, let me show you all the new vehicles that can float. We have sailboats, pirate ships, cargo vessels, and many more. Let yourself be inspired, and perhaps you'll create a stunning ship-themed quilt.
Fliegende Fahrzeuge / Flying Vehicles
Klar, was kommt nach den schwimmenden Fahrzeugen, die Fahrzeuge, die Fliegen können. Auch hier ist eine Vielzahl an neuen Blöcken zusammengekommen, die ich Euch gerne zeigen möchte. Sei es die Rakete, der Heißluftballon oder das Space Shuttle. Für jeden kleinen Luftfahrt-Fan ist was dabei.
Of course, what comes after floating vehicles? The vehicles that can fly! Here, we have a variety of new blocks that I'd love to show you. Whether it's a rocket, a hot air balloon, or a space shuttle, there's something for every little aviation enthusiast.
Alle anderen neuen Fahrzeuge /all the other vehicles
Und dann sind da noch die vielen anderen Fahrzeuge, die ich jetzt nicht mehr in einzelnen Kategorien sortiere. Das geht vom Laufrad über die Kutsche, vom Postauto bis zum TukTuk. Da bleiben fast keine Fahrzeugwünsche mehr offen und wenn Du doch mal ein Fahrzeug vermissen solltest, dann schreib mir gerne und ich versuche es zu entwerfen.

And then there are all the other new vehicles that I'm no longer sorting into specific categories. We have everything from balance bikes to carriages, from postal vans to tuk-tuks. There's almost no vehicle wish left unfulfilled, and if you happen to miss a specific vehicle, feel free to reach out to me, and I'll do my best to design it for you.
Wo finde ich die Fahrzeug Anleitungen? / Where can I find the instructions for the vehicle blocks?
Du kannst die Anleitungen für diese Fahrzeugblöcke in meinem Etsy-Shop kaufen, wo du bereits eine vielfältige Auswahl findest. Außerdem freue ich mich, ankündigen zu dürfen, dass diesen Sommer auch mein neuer Shopify-Shop eröffnet wird, wo du ebenfalls die Möglichkeit haben wirst, die Anleitungen zu erwerben. Melde Dich für meinen Newsletter an für weiteren Informationen und verpasse nicht die Chance, Deine Quiltprojekte mit diesen spannenden Fahrzeugblöcken zum Leben zu erwecken!
You can find the patterns for these vehicle blocks in my Etsy shop, where you'll find a diverse selection already available. Additionally, I'm excited to announce that my new Shopify shop will be opening this summer, giving you another opportunity to purchase the patterns. Sign up for my newsletter to stay informed and don't miss the opportunity to bring your quilt projects to life with these exciting vehicle blocks!
Kombiniere Fahrzeuge mit Buchstaben / Combine Vehicles with Letters
Wie wäre es mit einer spannenden Kombination der neuen Fahrzeugblöcke mit dem Letter-Vehicle Quilt? Nutze die Vielfalt der neuen Blöcke, um Buchstaben und Fahrzeuge zu einem beeindruckenden Gesamtkunstwerk zu vereinen. Erschaffe personalisierte Quilts, indem Du den Namen oder die Initialen eines geliebten Menschen mit faszinierenden Fahrzeugmotiven kombinierst. Die Möglichkeiten sind endlos und das Ergebnis wird sicher wundervoll. Trau Dich an diese kreative Kombination und schaffe einen einzigartigen Quilt, der Fahrzeuge und Buchstaben auf diese süße Art vereint.
How about an exciting combination of the new vehicle blocks with the Letter-Vehicle Quilt? Harness the diversity of the new blocks to merge letters and vehicles into an impressive masterpiece. Create personalized quilts by incorporating the name or initials of a loved one with captivating vehicle motifs. The possibilities are endless, and the result is sure to be wonderful. Dare to explore this creative combination and craft a unique quilt that sweetly merges vehicles and letters.
Fahrzeug Quilt / Vehicle Quilt
Für einen Vehicle Quilt gibt es unendlich viele Kombinationsmöglichkeiten, indem man alte und neue Fahrzeugblöcke miteinander verbindet. Mit den bereits vorhandenen und den neuen Blöcken lassen sich tolle Quilt Assemblies erschaffen. Erstelle Themenbereiche, indem du verschiedene Fahrzeugarten zusammenbringst. Soll es ein Traktoren Quilt mit Mähdrescher, Baumwollernter oder Getreideanhänger sein oder doch lieber ein Quilt der Luftfahrt mit Flugzeugen, Propellermaschinen oder Raketen, die Grenzen liegen nur in Deiner Fantasie. Lass Deiner Kreativität freien Lauf und gestalte einen einzigartigen Quilt, der die Vielfalt und Schönheit der Fahrzeuge auf beeindruckende Weise zeigt.
For a Vehicle Quilt, there are infinite possibilities by combining old and new vehicle blocks. With the existing and new blocks, you can create fantastic quilt assemblies. Create thematic sections by bringing together different types of vehicles. Should it be a Tractor Quilt with combines, cotton stripper, or grain cart? Or perhaps an Aviation Quilt with airplanes, propeller machines, or rockets? The boundaries exist only in your imagination. Let your creativity run wild and design a unique quilt that showcases the diversity and beauty of vehicles in an impressive way.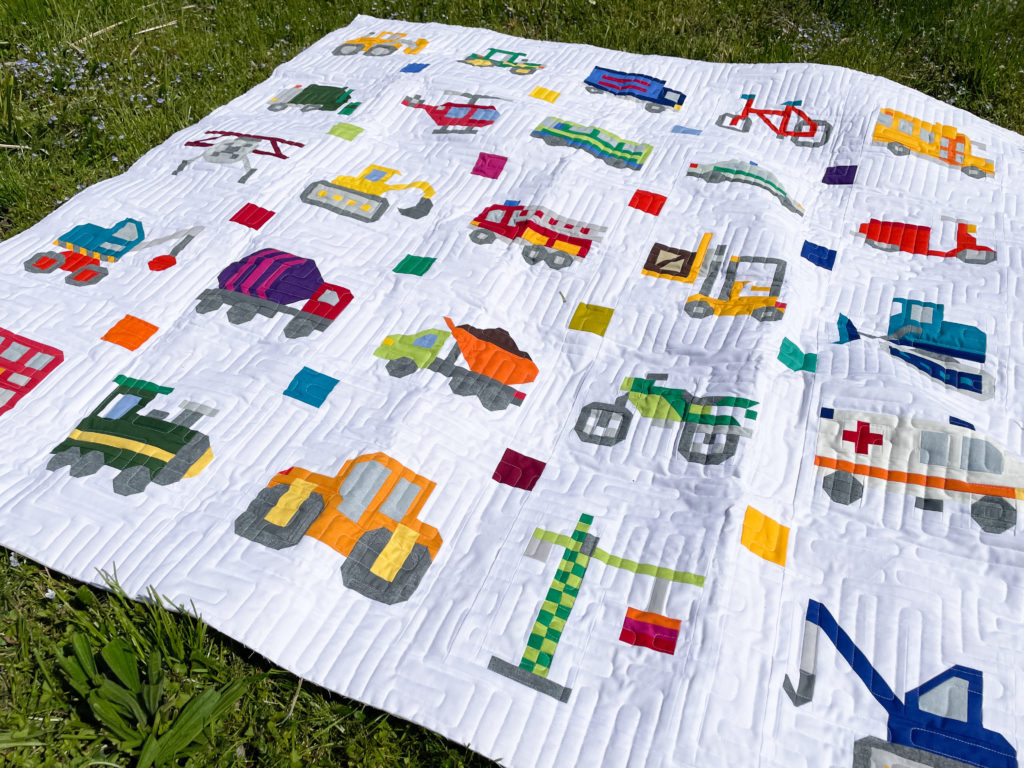 Meine nächste große Aufgabe ist es, die Bundles zu aktualisieren und auch die neuen Blöcke zu integrieren. Das wird ein Stück Arbeit, aber ich freue mich darauf Dir bald neue Bundles anbieten zu können.
Und wenn Dir in Deinem Quilt Assembly noch ein bestimmter Block fehlt, dann schreib mir gerne. Wenn ich Zeit habe, mache ich aus Deiner Idee einen Quiltblock, den Du dann nähen kannst.
My next big task is to update the bundles and integrate the new blocks. It's going to be a lot of work, but I'm looking forward to being able to offer you new bundles soon.
And if there's a specific block missing in your quilt assembly, feel free to reach out to me. If I have the time, I'll turn your idea into a quilt block that you can then sew.
You might also like