Es gab da etwas, was mir seid dem Entwurf der Vehicle Quilt Blöcke im Kopf rumspukte. Neben einem Quilt wollte ich auch unbedingt andere Projekte aus den Blöcken machen und allen voran ein Stoffbuch für Kinder. Heute stelle ich Dir daher mein neues Projekt mit den Vehicle Quilt Blöcken vor – das Fahrzeug Quilt Stoffbuch. Schaut auch gerne mal zu meinen anderen Vehicle Quilt Projekten, dem Fahrzeug-Quilt, dem ABC-Fahrzeug Quilt, den Topflappen oder meinen weihnachtlichen Tischsets.
WICHTIG: Eins muß ich bei diesem Nähprojekt dazusagen. Das Stoffbuch, was Du hier siehst, ist ein Prototyp. Ich habe das Stoffbuch genau einmal genäht und aus den etlichen Fehlern, die ich dabei gemacht habe, gibt es viel, was ich jetzt anders machen würde, daher sieht das folgende Projekt zwar aus wie ein Tutorial, ist aber eher eine Reise durch die Entstehung dieses hier gezeigten Nähprojekts. Ich habe im Nachhinein alles fein säuberlich ausgerechnet, aber das Stoffbuch noch kein 2. Mal genäht.
Wenn es Dich in den Fingern juckt und Du so ein Stoffbuch auch nähen willst, hilft meine Stoffbuch-Näh-Reise aber sicherlich mit dem ein oder anderen wichtigen Hinweis. Trotzdem nochmal – dies ist kein finales Tutorial.
There was something that had been on my mind since I designed the Vehicle Quilt blocks. Besides a quilt, I really wanted to make other projects with the blocks and first of all a fabric book for children. So today I present you my new project with the Vehicle Quilt blocks – the vehicle fabric book. Feel free to check out my other Vehicle Quilt projects, the vehicle quilt, the letter-vehicle quilt, the potholders or my Christmas placemats.
IMPORTANT: I have to say one thing about this sewing project. The fabric book you see here is a prototype. I have sewn the fabric book exactly once and from the several mistakes I have made, there is a lot I would do differently now. Therefore, while the following project looks like a tutorial, it is more of a journey through the making of this sewing project shown here. I have everything neatly figured out after the fact, but have not sewn the fabric book a 2nd time.
If your fingers are itching to sew such a fabric book, my fabric book sewing journey will surely help with one or two important hints. Nevertheless, again – this is not a final tutorial.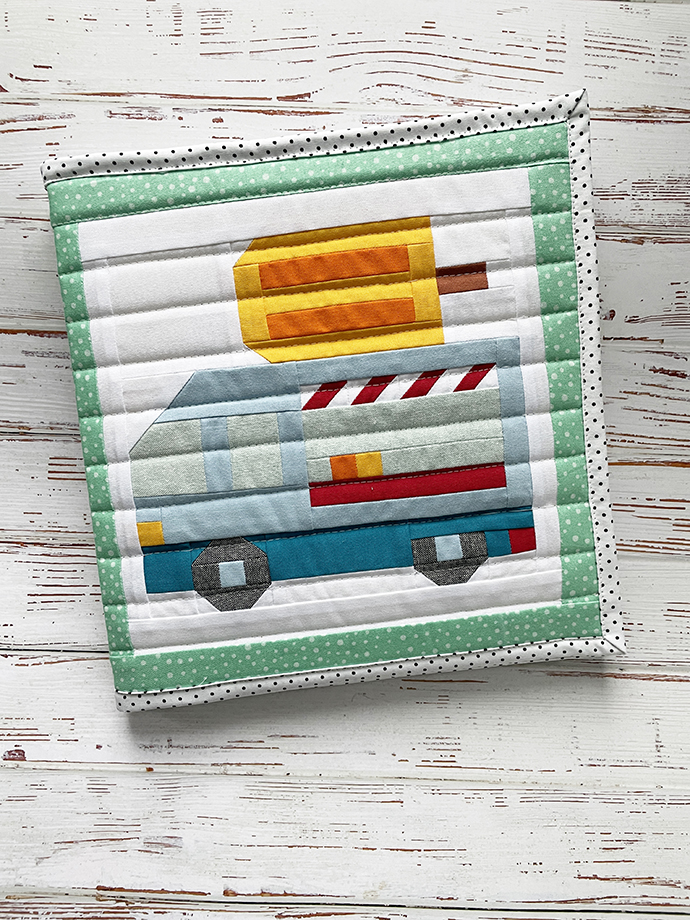 Meine Stoffauswahl
Damit das Stoffbuch nicht zu dick wird, habe ich mich für 11 der Blöcke entscheiden, aus denen ein 12-seitiges Buch entstehen soll. Bei meinen unzähligen Testblock-Nähereien sind so einige Fahrzeug-Blöcke übrig geblieben, die es nicht in einen Quilt oder in ein anderes Näh-Projekt geschafft haben und die bestens geeignet waren, um in das Stoffbuch aufgenommen zu werden.
12 Seiten, heißt 6 Doppelseiten, heißt 3 Doppelseiten-Lagen, die am Ende zusammengenäht werden. Keine Bange, das wird unten noch genauer erklärt.
Jede Doppelseite, die aufgeschlagen wird, sollte ein Hintergrund-Farbthema haben, nicht die gleichen Stoffe, aber aus einer Farbwelt sollten sie sein.
To keep the fabric book from getting too thick, I decided on 11 blocks to make a 12-page book. In my countless test block sewings, there were quite a few vehicle quilt blocks left over that didn't make it into a quilt or other sewing project and were perfectly suited to be included in the fabric book.
12 pages, means 6 double pages, means 3 double page layers sewn together at the end. Don't worry, this will be explained in more detail below.
Each double page spread should have a background color theme. Not the same fabrics, but from one color world they should be.
Einer der wirklich kniffligen Schritte ein solches Stoffbuch herzustellen ist die Reihenfolge zu bestimmen und diese dann auch richtig anzuordnen. Die Buchseiten bestehen aus 3 Doppelseiten-Lagen, die aus jeweils 2 Fahrzeuge vorne und 2 Fahrzeugen hinten bzw. Titel und Rückseite zusammengenäht werden. Das schafft echt Verwirrung und hier hilft ein ganz einfaches Papiermuster, das Du Dir anfangs basteln solltest. Nimm Dir dazu 3 querformatige gleich große Papierstücke und falte diese in der Mitte. Das ist jetzt Dein Stoffbuch in Papierform. Anschließend beschriftest Du Deine Seiten nach der gewünschten Reihenfolge und danach kannst Du die Papierstücke wieder auseinandernehmen und hast dank Beschriftung genaue Angaben, wo welcher Block hinkommt bzw. zusammengenäht werden muß.
Die folgende Skizze zeigt, wie die Seiten im meinem Buch angeordnet sind und wie diese dann als Einzelseiten zusammengenäht werden müssen. Nebeneinanderliegende Doppelseiten müssen Doppelseiten-Lagen zusammengenäht werden.
One of the really tricky steps to make such a fabric book is to determine the order and then arrange them correctly. The book pages consist of 3 double page layers (2 vehicles in the front and 2 vehicles in the back or title and back), which are sewn together. This creates real confusion and here a very simple paper pattern helps, which you should make at the beginning. Take 3 landscape pieces of paper of the same size and fold them in the middle. This is your fabric book in paper form. Then you label your pages according to the desired order. After that you can take the pieces of paper apart again and thanks to the labeling you have exact information where which block goes or has to be sewn together.
The following sketch shows how the pages are arranged in my book and how they have to be sewn together as single pages. Adjacent double pages must be sewn together double page layers.
So, jetzt aber nochmal zurück zur Stoffauswahl. Angefangen mit Rückseite und dem Eiswagen, der auf den Titel soll. In der Bildunterschrift habe ich mal dazugeschrieben, welche Seite das in der Skizze wäre.
So, now back to the fabric selection. Starting with the back and the ice cream truck that should be on the title. In the caption I have written which side that would be in the sketch.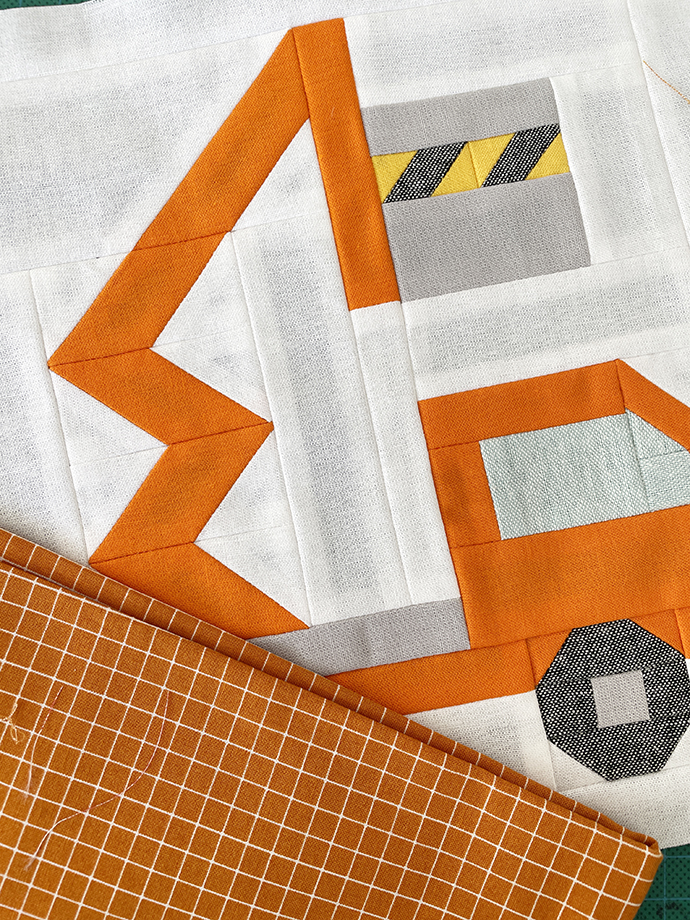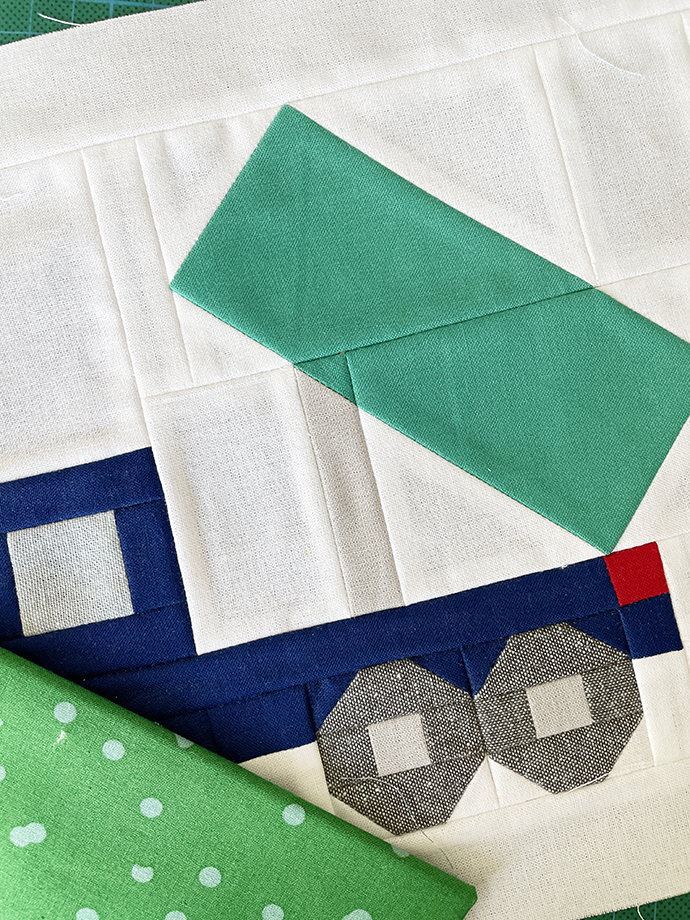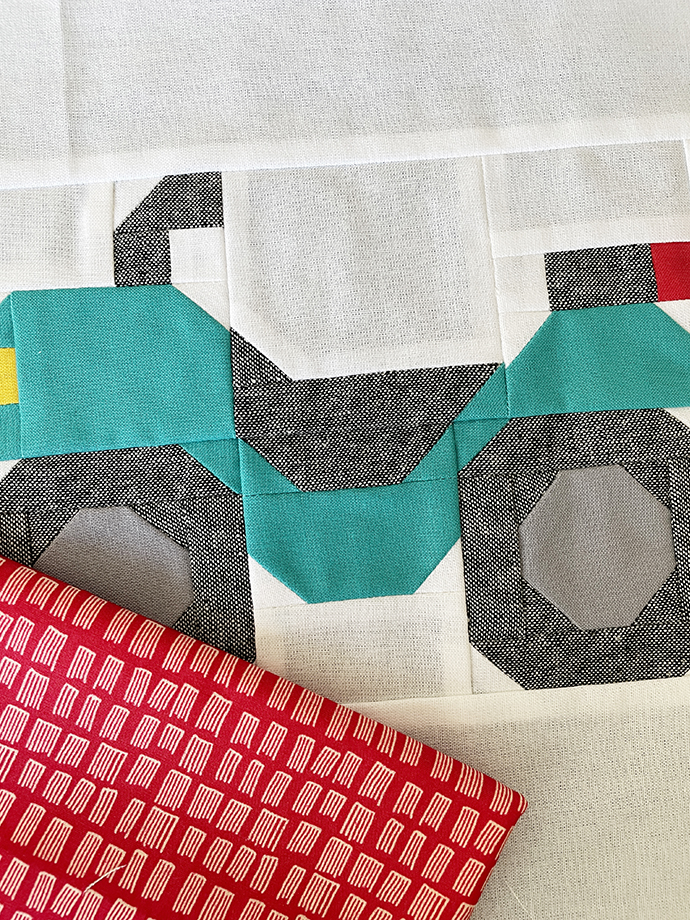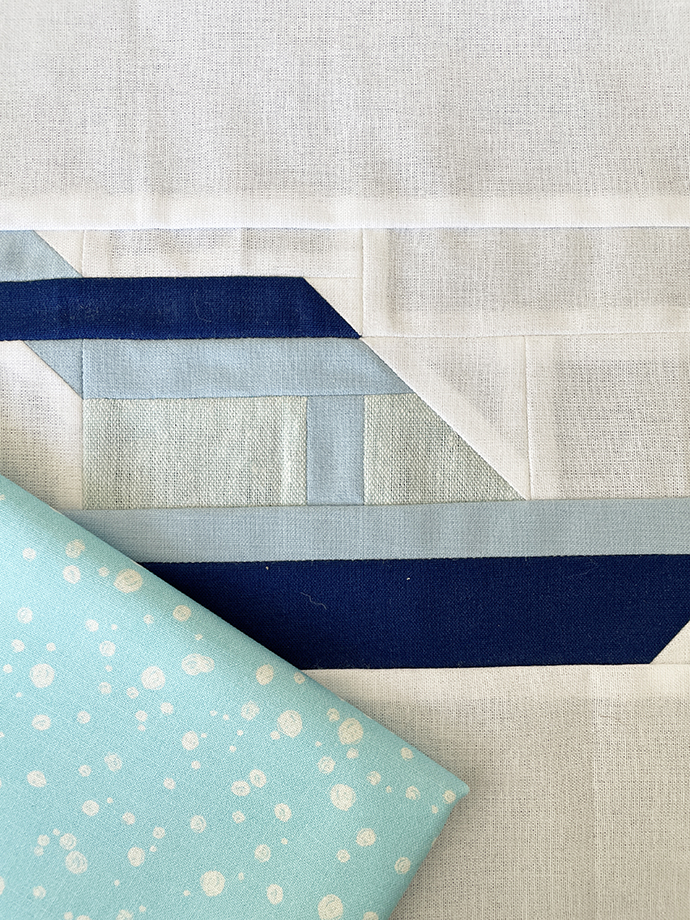 Der Zuschnitt / Cutting
Ein weiterer vielleicht etwas schwieriger Schritt, den ich anfangs nicht bedacht hatte, ist die Verkürzung der Seiten nach außen. Dadurch, daß Du die zusammengenähten Doppelseiten am Ende zusammenklappst, werden bei gleicher Größe aller Doppelseiten die mittlere und äußere Doppelseite seitlich kürzer. Den Fehler habe ich gemacht und das leider erst nach dem Quilten gemerkt, das war mein Fehler Nummer 1. Ich habe das dadurch gerettet, indem ich einfach meine mittlere Doppelseite an beiden Seiten um 1/4″ und meine äußere Doppelseite sogar seitlich um 1/2″ gekürzt habe. Bei den Bildern des fertigen Stoffbuches unten sieht man diese verkürzten Randstreifen. Wie gesagt, Prototyp…
Wissend dieses Fehlers, habe ich das in den Skizzen unten gleich eingerechnet und die Seiten der mittleren und äußeren Doppelseite verlängert.
Wie oben erwähnt, ist es beim Zusammenstellen der Doppelseiten wichtig die mittlere und äußere Doppelseite seitlich etwas zu verlängern, damit das Buch zusammengeklappt bündig ist. Daher braucht es unterscheidlich breite Randstreifen. Ich habe hier folgend aufgelistet, wie die Schnittteile sinnvoll geschnitten werden müssen, damit das der Fall ist. Das schließt natürlich auch das Vlies ein. Als Vlies habe ich soft und stable verwendet, damit die Buchseiten schon stabil sind. Das Vlies sollte so zugeschnitten werden, daß zu den äußeren, oberen und unteren Ränder jeweils noch 1/4 inch Platz ist, wo kein Vlies ist, da es sonst mit dem Binding zu dick wird.
Another perhaps somewhat difficult step, which I had not considered at the beginning, is the shortening of the pages to the outside. By folding the sewn-together double pages together at the end, the center and outer double page will be shorter on the sides if all double pages are the same size. I made that mistake and didn't realize it until after quilting. That was my #1 mistake, I saved it by simply shortening my center double page by 1/4″ on both sides and my outer double page by 1/2″ on the sides. In the pictures of the finished fabric book below, you can see these shortened edge strips. As I said, prototype…
Knowing this error, I immediately factored it into the sketches below and lengthened the sides of the middle and outer double page spreads.
As mentioned above, when assembling the double pages, it is important to extend the middle and outer double page a bit laterally, so that the book is flush when folded. Therefore, it needs different width margins. I have listed below how the pattern pieces need to be cut so that this is the case. Of course, this also includes the stabilizer. I used soft and stable stabilizer, so that the book pages are already stable. The fleece should be cut so that there is 1/4 inch of space to the outer, top and bottom edges where there is no stabilizer, otherwise it will be too thick with the binding.
Anschließend werden entsprechend der Seitenaufteilung in der Skizze die entsprechenden Randstreifen angenäht, wobei die innenliegenden Randstreifen immer gleich sind: 1 1/2 x 9 1/2 inch. Alle anderen Ransstreifen unterscheiden sich.
Then, according to the page layout in the sketch, sew on the corresponding border strips. The inside margin strips are always the same: 1 1/2 x 9 1/2 inches. All other margin strips differ.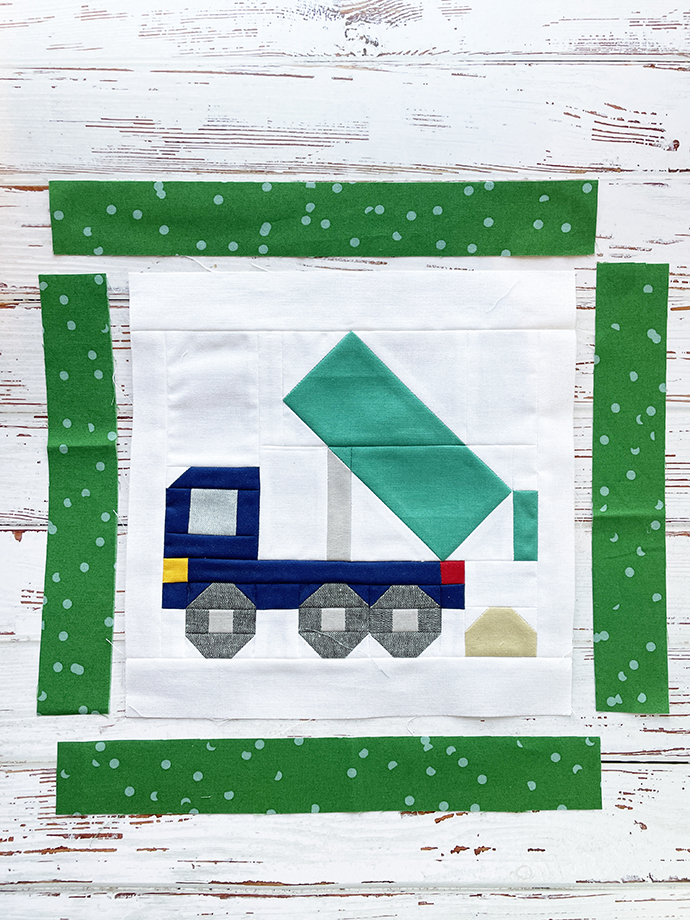 Wenn alle Randstreifen angenäht sind, geht es an den kniffligen Teil, die Doppelseiten richtig zusammenzusetzen und das hat mir trotz Papiermuster und Skizze echt Gehirnleistung abverlangt. Hier habe ich eine 1/4 inch Nahtzugabe verwendet und die Nahtzugabe auseinander gebügelt.
When all the edge strips are sewn on, it's time for the tricky part, putting the double pages together correctly. This really took some brain power on my part, despite the paper pattern and sketch. Here I used a 1/4 inch seam and pressed the seam allowance open.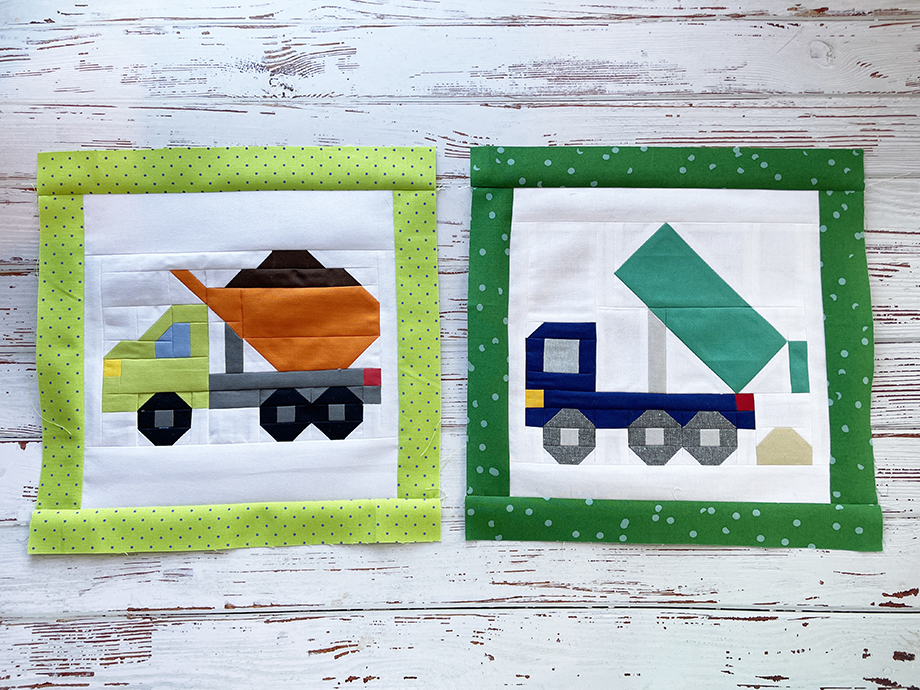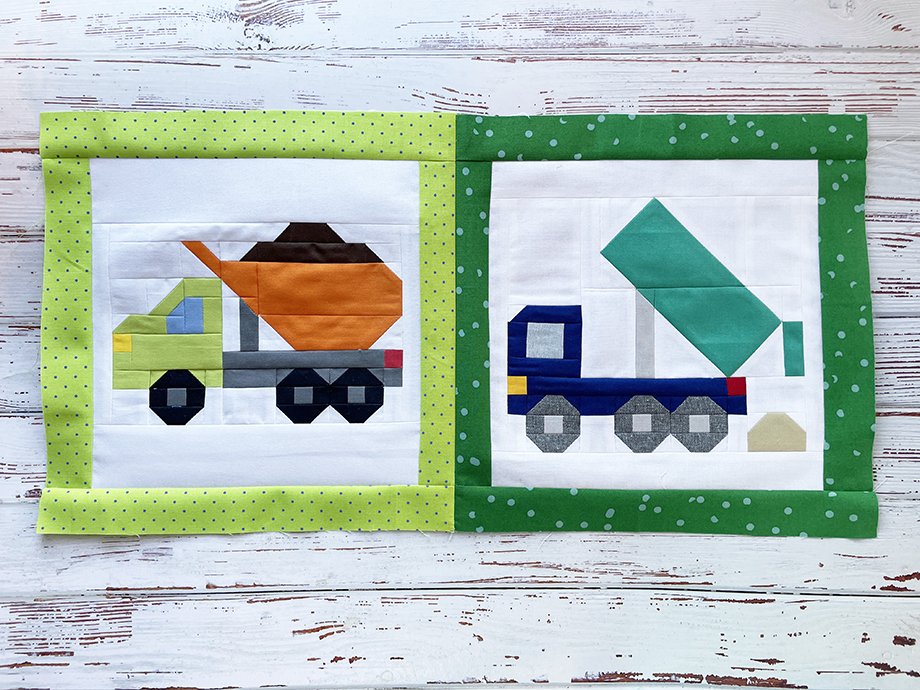 Das Zusammensetzen der Doppelseiten / The assembly of the double pages
Alle Einzelseiten sind zu Doppelseiten zusammengenäht – dabei habe ich immer wieder geprüft, ob das so auch stimmt. Dazu habe ich jeweils 2 Doppelseiten links auf links zusammengelegt, und diese 3 "Doppelseiten-Lagen" schon mal zu einem losen Buch zusammengefaltet. Kurz die Reihenfolge beim Durchblättern gecheckt und – hurra – es stimmt. In dem Diagramm unten habe ich die 3 verschiedenen Doppelseiten-Maße eingetragen.
All single pages are sewn together to double pages – I have checked again and again whether this is correct. To do this, I have 2 double pages left to left together, and these 3 "double-page layers" already folded into a loose book. I briefly checked the order while leafing through the pages and – hurray – it's correct. In the diagram below, I have entered the 3 different double-page dimensions.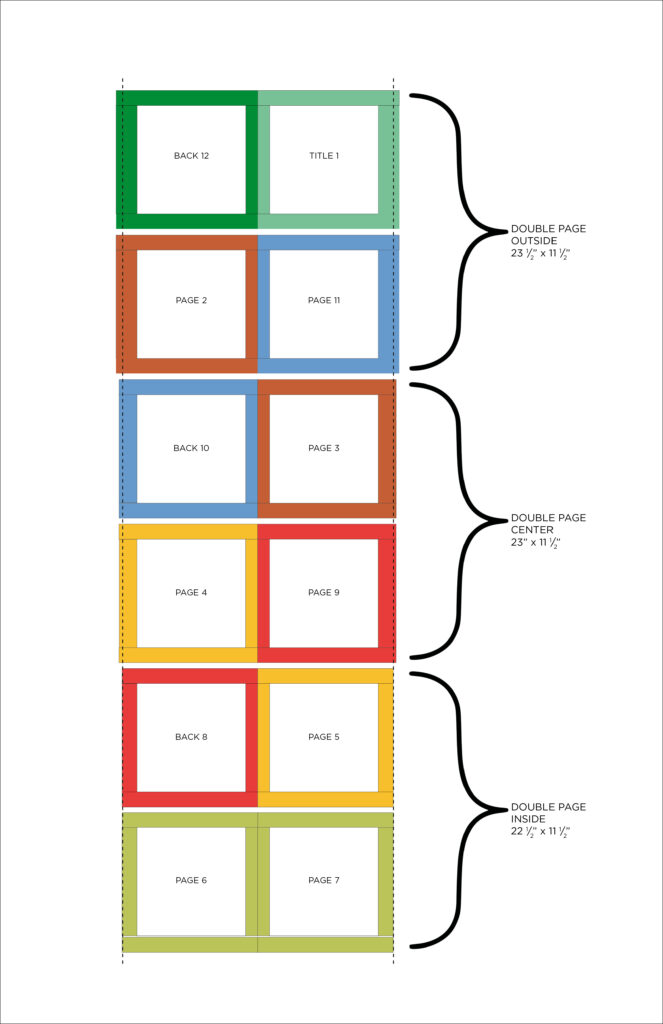 Und das sind meine zusammengenähten Doppelseiten. Die jeweils nebeneinanderliegenden Doppelseiten gehören zusammen.
And these are my double pages sewn together. The double pages next to each other belong together.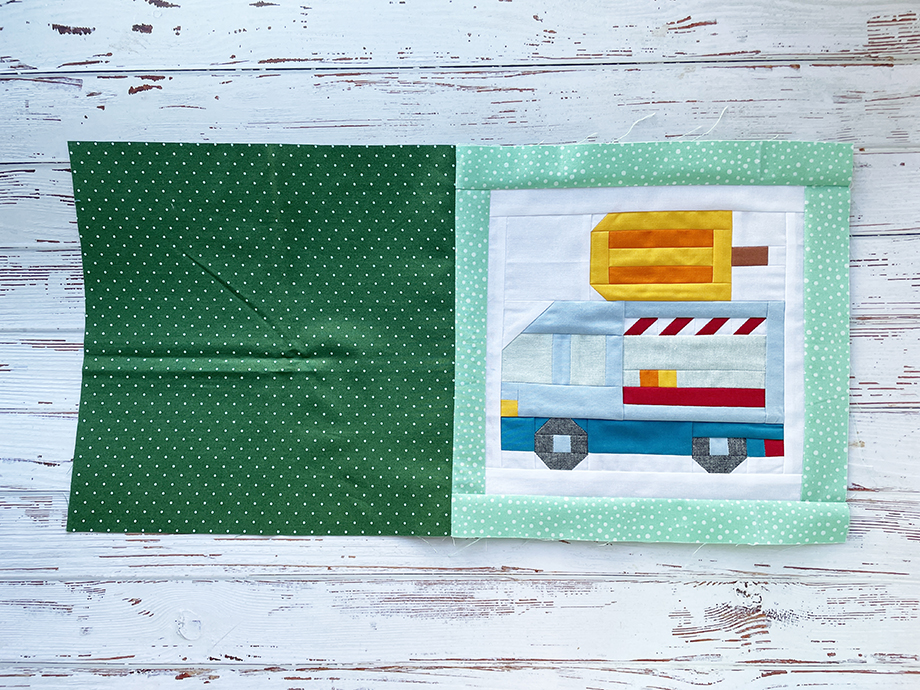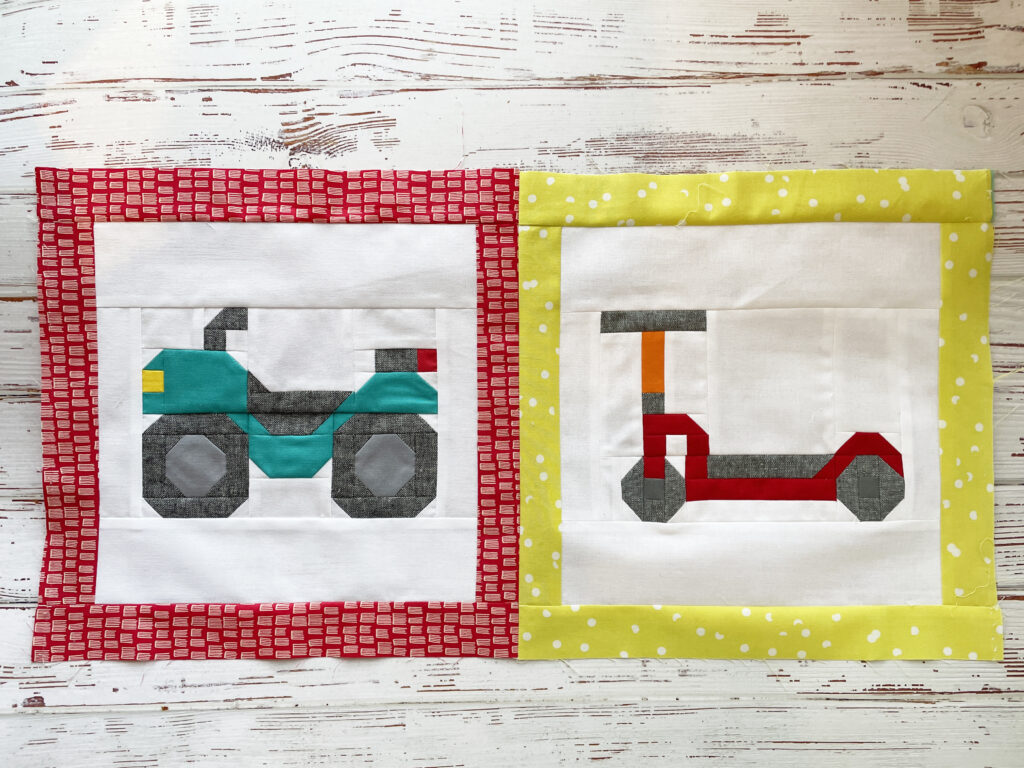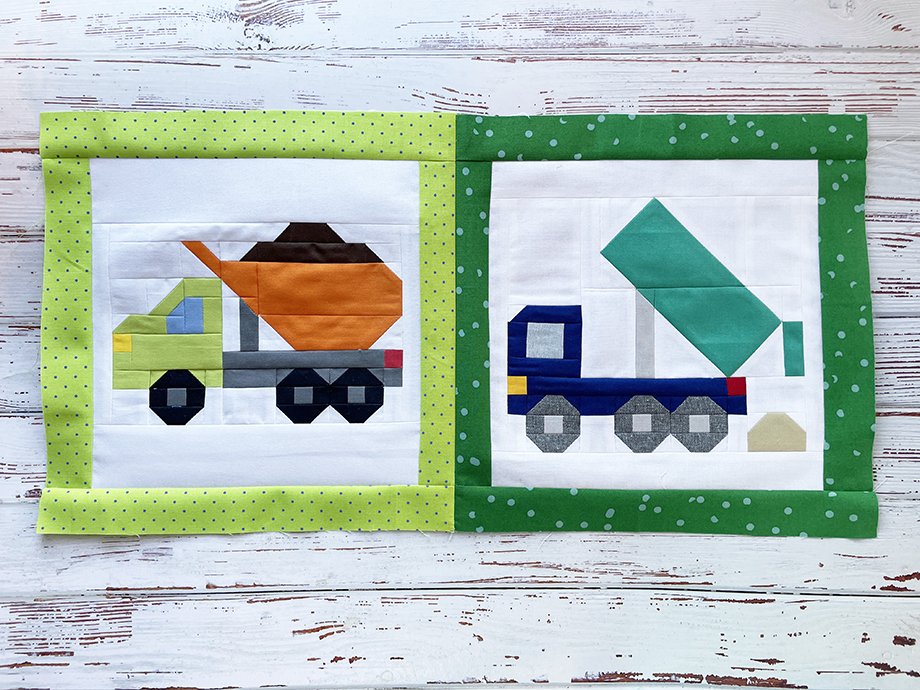 Nachdem ich das geschafft hatte, war für mich der schwierigste Teil erstmal vollbracht – dachte ich…
Mein nächster Schritt war jetzt das Vlies richtig zu positionieren und die zusammengehörenden Doppelseiten zusammenzuquilten. Dazu habe ich jeweils eine Doppelseite mit der rechten Seite nach unten gelegt und die beiden Vliese so positioniert, daß nach außen, oben und unten genau 1/4 inch Platz bleibt.
After I had done that, the most difficult part was done for me – I thought….
My next step was now to position the stabilizer correctly and to quilt the matching double sides together. To do this, I placed each double side right side down and positioned the two stabilizers so that there was exactly 1/4 inch of space to the outside, top and bottom.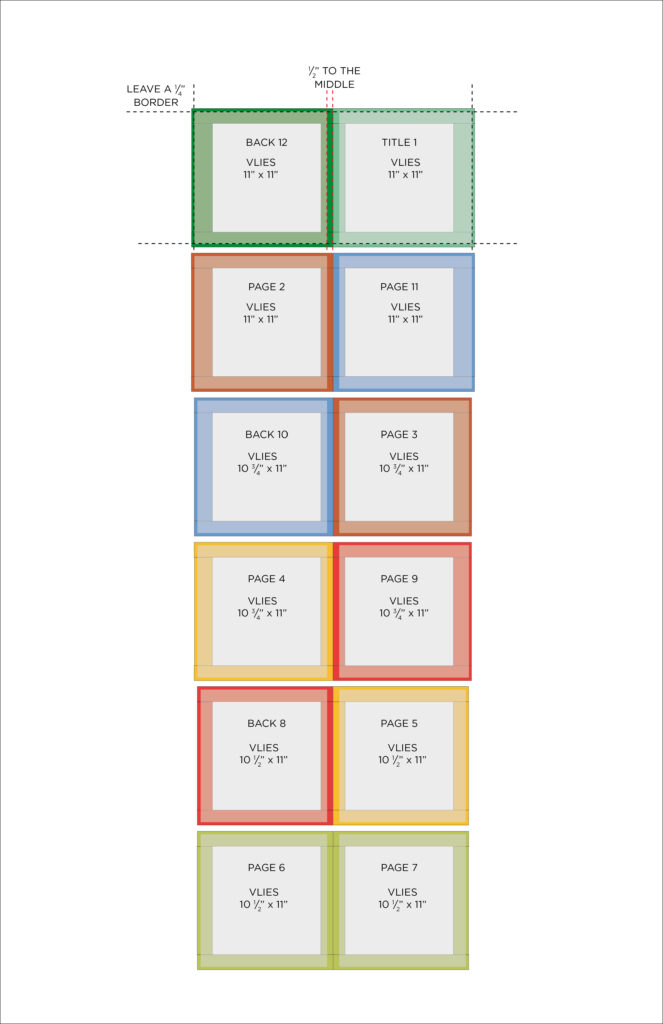 Mein Fehler Nummer 2: Da ich kein Bastingspray habe und mir in diesem Fall Sicherheitsnadeln zu ungenau waren, habe ich Wondertape verwendet (weiß leider nicht, welche Marke). Eigentlich sollte man da ja ohne Probleme drübernähen können, aber das hat sich leider als Fehler herausgestellt, was ich dann schmerzlich beim Quilten gemerkt habe. Die Nadel war komplett verklebt, was immer wieder dazu führte, daß meine Maschine einzelne oder auch gleich mehrer Stiche ausgelassen hat. Das hat mich echt Nerven gekostet. Das Wondertape habe ich so gut es geht wieder abgelöst, aber an den Rändern brauchte ich dieses ja trotzdem, um die Doppelseiten an Ort und Stelle zu halten, daher meine unbedingt Enpfehlung, arbeite mit Bastingspray, Wonderclips oder eben Sicherheitsnadeln.
My mistake number 2: Since I have no basting spray and in this case safety pins were too inaccurate, I used wondertape (don't know the brand). Actually, you should be able to sew over it without problems, but unfortunately that turned out to be a mistake, which I then painfully noticed when quilting. The needle was completely stuck, which repeatedly caused my machine to skip single or multiple stitches. That really cost me nerves. I removed the wondertape as good as I could, but I still needed it at the edges to hold the double pages in place. So my absolute recommendation, work with bastingspray, wonderclips or even safety pins.
Auf der einen Doppelseite ist das Vlies befestigt. Um jetzt die passende Doppelseite genau zu platzieren, habe ich mich an der Mittelnaht orientiert. Auch hier habe ich Wondertape benutzt…aber da war ich ja dann leider erst später schlauer. Die Nähte gehören genau aufeinander.
On one double side the stabilizer is attached. In order to now place the matching double side exactly, I have oriented myself to the center seam. Here, too, I used wondertape…but then, unfortunately, I was smarter only later. The seams belong exactly on top of each other.
Das Quilting / The Quilting
Nach dem ein oder anderen Wutanfall und nach etlichen aufgetrennten Quiltnähten, habe ich mich letztendlich für einfache Linien entscheiden, damit ich wenigstens halbwegs gut die jeweiligen Doppelseiten zusammenquilten konnte. Vorgezeichnet hatte ich mir diese mit einem luftlöslichen Stift.
After the one or other tantrum and after several unraveled quilting seams, I finally decided to use simple lines, so that I could quilt at least halfway well the respective double sides together. I had pre-drawn these with an air-soluble pen.
Es ist geschafft und alle 3 "Doppelseiten-Pakete" sind gequiltet. Das hat mich echt Nerven gekostet und die Quiltnähte sind bei genauerer Betrachtung leider nicht wirklich vorzeigbar. Wie gesagt – Prototyp.
Ach und da habe ich mich auch mal kurz zu früh gefreut, daß ich das Quilting hinter mich gebracht habe, da ich beim Zusammenklappen der 3 Doppelseiten dann erst gemerkt habe, daß die mittlere und äußere Seiten zu kurz sind. Aber, kurzen Prozess gemacht und die innere Doppelseiten-Lage an den äußeren Rändern um jeweils 1/2 inch und mittlere Doppelseiten-Lage an den äußeren Rändern um jeweils 1/4 inch gekürzt. Das alles habe ich in den Skizzen oben mit eingerechnet und damit sollte es beim nächsten Mal stimmen.
It's done and all 3 "double page layers" are quilted. It really cost me nerves and the quilting seams are unfortunately not really presentable on closer inspection. As I said – prototype.
Oh, and there I was also briefly too early to rejoice that I got the quilting behind me, because when I folded the 3 double pages then only noticed that the middle and outer pages are too short. But, made short work of it and shortened the inner double page layer by 1/2 inch each on the outer edges and middle double page layer by 1/4 inch each on the outer edges. So I included all of that in the sketches above and that should make it right next time.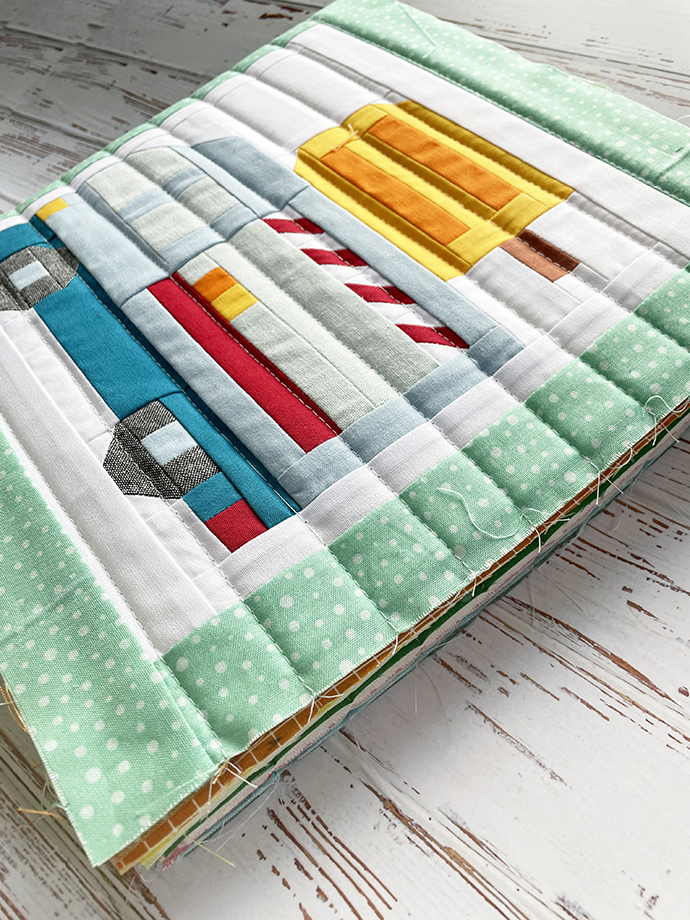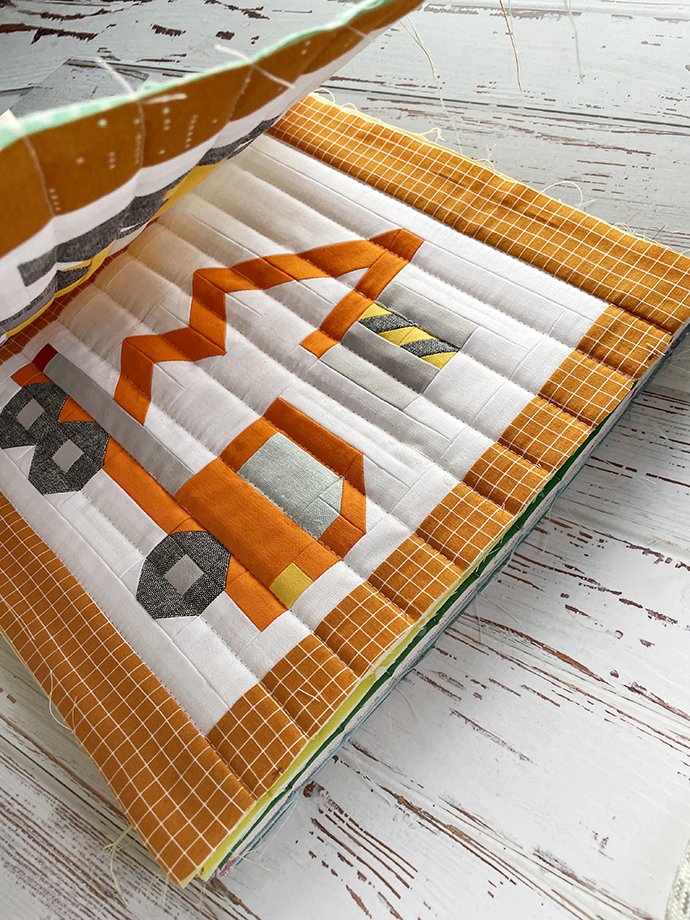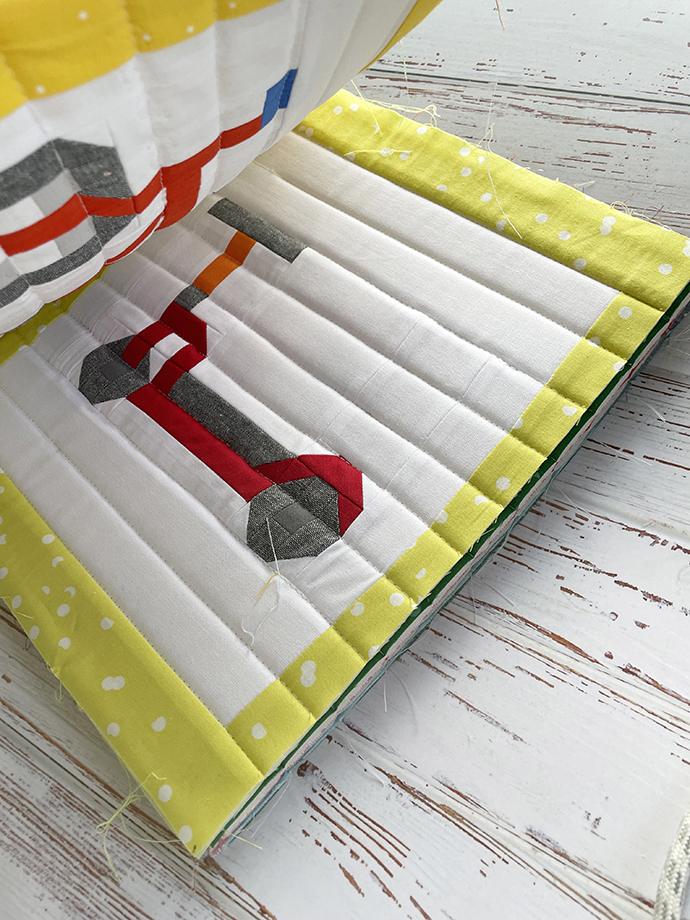 Das Biding / The binding
Für das Binding habe ich jeweils 2 1/2 inch Breite Streifen zu einem sehr langen Bindung zusammengenäht, somit konnte ich alle 3 Bindings in Reihe nach und nach annähen. Gemacht habe ich das mit der Nähmaschine, daher sieht man bei meinem Stoffbuch das Biding auf der einen Seite ohne Naht, auf der anderen Seiten mit Naht, was mich persönlich nicht stört.
For the binding, I sewed 2 1/2 inch wide strips together to make a very long binding, so I could sew on all 3 bindings in a row, one by one. I did this with the sewing machine, so you can see the binding on my fabric book on one side without a seam, on the other side with a seam, which does not bother me personally.
Mein fertiges Stoffbuch / My finished fabric book
Hier also eine fertige Doppelseite mit Binding! Die Doppelseiten habe ich dann aufeinandergelegt und nochmals geprüft, ob sich die Doppelseiten in der richtigen Reihenfolge durchblättern lassen.
So here is a finished double page with binding! I then put the double pages on top of each other and checked again if the double pages can be flipped through in the right order.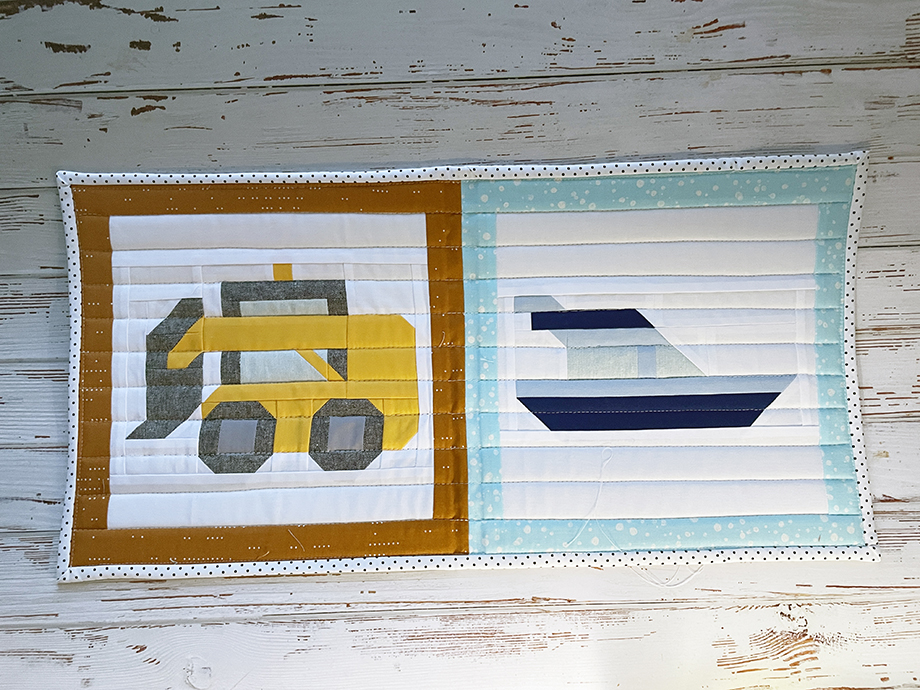 Hah, und dann kam mein 3. Fehler / Problem. Was eigentlich der letzte Schritt werden sollte hat sich als sehr langwieriger letzter Schritt herausgestellt. Wahrscheinlich lag es wieder am Wondertape, daß ich benutzt haben, um die Seiten anhand der Mittelnaht genau aufeinanderzulegen. Fazit: Meine Nähmaschine hat sich unter keinen Umständen dazu überreden lassen, diese 3 Doppelseiten-Lagen zusammenzunähen. Mein eigentlicher Plan war es, diese mit einer Zickzack-Naht in der Mitte zusammenzunähen, aber leider keine Chance. Der Nahttrenner hat Höchstarbeit geleistet und etliche auf halbem Weg gerissene Nähte wieder aufgetrennt.
Letztendlich bin ich dazu übergegangen, die 3 Doppelseiten-Lagen mit der Hand und einem dicken Garn zusammenzunähen. Im Nachhinein finde ich es jetzt sogar fast schöner und freue mich, daß es anders nicht geklappt hat. Die Handnaht gibt dem Buchrücken etwas ganz märchenhaftes. Aber vielleicht ist diese Verzückung auch meiner Freude zu verdanken, daß ich die Buchseiten endlich zusammenheften konnte.
Hah, and then came my 3rd mistake / problem. What was supposed to be the last step turned out to be a very tedious last step. Probably it was again the wondertape that I used to line up the sides exactly using the center seam. Bottom line: my sewing machine could not be persuaded to sew these 3 double page layers together under any circumstances. My actual plan was to sew them together with a zigzag seam down the middle, but alas, no dice. The seam ripper did a great job and unraveled quite a few seams halfway through.
In the end, I ended up hand stitching the 3 double page layers together with a thick thread. In retrospect, I think it's almost nicer now, and I'm glad it didn't work out any other way. The hand stitching gives the spine something quite fabulous. But perhaps this rapture is also due to my joy at finally being able to stitch the book pages together.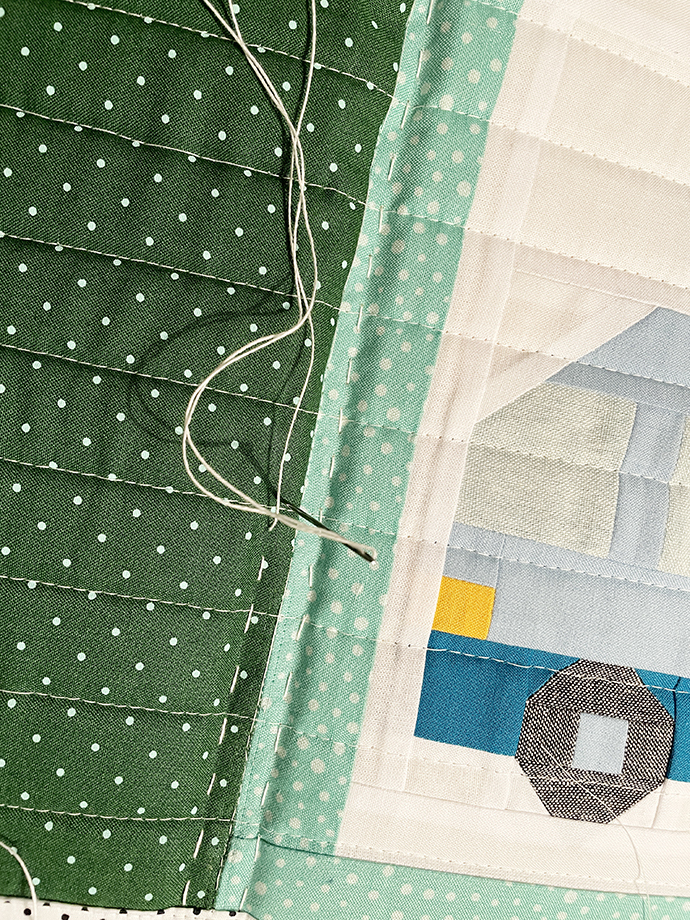 Und das ist es, mein erstes Fahrzeug Quilt Stoffbuch! Nicht ganz perfekt und auf halben Wege zum Prototypen erklärt, ist es doch ein zuckersüßes Stoffbuch für Kinder geworden. Durch das soft und stable Vlies sind die Seiten richtig schön stabil, läßt sich gut durchblättern und trotzdem noch damit schmusen und kuscheln.
And this is it, my first vehicle quilt fabric book! Not quite perfect and halfway to the prototype declared, it has become a sugary sweet fabric book for children. Due to the soft and stable stabilizer, the pages are really nice and stable, can be flipped through well and still cuddle and snuggle with it.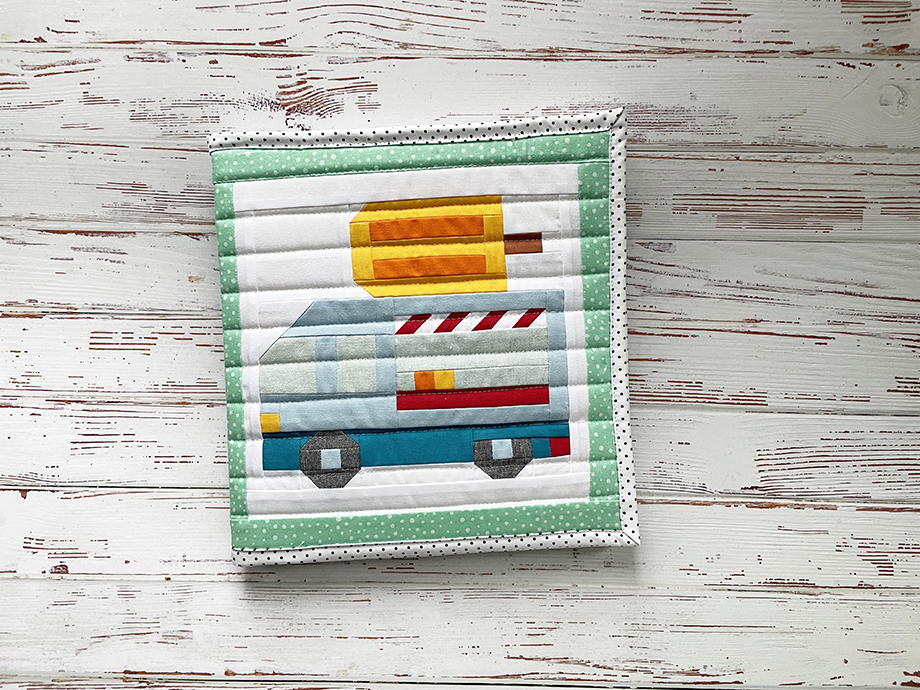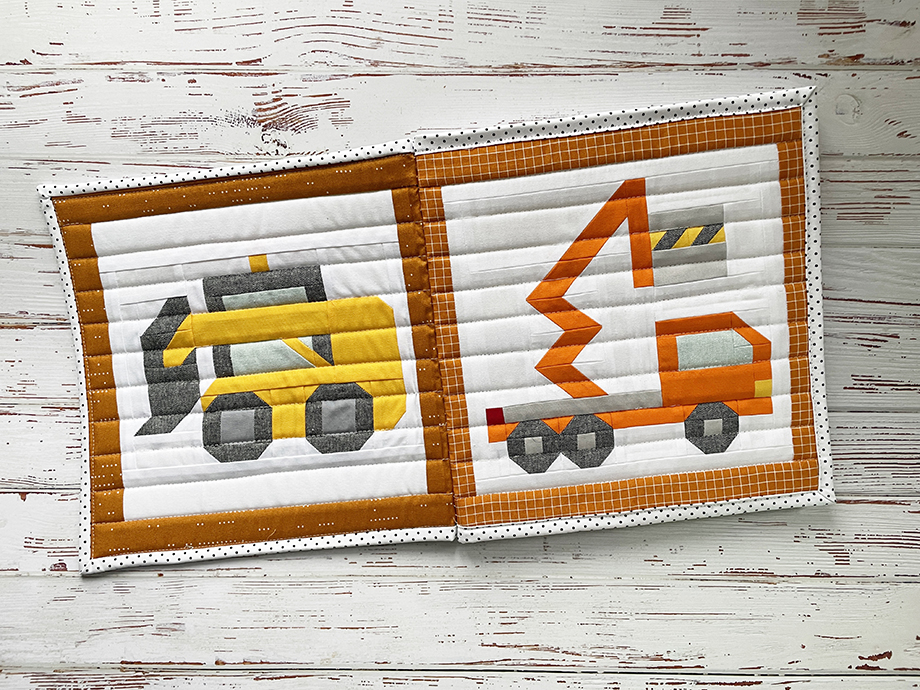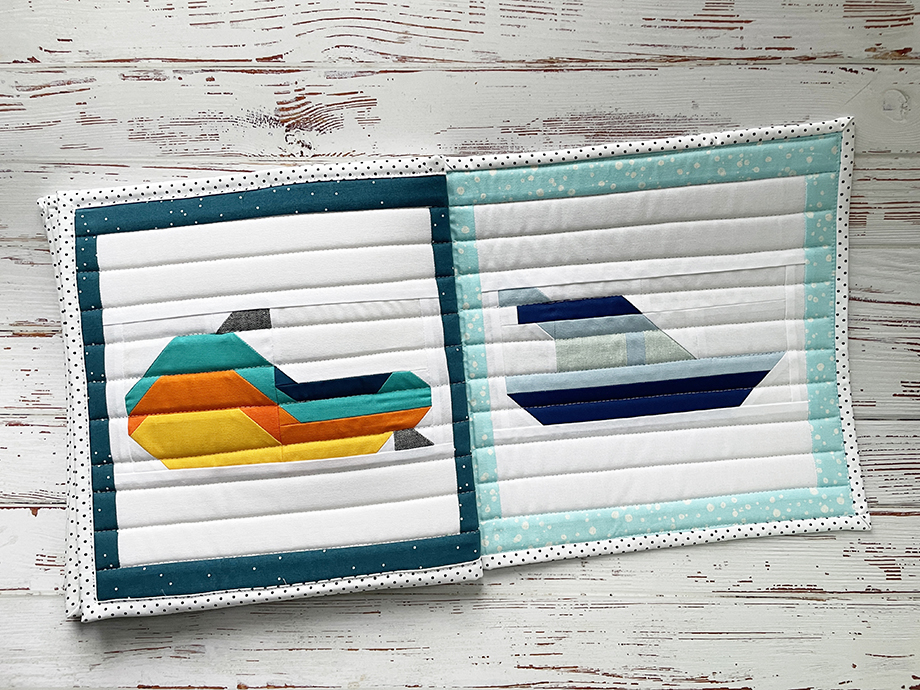 Und wenn Du noch nicht genug hast, gibt es hier einen kleinen Film, der mich beim Durchblättern des Stoffbuches zeigt:
And if you haven't had enough, here's a little movie of me flipping through the fabric book:
You might also like