Du bist hier / you're here: Home / Posts / vehiclequilt – tree truck block
Nächste Woche – nächster Block. Es geht weiter mit einem neuen #vehiclequilt Block. Das Fahrzeug dieser Woche ist der Holzlaster!
Next week – next block. It continues with a new #vehiclequilt block. This week's vehicle is the Tree Truck!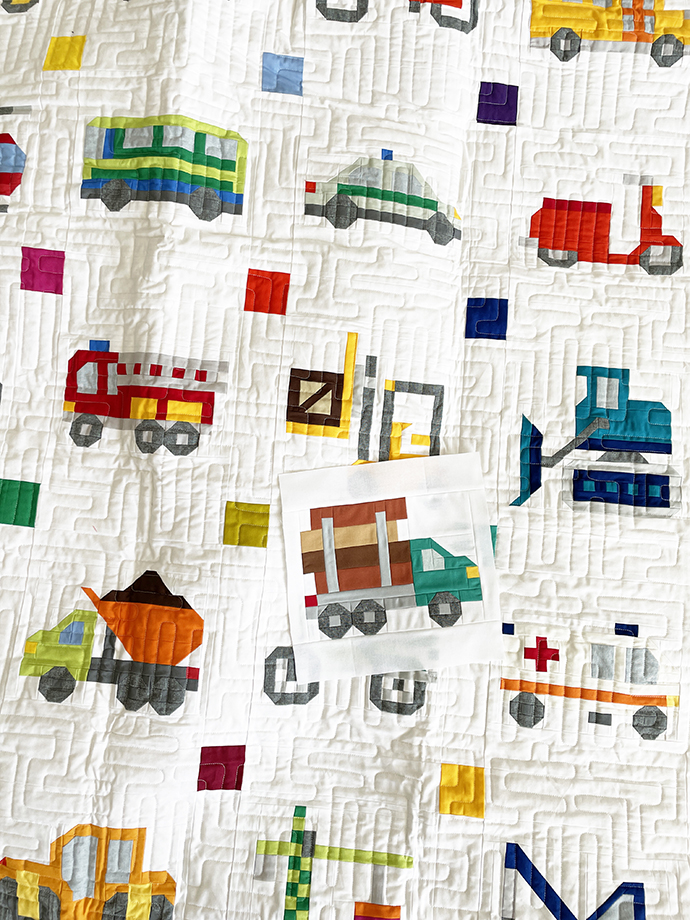 Hier findest Du die Anleitung in meinem Etsy Shop: Holzlaster Block Anleitung
Übersicht über alle #vehiclequilt Block Anleitungen auf meiner Website: Pattern Shop
Here you can find the pattern in my Etsy Shop: Tree Truck block pattern
Overview of all the #vehiclequilt block patterns on my website: Pattern Shop
Entwerfen des Quiltblocks / Designing the quilt block
Ein neuer LKW, diesmal mit schwerer Last, den Baumstämmen. Meine Testnäherinnen haben bei diesem Block wirklich die tollsten Stoffe für die Baumstämme verwendet. Bilder dazu findest Du weiter unten. Da bin ich ganz langweilig mit meinen Uni Stoffen. Aber ich habe tatsächlich keine braunen Stoffe mit einem pasenden Print. Da muß ich mal auf die Suche gehen.
A new truck, this time with a heavy load, the tree trunks. My test sewers really used the most amazing fabrics for the logs in this block. You can find pictures of them below. That's where I get all boring with my varsity fabrics. But I actually don't have any brown fabrics with a matching print. I'll have to do some searching.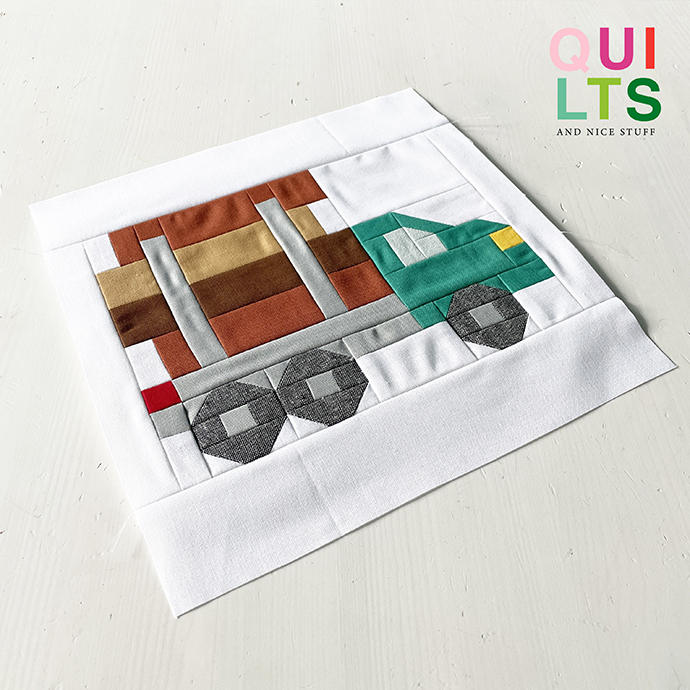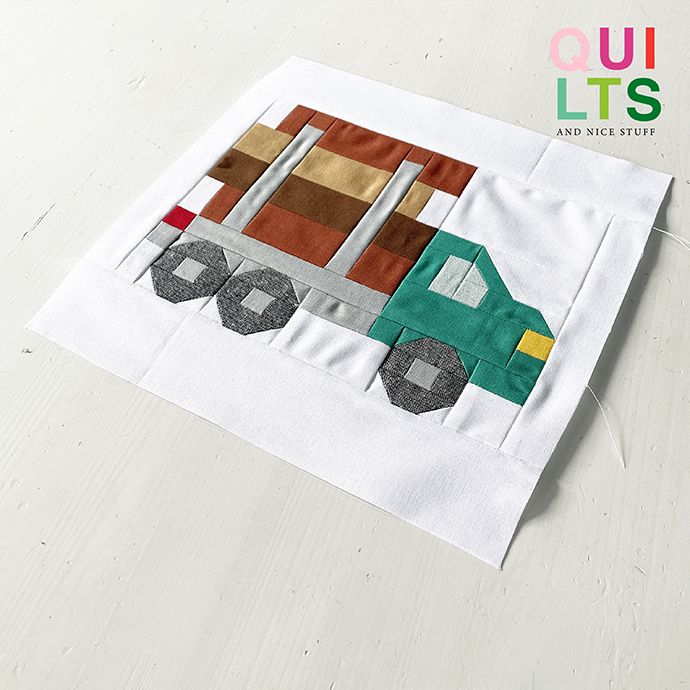 Traditionell genähter Quilt Block / Traditional pieced quilt block pattern
Der Quilt-Block wird nach traditioneller Art genäht. Kein "Foundation Paper Piecing" (also keine Papiervorlage). Es müssen keine Rundungen genäht werden. Damit sind die Anleitungen für Nähanfanger gut geeignet.
Mit den vehiclequilt Blöcken kann man unendlich viele unterschiedliche Quilts nähen. Unten folgend mal ein Beispiel, wenn man nur die Tree Truck Blöcke verwendet. Es gibt bestimmt die tollsten braunen Stoffe, die Du für die Holzstämme verwenden kannst.
Schaut mal bei dem Blog Beitrag VEHICLEQUILT BLOCK PATTERN BUNDLES vorbei, da habe ich alle #vehiclequilt Block Bundle aufgelistet und erklärt, wie einfach das mit der Bestellung funktioniert, damit jeder seine Blöcke individuell zusammenstellen kann. Da der Tree Truck Block zu den 12 neuen Blöcken gehört, ist er noch nicht in einem der Bundles zu finden. Sobald aber alle 12 neuen #vehiclequilt Blöcke veröffentlicht sind, werde ich neue Bundles zusammenstellen.
The block is made with traditional piecing techniques (squares and rectangles), no foundation paper piecing (no FPP), no curves. Thus, the instructions are well suited for sewing beginners.
With the vehiclequilt blocks you can sew an infinite number of different quilts. Below is an example using only the helicopter blocks. I'm sure there are the most amazing brown fabrics you can use for the logs.
Check out the blog post VEHICLEQUILT BLOCK PATTERN BUNDLES. I've listed all the #vehiclequilt block bundles and explain how easy it is to order so everyone can customize their block selection. Since the Tree Truck block is one of the 12 new blocks, it is not yet in one of the bundles. But as soon as all 12 new #vehiclequilt blocks are released, I will put together new bundles.
Die vehiclequilt Blöcke gibt es als kleinen 9 inch Block und als großen 18 inch Block. Dieses Näh-Foto-Tutorial zeigt die 9 inch Blockgröße. Alle Nähschritte sind bei der 18 inch Blockgröße gleich, aber einige Teilstücke des großen Blocks sehen etwas anders aus.
Zuerst schneidest Du alle Teile zurecht, die Du brauchst. Die 2. Seite der Anleitung zeigt Dir die genaue Schnittanleitung für den kleinen und großen Block in einer übersichtlichen Tabelle.
Ich habe alle Schnittteile nach Farben sortiert ausgelegt. Auf der zweiten Seite der Anleitung findest Du auch das Stoffdiagramm, so dass Du jedes der zugeschnittenen Teile mit dem richtigen Buchstaben beschriften kannst.
Für den Tree Truck Block habe ich folgende Stoffe verwendet:
Weißer Stoff: Luxus Baumwolle, weiss von Stoff und Stil
Grauer Stoff: Luxus Baumwolle, hellgrau von Stoff und Stil
Braun hell: Fig tree Wheat von Bella Solids
Braun mittel: Rust von Bella Solids
Braun dunkel: U Brown von Bella Solids
Grüner Stoff: Bluegrass von Kona Cotton
Roter Stoff: Christmas Red von Bella Solids
Gelber Stoff: Sunflower von Bella Solids
Blauer Stoff (Fenster): Yarn dyed essex aqua von Robert Kaufman
Schwarzer Stoff: Yarn dyed essex black von Robert Kaufman
The vehiclequilt blocks come in a small 9 inch block and a large 18 inch block. This sewing photo tutorial shows the 9 inch block size. All sewing steps are the same for the 18 inch block size, but some pieces of the large block look slightly different.
First, cut all the pieces you need. The 2nd page of the pattern shows you the exact cutting instructions for the small and large block in a clear chart.
I used to lay them out, all sorted by color. Second page of the pattern also shows you the fabric diagram, so you can label each of your cut pieces with the right letter.
I used the following fabrics for the Tree Truck block:
White fabric: Luxus Baumwolle, weiss by Stoff und Stil
Gray fabric: Luxus Baumwolle, hellgrau by Stoff und Stil
Brown light fabric: Fig tree Wheat von Bella Solids
Brown middle fabric: Rust von Bella Solids
Brown dark fabric: U Brown von Bella Solids
Green fabric: Bluegrass von Kona Cotton
Red fabric: Christmas Red von Bella Solids
Yellow fabric: Sunflower von Bella Solids
Blue fabric (window): Yarn dyed essex aqua by Robert Kaufman
Black fabric: Yarn dyed essex black by Robert Kaufman

Tipps und Tricks – 1/4 inch Nahtzugabe / Check your 1/4 seam
Falls Du alle gesammelten Tipps und Tricks zum vehiclequilt sehen möchtest, schau Dir diesen Beitrag an:
VEHICLEQUILT PHOTO TUTORIAL – TIPS AND TRICKS. Dort schreibe ich auch über die 1/4 inch Nahtzugabe, die bei diesen vehiclequilt Blöcken sehr wichtig ist. Außerdem zeige ich sehr detailliert, wie Du die Bindingstreifen ohne zusätzliches Hilfsmittel schließt. Wenn Du ein Photo-Tutorial suchst, daß Dir zeigt, wie man ein Binding mit der Maschine annäht, schau Dir meinen Blog Beitrag "Little Square Quilt" an, da zeige ich das sehr ausführlich.
If you want to see all collected tips and tricks about the vehiclequilt block pattern, check out this post:
VEHICLEQUILT PHOTO TUTORIAL – TIPS AND TRICKS. There I also write about the 1/4 inch seam allowance, which is very important for these vehiclequilt blocks. I also show in great detail how to close the binding strips without any additional tools. If you are looking for a photo tutorial that shows you how to machine sew a binding, check out my blog post "Little Square Quilt".
Tree Truck Block Sewing-Photo-Tutorial
Wie bei jedem der Vehiclequilt Beiträge zeige ich Dir jetzt einige Nähschritte des Tree Truck Blocks. Es sind nicht alle Schritte, da diese in der Anleitung mit vielen Schritt-für-Schritt Illustrationen genau erklärt sind.
As with each of the Vehiclequilt posts, I will now show you some of the sewing steps of the Tree Truck block. These are not all the steps, as they are explained in detail in the pattern with step-by-step illustrations.
Die Baumstämme / The logs of the Tree Truck
Räder / Wheel of the Tree Truck block
Ich habe schon so viele Räder für die Fahrzeuge genäht, daß ich die Schritte im Schlaf kann. Hier zeige ich Dir wie Du die 3 Räder für den Tree Truck Block nähst.
Wir verwenden die "easy corner triangle method", bei der Du Deine Dreiecke an die Quadrate und Rechtecke nähst. Ausführlich ist das auch nochmal hier beschrieben: VEHICLEQUILT PHOTO TUTORIAL – TIPS AND TRICKS.
I have sewn so many wheels for the vehicles that I can do the steps in my sleep. Here I show you how to sew the 3 wheels for the Tree Truck block.
We use the "easy corner triangle method" where you sew your triangles to the squares and rectangles. It is also described in detail here: VEHICLEQUILT PHOTO TUTORIAL – TIPS AND TRICKS.
Fertigstellung des Tree Truck Blocks / Finish the Tree Truck block
Der Tree Truck Block hat 3 "Units". Ich zähle die 4 weißen Randstücke nicht mit. Jeder Block des #vehiclequilts ist in "Units" unterteilt. In der Tree Truck Block Anleitung findest Du eine Abbildung, die Dir diese Units genau zeigt. So ist die Schritt-für-Schritt-Anleitung auch für Anfänger super einfach zu befolgen.
The Monster Truck block has 3 "units". I am not counting the 4 white border pieces. Each block of the #vehiclequilt is divided into "Units". In the Tree Truck block pattern you'll find a diagram that shows exactly what these units are. This makes the step-by-step instructions super easy to follow, even for beginners.
Noch mehr Holzlaster / some more Tree Trucks
Und jetzt endlich komme ich zu den Tree Truck Blöcken meiner Testnäherinnen. Schaut Euch diese tolle Stoffauswahl an.
Angela von @babkas_happy_place hat mir tolle Detailbilder des Tree Truck Blocks geschickt. Die Baumstämme sehen fast echt aus durch die Stoffe, die sie verwendet hat. Schaut Euch mal Ihren farbenfrohen Instagram Account an. Neulich hat sie mir geschrieben, daß sie viele Charityquilts näht, was ich wirklich großartig finde.
Danke Dir vielmals für das Testnähen, Angela!
And now, finally, I get to the Tree Truck blocks from my lovely pattern testers. Check out this great fabric selection.
Angela from @babkas_happy_place sent me great detail pictures of the Tree Truck block. The tree trunks almost look real because of the fabrics she used. Check out her colorful Instagram account. She wrote me the other day that she sews a lot of charity quilts, which I think is really wonderful.
Thank you so much for testing the block, Angela!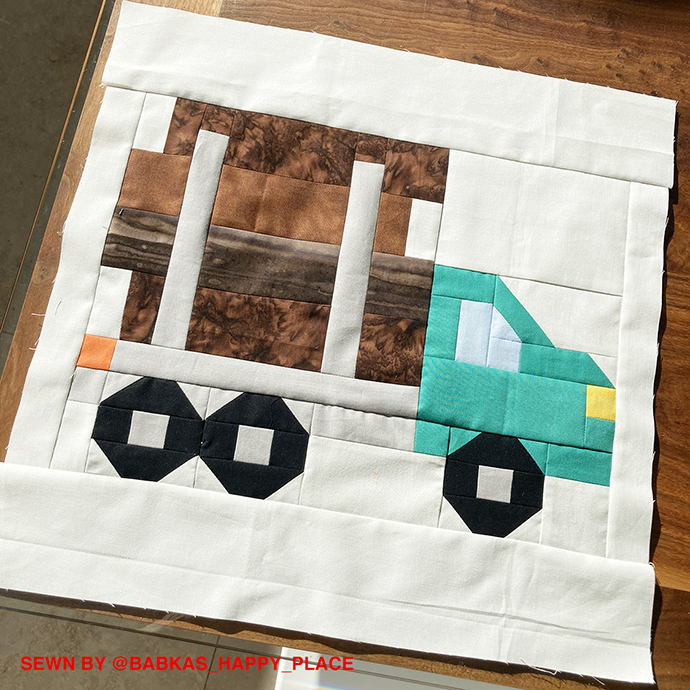 Auch Kat von @quiltystitchystuff hat für mich die Tree Truck Block Anleitung getestet. Sieht ihr Tree Truck Block nicht wunderbar aus? Der Block sieht aus, als ob er gedruckt wäre, so präzise sind Ihre Nähte. Auch hier finde ich die Stoffauswahl für die Baumstämme wirklich perfekt. Auf Ihrem Instagram Account sieht man noch viele weitere unglaublich tolle Quilts und Blöcke. Schaut mal rüber. Danke, danke, danke liebe Kat!
Kat from @quiltystitchystuff also tested the Tree Truck Block tutorial for me. Doesn't her Tree Truck block look wonderful? The block looks like it was printed, that's how precise your piecing is. Again, I think the fabric choice for the tree trunks is really perfect. On her Instagram account you can see many more incredibly great quilts and blocks. Take a look over there. Thank you, thank you, thank you dear Kat!
Schaut Euch den Tree Truck an, den Anastasia von @anastasia7749 als Test genäht hat. Ich liebe diesen Patinalook des grünen Lastwagens. Alles an diesem Block ist einfach großartig. Sie hat auch meinen Abschleppwagen Block getestet, der auch bald veröffentlicht wird. Also schaut mal auf Ihren wunderbaren Account.
Look at this Tree Truck Anastasia from @anastasia7749 made as a pattern test. I love the vintage look of the green truck. Everything of this block is just beautiful. She also tested the Tow Truck pattern for me – not released yet – but is coming soon. So have a look at her wonderful account.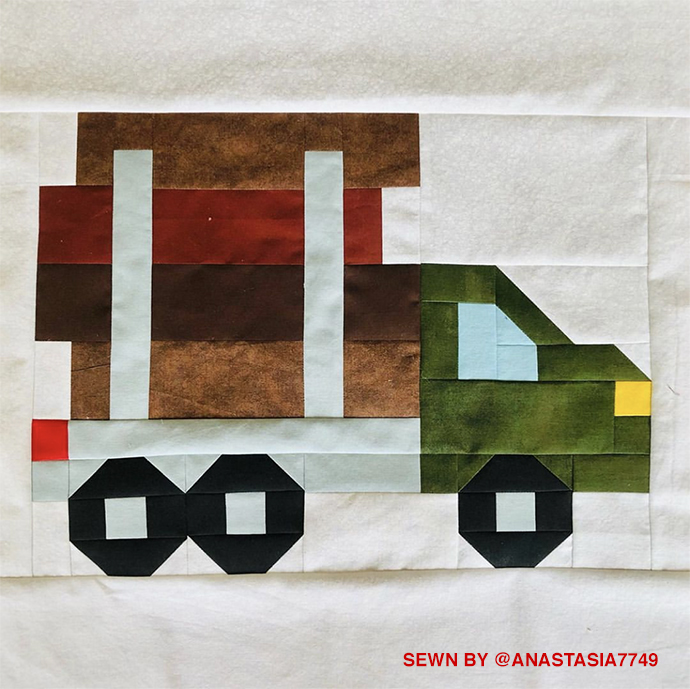 Holzlaster Block Kino / Tree Truck block cinema
Hier ein Schnelldurchlauf der Tree Truck-Näh-Schritte:
Here's a quick run-through of the Tree Truck sewing steps: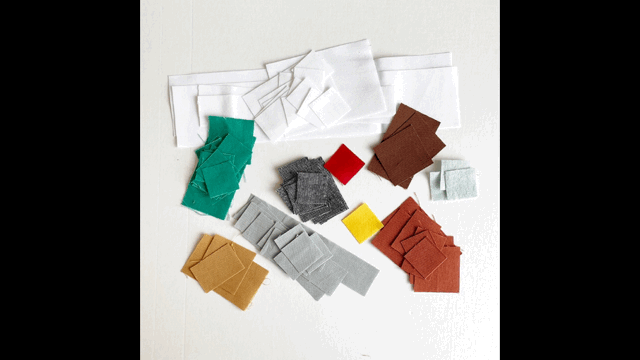 Pattern: Holzlaster Block Anleitung / Tree Truck block pattern
Hier geht es zu den Beiträgen, die bisher zu den einzelnen Blöcken erschienen sind:
Click here for the other posts about the vehiclequilt block published so far:
You might also like