Wer sucht ein Projekt für zwischendurch? Wie wäre es mit einer Tasche aus Half Square Triangles?
Who is looking for a project for in between? How about a bag made from Half Square Triangles?
Ok, wer kennt das nicht, daß sich nach Quiltprojekten gerne einiges an Stoffresten (Scraps) ansammelt? Ich muß gestehen, ich hebe alles auf, auch wenn der Stoffrest noch so klein ist. Diesmal geht es um einen ganz bestimmten "Stoffrest" – die Half Square Triangles (HSTs). Bei einem meiner letzten Quilt Projekte sind davon etliche angefallen.
Ok, who doesn't know that after quilting projects some fabric remnants (scraps) like to accumulate? I must confess, I save everything, even teh smallest scraps. This time it's about a very specific "scrap" of fabric – the Half Square Triangles (HSTs). One of my last quilt projects accumulated quite a few of them.
Scraps – Half Square Triangle Quilts – HST Bag
Wenn ich Quilts mit HSTs (Half Square Triangles) nähe, setze ich immer eine 2. Naht, neben die eigentliche Naht. Z.B. wie hier bei meinem "Snowball Stars Quilt", bei dem ich das kurz erkläre. Die 2. Naht ist nicht genau 1/2 inch von der 1. Naht entfernt, das mache ich eher Pi mal Daumen.
When I sew quilts with HSTs (Half Square Triangles), I always put a 2nd seam, next to the actual seam. E.g. like here on my "Snowball Stars Quilt" where I explain this briefly. The 2nd seam is not exactly 1/2 inch away from the 1st seam.
Damit man die HSTs danach weiterverarbeiten kann, sollte die Größe des HSTs mindestens bei ca. 1 1/2 inch liegen (mein bisheriges Minimum). Da sind nachtülich keine Grenzen nach unten gesetzt, aber irgendwann wird es dann doch sehr klein.
To be able to process the HSTs afterwards, the size of the HST should be at least about 1 1/2 inch (my minimum so far). There are no limits to the size, but at some point it becomes very small.
Was hat Mathematik mit Nähen zu tun? / Some Quilting maths?
Bevor ich mich ans Trimmen mache, zähle ich die HSTs, die ich zur Verfügung habe. Bei mir waren es irgendwas über 70 HSTs. Jetzt eine einfache Rechnung:
Meine HST-Tasche hat 2 Seiten, also Anzahl der HSTs durch 2 teilen.
Um am Ende bei einem Querformat zu landen, brauche ich horizontal mehr HSTs als vertikal. In meinem Fall komme ich mit dem kleinen 1×1 auf 7×5.
Also 7 HSTs horizontal mal 5 HSTs vertikal ergibt ingesamt 35 HSTs für eine Seite, heißt 70 HSTs für beide Seiten. Mathestunde beendet!
Before I start trimming, I count the HSTs I have available. For me, it was something over 70 HSTs. Now a simple calculation:
My HST bag has 2 sides, so divide number of HSTs by 2.
To end up with a horizontal format, I need more HSTs horizontally than vertically. In my case, I end up with 7×5.
So 7 HSTs horizontal times 5 HSTs vertical gives a total of 35 HSTs for one side, means 70 HSTs for both sides. Math lesson finished!
Trimming the Half Square Triangles
Ich orientiere mich bei der Suche nach der Größe am kleinsten meiner HSTs. Diesmal bin ich auf 1 7/8 inch bekommen. Es hat nicht ganz für die 2 inch gereicht…
I base my sizing on the smallest of my HSTs. This time I got down to 1 7/8 inch. It wasn't quite enough for the 2 inch….
Jetzt geht das große Trimmen los. Ich lege das Lineal an 2 Kanten an. Orientierung gibt mir die diagonale 45° Grad Linie, die ich an meiner Naht ausrichte. Die ersten beiden Seiten werden getrimmt. Danach das HSTs um 180° grad drehen und die beiden anderen Seiten trimmen.
Alle HSTs auf das gleiche Format geschnitten – ergibt einen Haufen bunter Stoffstreifen. Und nein, die hebe ich nicht auf. Obwohl, vielleicht sollte ich das. Ich habe neulich gelesen, daß auch diese winzigen Stoffreste eine Verwendung in Projekten finden, die ausgestopft werden (z.B. Nadelkissen).
Now the big trimming starts. I place the ruler on 2 edges. Orientation gives me the diagonal 45° degree line, which I align with my seam. The first two sides are trimmed. Then turn the HSTs 180° degrees and trim the other two sides.
All HSTs cut to the same size – makes a bunch of colorful fabric strips. And no, I don't save them. Although, maybe I should. I read the other day that even these tiny fabric scraps find a use in projects that are stuffed (pincushions, for example).
"Chain Piecing"
Es geht weiter mit meinen 70 kleinen, auf Format gebrachten HSTs. Diese nähe ich zu einer HSTs Kette zusammen. Das macht jeder anders, ich "chain piece" gerne, heißt ich nähe die HSTs gerne in Kette zusammen und schneide erst anschließend. "Chain Piecing" habe ich in meinem Beitrag zum "Mixed HST Block" des "Geometric Quilts" kurz erklärt. Mache ich für diesen Fall aber auch hier nochmal ausführlich.
It continues with my 70 small HSTs brought to size. I sew these together to form an HSTs chain. Everyone does this differently, I like to "chain piece", meaning I like to sew the HSTs together in chain and only cut afterwards. "Chain Piecing" I explained briefly in my post on the "Mixed HST Block" of the "Geometric Quilt". But I'll do it again here in detail for this case.
Vorteil des "Chain Piecings" ist es, es geht schneller und sieht auch einfach schön aus.
Nachteil ist, man muß wieder ein kleines bißchen rechnen, da sonst zuviel zusammengenäht wird.
Advantage of "chain piecing" is, it is faster and also just looks nice.
Disadvantage is, you have to calculate again a little bit, otherwise too much is sewn together.
Folgend kommt eine Schitt für Schritt Anleitung, wie ich in diesem Fall vorgehe. Eventuell klingt das super kompliziert – spart aber Zeit, so bald man den Rechen-Dreh für sich raus hat. So gehe ich vor:
Ich habe eine ungerade Zahl (7) bei den horizontalen HSTs. Im ersten Schritt lege ich 10 HSTs (2 x 5 Reihen) meiner 70 HSTs zur Seite – das jeweils letzte HST in der Reihe.
Die 60 HSTs nähe ich jetzt 1 und 1 in Reihe zusammen. Meine Kette besteht jetzt aus lauter 2 zusammengenähter HSTs.
Zehn dieser 2er HSTs lege ich wieder zur Seite. Die restlichen zwanzig 2er HSTs nähe ich wieder zusammen. Zusätzlich nehme ich mir die zehn einzelnen HTS und die zehn 2er HSTS und nähe auch die zusammen.
Jetzt habe ich zehn 4er HSTs und zehn 3er HSTs. Diese im letzten Schritt auch zusammennähen.
Ergibt zehn schöne, bunte Reihen.
(Anmerkung: Einfacher ist es, wenn man eine gerade Zahl bei den horizontalen Reihen hat, da können alle HSTs beim "Chain Piecing" gleichzeitig werden. Aber so ein bißchen Denkleistung für die grauen Gehirnzellen tut ja auch gut).
The following is a step-by-step guide on how I proceed in this case. It may sound super complicated – but it will save you time as soon as you get the hang of it. This is how I proceed:
I have an odd number (7) of horizontal HSTs. In the first step, I set aside 10 HSTs (2 x 5 rows) of my 70 HSTs – the last HST in each row.
I now sew the 60 HSTs together 1 and 1 in a row. My chain now consists of 2-piece HSTs.
I put ten of these 2 HSTs aside again. I sew the remaining twenty 2-piece HSTs together again. In addition, I take the ten single HTSs and the ten 2-piece HSTS and sew them together as well.
Now I have ten 4-piece HSTs and ten 3-piece HSTs. Sew these together in the last step as well.
Results in ten beautiful, colorful rows.
(Note: It's easier if you have an even number for the horizontal rows, then all HSTs can become at the same time when "chain piecing". But a bit of thinking for the gray brain cells is also good).
Press your Half Square Triangles
Damit meine Reihen sich beim Zusammennähen gut ineinander fügen, bügel ich die Nahtzugaben in verschiedene Richtungen. In meinem Fall habe ich pro Taschenseite 5 Reihen. Reihe 1, 3 und 5 bügel ich nach rechts, Reihe 2 und 4 nach links.
So fügen sich alle Nahtzugaben der kleinen HSTs gut ineinander. Nachdem alle Reihen zusammengenäht sind, bügel ich die Nahtzugaben auseinander. Diese jetzt auch nur in eine Richtung zu bügeln, würde ziemlich viele Stofflagen übereinander legen und ziemlich "bulky" aussehen.
In dem Bild unten seht Ihr gut, wie die einzelnen Nahtzugaben liegen. Mein Tipp bei diesem Projekt: Die beiden fertigen Patchworkstücke über Nacht unter ein schweres Buch legen.
To make sure my rows blend well when sewn together, I press the seam allowances in different directions. In my case, I have 5 rows per bag side. Row 1, 3 and 5 I iron to the right, row 2 and 4 to the left.
This way, all the seam allowances of the small HSTs nest together nicely. After all rows are sewn together, I press the seam allowances open. Pressing them in one direction would put quite a few layers of fabric on top of each other and look quite "bulky".
In the picture below you can see well how the individual seam allowances lie. My tip for this project: Place the two finished patchwork pieces overnight under a heavy book.
Die Half Square Triangles Tasche / The Half Square Triangles Bag
Über Nacht gut gepresst geht es weiter. Ich messe mein Patchworkstück, und bringe es, wenn nötig, auf gleiche Größe wie die 2. Seite.
Hachz…kurz innehalten und genießen.
Well pressed overnight, it goes on. I measure my patchwork piece, and if necessary, bring it to the same size as the 2nd side.
Hachz…pause for a moment and enjoy.
Deswegen arbeite ich ja so gerne mit Stoffen, weil so kleine Dinge manchmal einfach schön aussehen und so geworden sind, wie ich es mir vorgestellt habe.
That's why I like to work with fabrics so much, because sometimes such small things just look beautiful and turned out the way I imagined.
Quiltsandwich und Quiltmuster / Quiltsandwich and Quilting
Für meine Tasche habe ich mir noch Stoffstreifen um das Patchworkstück genäht, damit diese etwas größer wird und die HSTs noch besser zur Geltung kommen.
Die Streifen sind aus einem altrosa Stoff mit goldenen Punkten von Stoff&Stil, den es dort leider nicht mehr gibt. Es war noch ein letztes Stück aus meiner Stoffrestekiste, ich glaube sogar ein restliches Stück Binding, da es genau 2 1/2 inch mißt.
For my bag, I sewed strips of fabric around the patchwork piece to make it a little bigger and show off the HSTs even more.
The stripes are made of an rosé fabric with golden dots from Stoff&Stil, which unfortunately is no longer available there. It was a last piece from my fabric scrap box, I think even a remaining piece of binding, because it measures exactly 2 1/2 inches.
Für den Innenstoff habe ich ein dunkelblaues Stoffstück verwendet, für das Batting einen Rest White & Natural Batting von Warm Company, das von einem Quiltprojekt übrig war.
Gequiltet habe ich einfache, gerade Linien, knapp neben der diagonalen Naht der HSTs.
For the inner fabric I used a dark blue piece of fabric, and for the batting I used a remnant White & Natural Batting from Warm Company that was left over from a quilting project.
I quilted simple straight lines, just beside the diagonal seam of the HSTs.
Bei genauerer Betrachtung sind die Linien zum Teil nicht ganz gerade und mit gleichem Abstand, aber das stört mich nicht. Unperfekt ist das neue Perfekt!
On closer inspection, some of the lines are not quite straight and equally spaced, but that doesn't bother me. Imperfect is the new perfect!
Einmal bitte Half Square Triangles gerahmt! Fertig sind meine beiden Taschenseiten.
Once please Half Square Triangles framed! Finished are my two bag sides.
Und hier meine fertige Tasche!
And here is my finished bag!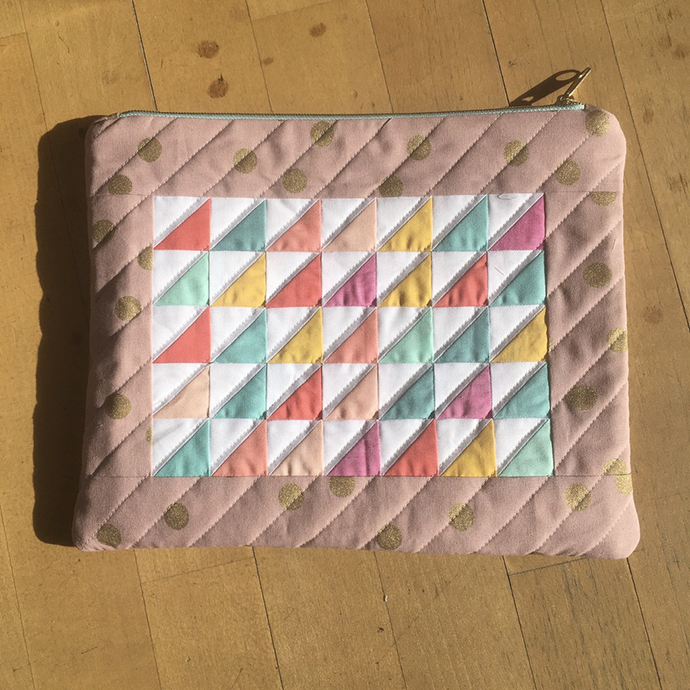 Eine Anleitung, wie man eine Tasche näht, habe ich nicht Schritt für Schritt beschrieben, da es dazu schon so viele gute Tutorials auf YouTube gibt.
Da ich bei meiner Tasche mit einem 3-lagigen Quiltsandwich gearbeitet habe, nähe ich die Tasche nicht aus Außen- und Innenfutter, sondern in Einem an den Reißverschluß.
Instructions on how to sew a bag, I have not described step by step, because there are already so many good tutorials on YouTube.
Since I worked with a 3-layer quilt sandwich for my bag, I sew the bag to the zipper in one rather than the outer and inner linings.
Dadurch habe ich innen offene Nahtzugaben. Diese lassen sich aber gut mit einem Schrägband einfassen.
This gives me open seam allowances on the inside. However, these can be bordered well with a bias tape.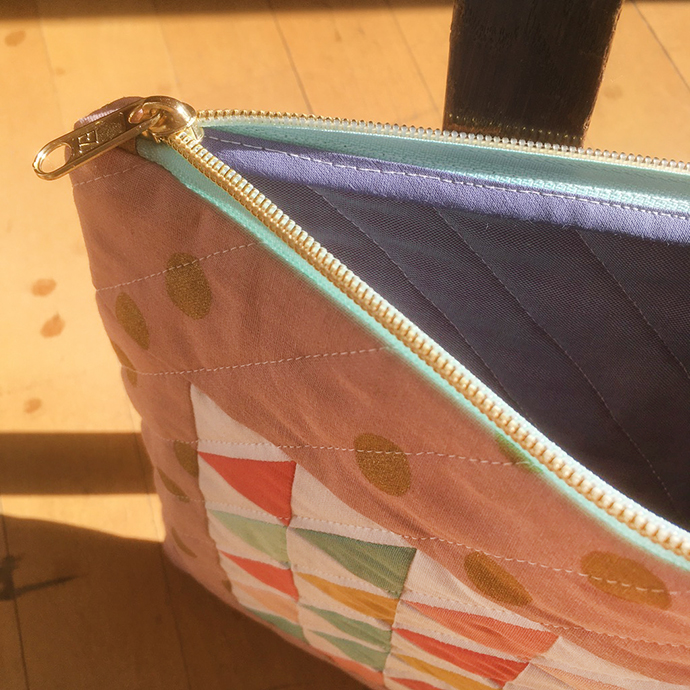 Ich bin glücklich mit dem Ergebnis und freue mich über eine neue Tasche.
Und vielleicht hat ja jemand genauso viele HSTs, die von einem Quiltprojekt übriggeblieben sind und gerne in einer Tasche weiterverarbeitet werden wollen.
I am happy with the result and happy to have a new bag.
And maybe someone has just as many HSTs left over from a quilting project for a scrappy HST bag like this.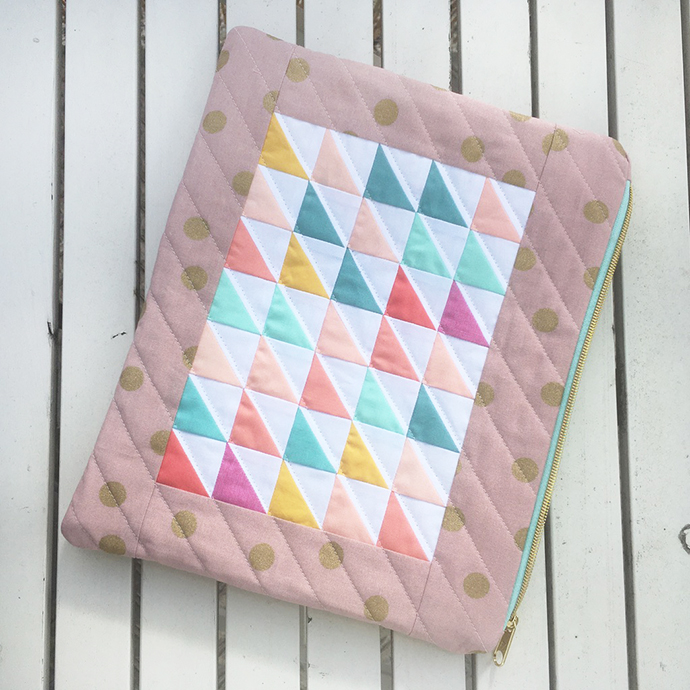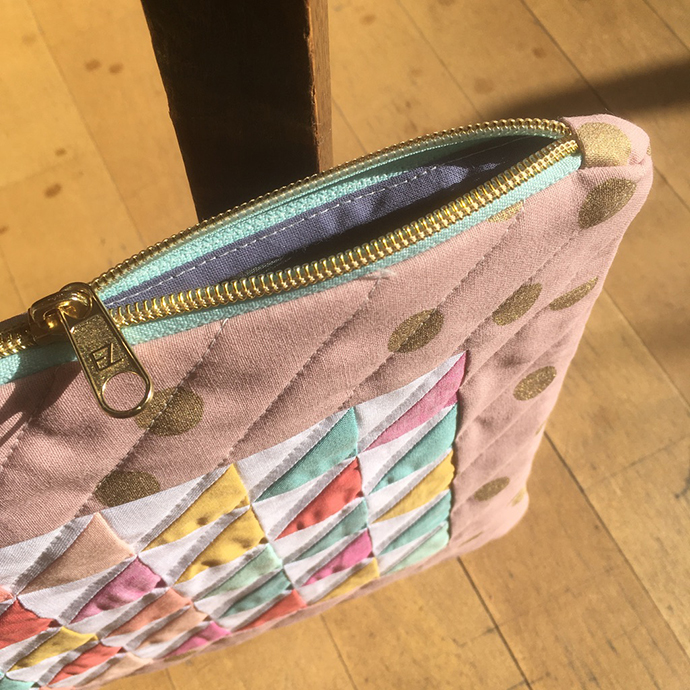 You might also like