Du bist hier / you're here: Home / Posts / Boxes and Bow
Heute zeige ich einen Quilt, den ich schon letztes Jahr genäht habe. Die Anleitung dazu heißt "Boxes and Bow" und ist eine kostenlose Quilt Anleitung von Art Gallery Fabric.
Ich finde den Boxes and Bow Quilt durch sein sehr reduzierte Muster wunderschön und war gleich begeistert davon. Art Gallery Fabric hat ja unglaublich viele kostenlose Quilt Anleitungen. Es sind wirklich schöne Quilts dabei und so einige habe ich noch auf meiner To Do Liste.
Today I show a quilt that I already sewed last year. The pattern is called "Boxes and Bow" and is a free quilt pattern by Art Gallery Fabric.
The Boxes and Bow Quilt is a beautiful, very reduced and modern quilt pattern I liked immediately. Art Gallery Fabric has an incredible amount of free quilt patterns. There are really beautiful quilts and I still have some on my To Do list.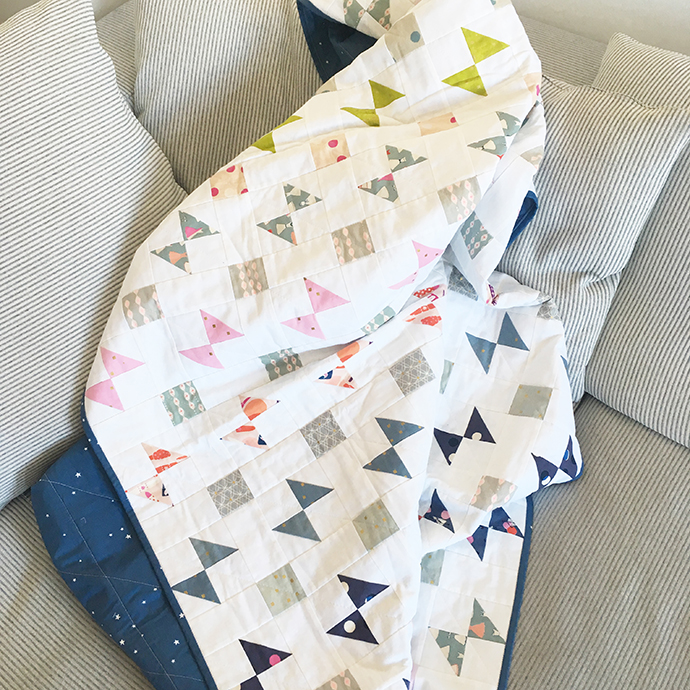 Verwendete Stoffe / Fabrics used in Boxes and Bow
Diese großartige Stoffkollektion "Jubilee!" von Melody Miller für Cotton + Steel habe ich vor bestimmt schon 3 Jahren als Fat Quarter Bundle gekauft. Soweit ich mich erinnern kann, habe ich das Bundle in den Vereinigten Staaten gekauft – also bestellt und dann beim Zoll abgeholt. Da ich in München wohne, dauert das leider echt lang, da das Zollamt weit draußen liegt. Muß ich nicht so schnell wieder machen.
Gefunden habe ich es jetzt hier: Stash Fabrics
Leider habe ich keine Internetseite gefunden, auf der die Namen der einzelnen Stoffe zu finden sind.
Der weiße Stoff ist von Stoff & Stil. Aber bei weißem (Background) Stoff hat ja jeder so seinen Lieblingsstoff.
I bought this great fabric collection "Jubilee!" by Melody Miller for Cotton + Steel as a Fat Quarter Bundle probably 3 years ago. As far as I can remember, I bought the bundle in the US – so ordered and then picked up at the customs office. Since I live in Munich, this unfortunately takes a really long time, because the customs office is located far outside.
You can find it here: Stash Fabrics
Unfortunately, I didn't find a website with the names of the individual fabrics.
The white fabric is from Stoff & Stil. But your favorite white fabric will work here.
Das Fat Quarter Bundle sieht schon etwas geplündert aus, da ich bereits einen Quilt mit den Stoffen genäht habe. Es war aber noch genug da, um diesen Quilt damit zu nähen.
The Fat Quarter Bundle already looks a bit plundered, since I've already sewn a quilt with the fabrics. But there was still enough to sew this quilt with it.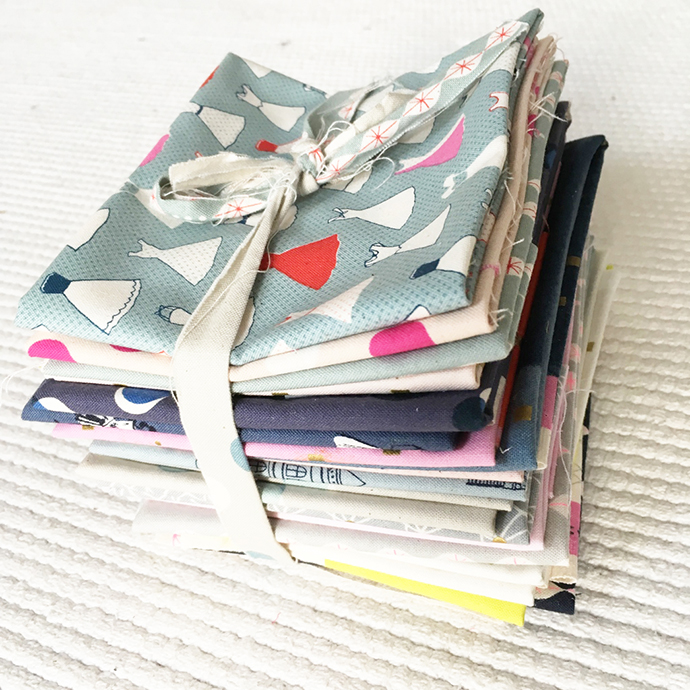 Der Zuschnitt ist denkbar einfach, da man nur 2 verschieden große Quadrate braucht. Diese Stoffe habe ich mir für den Boxes and Bow Quilt zusammengestellt.
The cutting is very simple, because you only need 2 different sized squares. These are the fabrics I put together for the Boxes and Bow Quilt.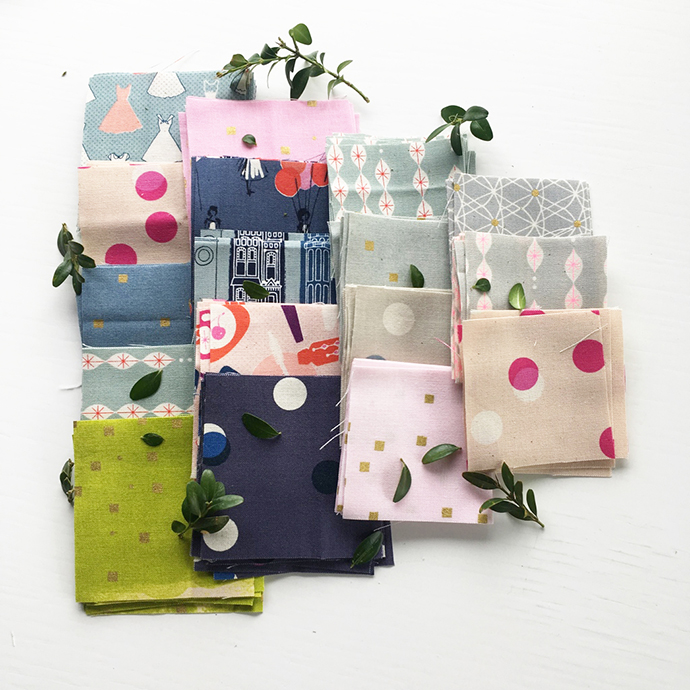 Im ersten Schritt näht man die Reihen mit den Quadraten und weißen Rechtecken. Wenn ich das Bild so anschaue, habe ich hier schon sehr schlichte Stoffe ausgesucht. Das gleicht sich dann aber mit den "knalligeren" Farben wieder aus, die ich auch verwendet habe.
The first step is to sew the rows with the squares and white rectangles. When I look at the picture, I have chosen very "quiet" fabrics here. But that will balances out again with the "happier" colors that I have also used.
Jetzt braucht es nämlich erstmal Unmengen von HSTs, die genäht werden müssen. In der Boxes and Bow Anleitung wird die "2 at a time" Methode erklärt. Wenn ich das richtig gerechnet habe, braucht man 220 HST.
Now you need a lot of HSTs, which have to be sewn. In the Boxes and Bow pattern, the "2 at a time" method is explained. If I have calculated correctly, you need 220 HSTs.
Quilts mit Half Square Triangles liebe ich sehr. Auch wenn es etwas Geduld kostet, diese erst zu nähen, dann zu bügeln und dann jedes einzelne auf die richtige Größe zu schneiden. Hat schon etwas sehr Meditatives!
I really love quilts with half square triangles. Even though it takes some patience to first sew them, then iron them, and then trim each one to the right size. There is something very meditative about it!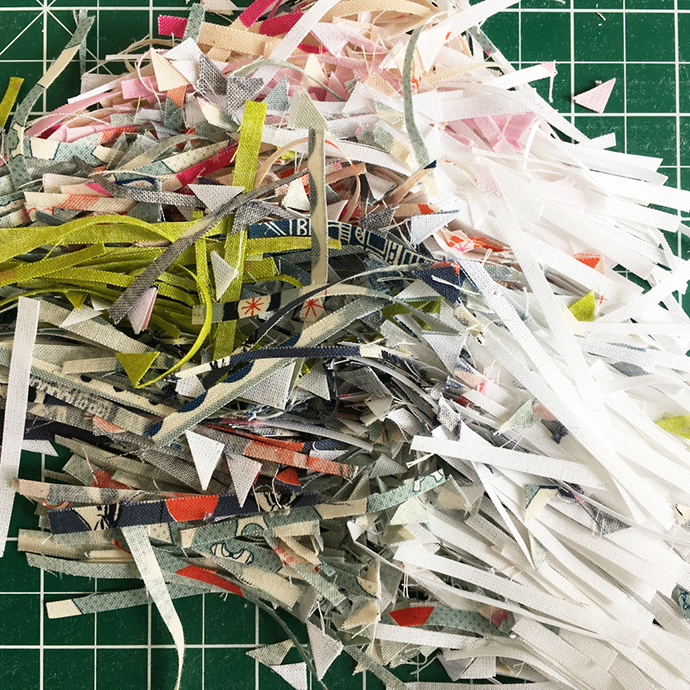 Puhhh…alle 220 HSTs fertig getrimmt. Das Praktische an dem Quilt ist, daß man viel "chain piecing" machen kann. Jeder Schritt wiederholt sich etliche Male, trotzdem wird es nicht langweilig.
Phew…all 220 HSTs trimmed ready to go. The handy thing about the quilt is that you can do a lot of "chain piecing". Each step repeats quite a few times, yet it doesn't get boring.
Auf die Richtung der Stoffmusterder bei den HSTs habe ich bei diesem Quilt nicht geachtet. Die Stoffteile mit den bedruckten Stoffen sind so klein, daß es mir nichts ausmacht, wenn die Stoffmuster in verschiedene Richtungen schauen.
I didn't pay attention to the direction of the fabric prints on the HSTs on this quilt. The fabric pieces with the printed fabrics are so small that I don't mind if the fabric patterns look in different directions.
Beim Zusammennähen der HSTs mit den weißen Quadraten ist es einfacher, die Nahtzugabe immer in Richtung der weißen Quadrate zu bügeln. Somit hat man beim Zusammensetzen "nesting seams", heißt die Nahtzugaben liegen in entgegengesetzter Richtung und fügen sich gut ineinander.
When sewing the HSTs together with the white squares, it is easier to always press the seam allowance in the direction of the white squares. This way, you have "nesting seams" when piecing, which means the seam allowances are in opposite directions and nest together well.
Entstanden sind etliche Reihen, die ich mir jetzt nochmal für das finale Layout des Quilts auslege.
Several rows were created, which I now lay out again for the final layout of the quilt.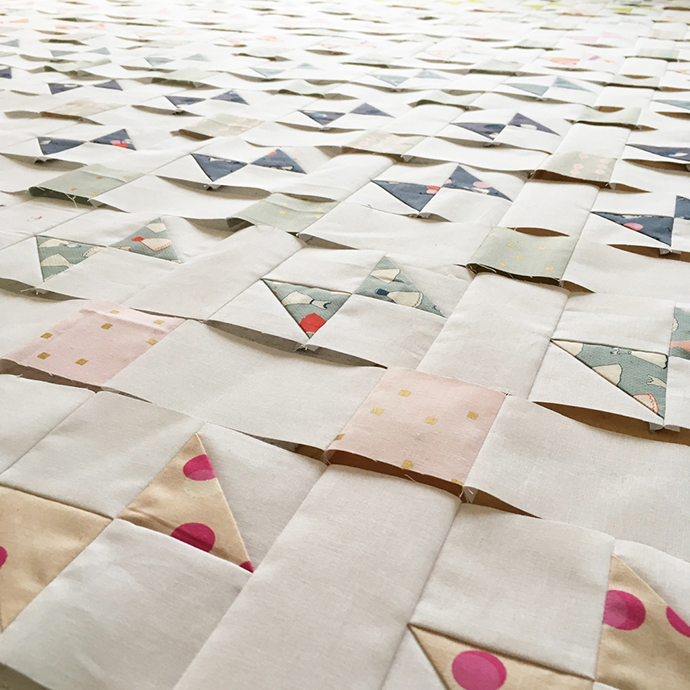 Die Reihen habe ich mit ordentlich Stecknadeln zusammengesteckt, damit sich alles gut ineinander fügt.
I pinned the rows together with neat pins so everything would fit together nicely.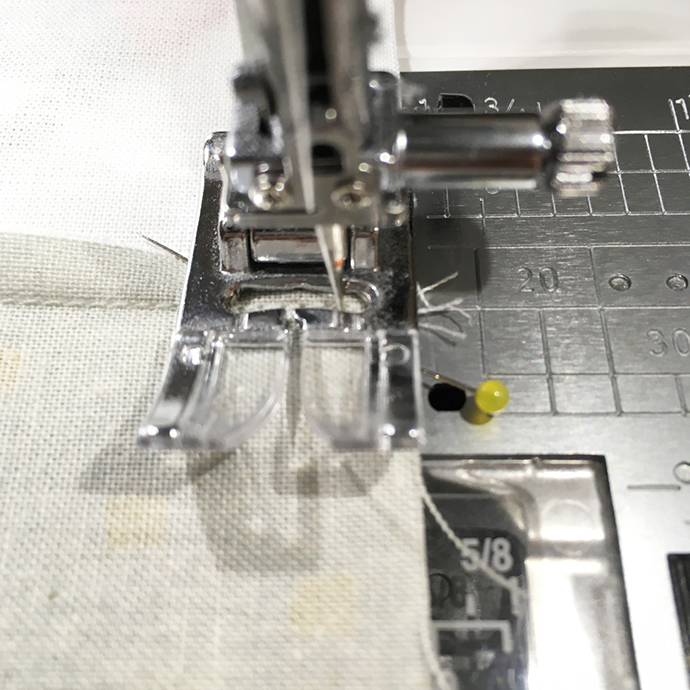 …und was man auf keinen Fall machen sollte: über die Nadeln nähen!!!
…and what you should never do: sew over the needles!!!
Meine Nähmaschine hat es überlebt.
Mein Boxes and Bows Quilttop ist fertig und ich mag es sehr.
My sewing machine survived it.
My Boxes and Bows quilt top is finished and I really like how it turned out.
Gequiltet habe ich wirklich sehr reduziert. Selbst für meine Verhältnisse ist das echt wenig. Diagonale Linien mit recht großem Abstand durch die zusammentreffenden HSTs sind es geworden.
I did a very reduces quilting. Even by my standards, that's really little. Diagonal lines with quite large distance through the point where the HSTs meet.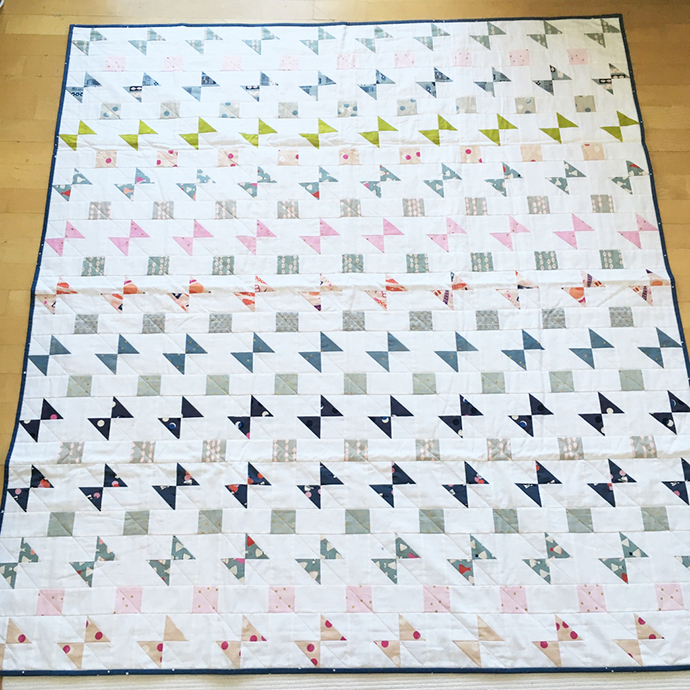 Für das Backing und Binding habe ich den gleichen Stoff verwendet. Auch einer meiner Lieblingsstoffe von Stoff und Stil, den es leider nicht mehr gibt. Dunkelblauer Stoff mit weißen kleinen Sternchen, wie ein schöner Nachthimmel.
Ich hoffe, die kleine neue Besitzerin kuschelt sich gemütlich in diesen Boxes and Bow Quilt.
Eine absolut empfehlenswerte Quilt Anleitung.
I used the same fabric for the backing and binding. Also one of my favorite fabrics from Stoff und Stil, which unfortunately is no longer available. Dark blue fabric with white little stars, like a beautiful night sky.
I hope the little new owner snuggles up comfortably in this Boxes and Bow quilt.
An absolutely recommended quilt pattern.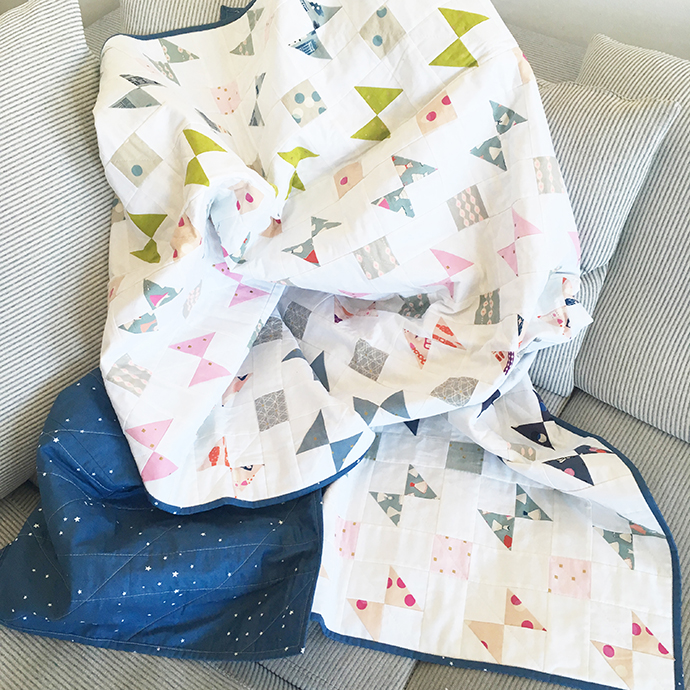 Pattern: Boxes and Bow Quilt, a free pattern by Art Gallery Fabric
You might also like